Hello and good evening,
Here it is - a great idea for a start-up, I believe, very simple and totally doable with currently available technology.
The Gamer's Cooler-Cauldron
Premise: a) Gamers subsist almost exclusively on adrenalin and very high dosages of a certain type of pseudo-serotonin which can be very addictive (though is yet to be proven to be toxic or in any other way detrimental to the gamer's constitution). They don't have time nor do they care much for the preparation, and often for the very consumption of food. This can cause, after a few days of intense gaming - and good gaming is almost always very intense - severe depletion of nutritional elements in the gamer's system and the eventual collapse of the gamer. This results in discontinuation of gaming, depression, anhedonia, acute mood swings and in particularly serious cases even temporary or prolonged self-destructive or even suicidal tendencies. b) In the process of gaming the graphics' card heats considerably. Temperatures of 75 degrees centigrade are not at all uncommon, and so are graphics' cards that employ passive heating, usually through a big heatsink mounted on top of the chipset. c) Any reduction in the temperatures within the computer (and chiefly - within the GC chipset) is always a good thing, and it can increase the card's life-expectancy d) Proteins starts to congeal at much lower temperatures than those GC heatsinks reach. This is also known as 'cooking'. e) Protein-rich food (eggs) is very nutritious.
Suggestion: to design and build a small metallic cooker that could be fitted on top of your GC heatsink with a system for extracting excess heat out of the CPU box, thereby improving the cooling mechanism of passively cooled cards. The cooker will be able to both draw a lot of heat from the GC and, well, keep the gamer well stocked in nutrients.
Prototype (I ain't no Rembrandt, mind):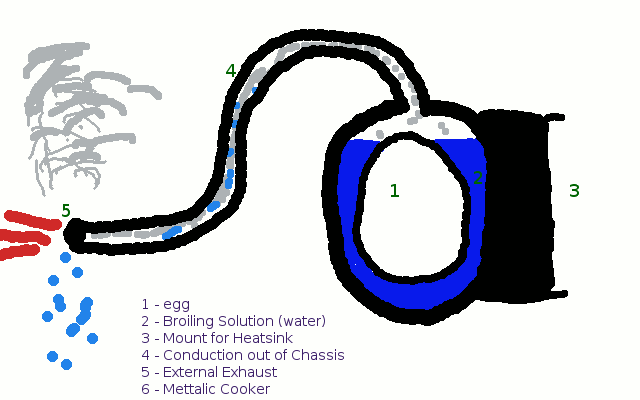 A small metal cooker, just a little bit bigger than an egg is mounted, through a special mounting bracket, on the heatsink. Good heat conduction is further guaranteed by an application of thermal paste between the two surfaces. It is filled with water almost completely, leaving a little space for vapor to build up. Made of heat-conductive metal (nickel?). At the top of the cooker a pipe is hermetically attached to it, leading the vapor created inside out of the CPU box.
Advantages: a) Cooks food for the gamer (just enough to get him buy during those long night of first-person-shooting) b) Improves heat dissipation from the GC. c) Slow - gamers don't like to be distracted often. d) Silent e) Neat. Another gadget to play with. f) You could also stick the other end of it in pot and save on irrigation water - good for arid regions. g) Re-uses energy that would have been otherwise just lost, plus reducing cooling fans energy consumption - completely environment friendly.
Disadvantages: well, I don't think there are any, but I'll humor the more pedantic minds among you: a) Expensive materials b) The requirement for it to be completely hermetic drives the cost even higher. c) might be quite a daunting task to find room for it in the already crammed interior of the CPU box d) One little leak and it's bye-bye boom-box.
Anyways - those are the basics.
So, whatcha think?
: )
Suggestions for improvements, criticism, ideas for refinement of my initial design and beer are very welcome.
SOADA
Edited by S.O.A.D.A., 21 February 2010 - 07:44 PM.