Hi I need a bit of help with my Video card.
When i was playing WoW 2 days ago I had no errors then after something happned I had to reinstall it because the Wow.exe was missing after that i started getting errors so I looked for help and was told to try a few thing and update drivers so I did but errors continued. I then ran VMT and found tons of errors with my Card but I dont realy know much about this and how to fix these errors.
here is a pic of the results so far ( in Attachments )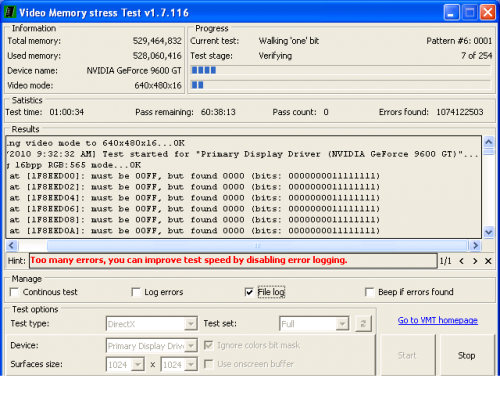 If anyone can tell me what I can do to fix all these errors or does VMT fix them itself after it has finished scanning.
Or is it time i bought a new Card .
I cannot play some games is just shoots up a memory error e.g ( abnormal memory usage ) and then closes and troubleshooting says I dont have enough memory or memory is corrupt .
Only small games like Rose online work ?
Is it possible to fix this and play WoW again if i format and install the card from scratch
Edited by DamianSS, 27 March 2010 - 03:05 AM.