Hello:
My wife and I are living in MS right now, but our friends and family are scattered across the US. So that they all could easily see our baby (now seven months old), I created a web page. I am very interested in changing the Intro Page.
The Plan: To have the following intro page (see very crude sketch below) display when visitors come to our site.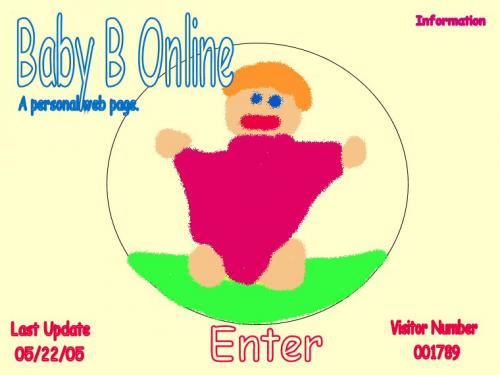 The Problem: I want the Intro Page to be displayed Full Screen no matter what the visitors screen resolution is set to. Is there a way to make a page resize itself to be full page at any screen resolution? For Example: If I design this page for 1024 x 768, visitors viewing the site at 800x 600 will have scroll bars. I don't want scroll bars. On the flip side: If I optimize the photo for users with 800 x 600, the viewers with 1024 x 768 screen resolutions will see a small scale version of the photo. I want it to be full screen at any res.
Possible?

The link above is a very crude drawing of what I have planed for the intro page. The link to my little girls web site is as follows:
http://www.babybonline.net
Any and all information will be greatly appreciated.