Hi Guys! I really messed up bad today! It's too long a story to tell, but I was stopped from using the Website Designer I was using and ALL my pages had .ALB and .BAK extensions. I only had about 4 pages backed up. I spent a whole week getting the index page and sales page absolutely eye catching hypnotizing perfect for a very large website I'm building.
So I went everywhere in search of a way to get them opened. I found this site:
http://www.knowledge...e-with-notepad/
It had a disclaimer and said it had only been tested and proven on XP. So, I thought I was ok since I'm on XP. I downloaded this: default_notepad_opener.zip
It worked wonders and opened all those pages for me and I was thrilled to have saved them!
BUT, now I see that it changed my Right Clicking on RTFs and JPGs terrible!
I've taken screenshots so you can see what I'm getting. One is when I right click on an RTF, one is when I right click on a JPG and the last is the one I get when I right click and unknown extension like .ALB.
Now, I don't have a choice of opening with WordPad, and I can't chose whether to open a JPG with Irfanview, Paint.net, etc. No choices now! Only the option at the top is there.
Is there some way to delete this thing and change things back? Oh please help!
I depend on WordPad and Irfanview every day! Now I have to go at it backwards to open things.
So sorry to give you guys such a head ache! I should have paid attention to the dislaimer because he was just building it. Again, it works great Right Clicking on any unknown extension, but it changed my other Right Clicks also!
I've attached all three screenshots if you want to look and see what I ended up with. I titled each so you'll know what they are.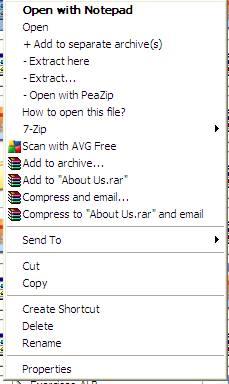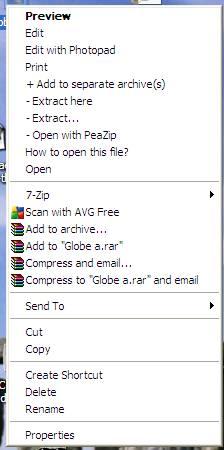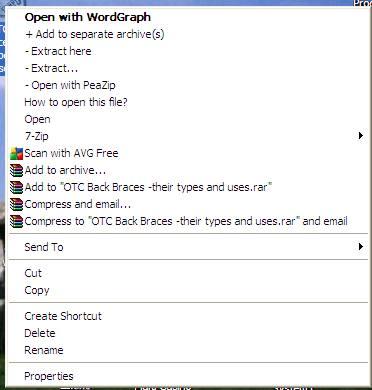 Alias775

Edited by Alias775, 05 September 2010 - 06:44 PM.