windows 7 freezes on internet videos
Started by
trosco
,
Sep 29 2010 12:54 PM
#16
Posted 10 November 2010 - 12:03 PM

---
#17
Posted 10 November 2010 - 01:54 PM
Open
Autoruns
, click on
"Logon"
tab, and
UN-check
:
X "Adobe ARM"
X "Adobe Reader Speed Launcher"
X "SunJavaUpdateSched"
X "Orbit.lnk"
X "DAEMON Tools Lite"
X "Messenger (Yahoo!)"
+ "Welcome Center"
+ "FlashPlayerUpdate"
When done restart computer and then:
Download
TFC by OldTimer
to your desktop
Please double-click TFC.exe to run it. (Note: If you are running on Vista, right-click on the file and choose Run As Administrator).
It

will close all programs

when run, so make sure you have

saved all your work

before you begin.
Click the Start button to begin the process. Depending on how often you clean temp files, execution time should be anywhere from a few seconds to a minute or two. Let it run uninterrupted to completion.
Once it's finished it should reboot your machine. If it does not, please manually reboot the machine yourself to ensure a complete clean.
Download
Auslogics Defrag
from the link in my signature below.
Auslogics Defrag
in my opinion is better because:
It does a more comprehensive job at
Defragging
It will actually show you what it is doing
At the end of working it will show you how much speed you picked up
You can view a online log of the files that
Auslogics
defragged
---
#18
Posted 13 November 2010 - 05:43 AM
i've done all of these, thank you

---
#19
Posted 13 November 2010 - 08:28 AM
How is the system running now?

---
#20
Posted 13 November 2010 - 08:36 AM
something strange happened, as soon as it started a few hrs ago it started making different problems (totally froze once on IE, upon start-up a black screen was on for about 5 secs, not a usual thing, and it responded much slower for a few restart). But now, in the afternoon it is again working fine, no idea what happened earlier.

---
#21
Posted 13 November 2010 - 08:38 AM
Download
Speedfan
(The download link is to the right), and install it. Once it's installed, run the program and post here the information it shows.
The information I want you to post is the stuff that is circled in the example picture I have attached.
To make sure we are getting all the correct information it would help us if you were to attach a screenshot like the one below of your
Speedfan
results.
To do a screenshot please have click on your Print Screen on your keyboard.
It is normally the key above your number pad between the F12 key and the Scroll Lock key
Now go to Start and then to All Programs
Scroll to Accessories and then click on Paint
In the Empty White Area click and hold the CTRL key and then click the V
Go to the File option at the top and click on Save as
Save as file type JPEG and save it to your Desktop
Attach it to your next reply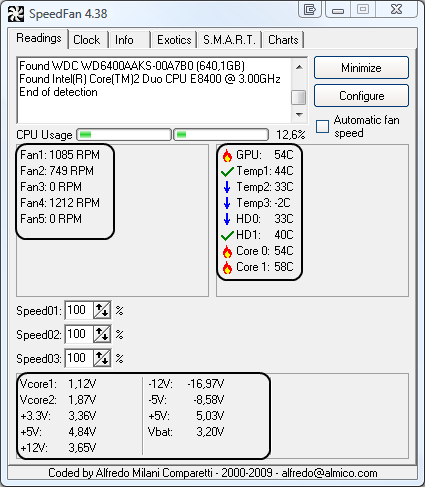 ---
#22
Posted 16 November 2010 - 02:14 PM
---
#23
Posted 24 November 2010 - 08:31 AM
Temps look good but voltages are a little screwy.
Lets try another program to verify those.
Download SIW from
HERE
and get the
Standalone English
version
It will install itself and when finished
Then Click on
SIW Icon
to run program
On the left side click on the
Motherboard
directory and then on the right,
copy and paste the information
in your next reply
On the left side click on the
Sensors
directory and then on the right,
copy and paste the information
in your next reply
http://www.gtopala.c...w-download.html
---
#24
Posted 25 November 2010 - 12:35 PM
Motherboard : Property Value
Manufacturer MICRO-STAR INTERNATIONAL CO.,LTD
Model P55-GD65 (MS-7583)
Version 1.0

North Bridge Intel DMI Host Bridge Revision 11
South Bridge Intel P55 Revision 11

CPU Intel® Core™ i5 CPU 750 @ 2.67GHz
Cpu Socket Socket 1156 LGA

System Slots 7 PCI

Memory Summary
Maximum Capacity 4096 MBytes
Maximum Memory Module Size 4096 MBytes
Memory Slots 4
Error Correction None

Warning! Accuracy of DMI data cannot be guaranteed

sensors: -the copy option didn't exist, and exporting was available only in full version, so i did a screenshot

---
#25
Posted 25 November 2010 - 01:05 PM
+12 volt rail is really looking bad. I'm surprised the system works at all.


---
#26
Posted 25 November 2010 - 01:38 PM
what is that? and how can it be fixed?

---
#27
Posted 25 November 2010 - 01:44 PM
That is your PSU and it can't be fixt without replacing the PSU.
It would be better to take it out and have a shop test it under a load to see if indeed the +12 volt rail is faulty.
Lets test the memory now to make sure there is no issues with it.
If you have more than one RAM module installed, try starting computer with one RAM stick at a time.
NOTE
Keep in mind, the manual check listed above is always superior to the software check, listed below. DO NOT proceed with memtest, if you can go with option A
B.
If you have only one RAM stick installed...
...run
memtest
...
1.
Download - Pre-Compiled Bootable ISO (.zip)
2. Unzip downloaded
memtest86+-2.11.iso.zip
file.
3. Inside, you'll find
memtest86+-2.11.iso
file.
4. Download, and install
ImgBurn
:
http://www.imgburn.com/
5. Insert blank CD into your CD drive.
6. Open
ImgBurn
, and click on
Write image file to disc
7. Click on
Browse for a file...
icon:
8. Locate
memtest86+-2.11.iso
file, and click
Open
button.
9. Click on ImgBurn green arrow to start burning bootable memtest86 CD:
10. Once the CD is created, boot from it, and memtest will automatically start to run.
You may have to change the boot sequence in your BIOS to make it work right.
To change
Boot Sequence
in your
BIOS
Reboot the system and at the first post screen
(where it is counting up memory)
start tapping the
DEL
button
This will enter you into the
Bios\Cmos
area.
Find the
Advanced
area and click
Enter
Look for
Boot Sequence
or
Boot Options
and highlight that click
Enter
Now highlight the first drive and follow the directions on the bottom of the screen on how to modify it and change it to
CDrom
.
Change the second drive to the
C or Main Drive
Once that is done then click
F10 to Save and Exit
You will prompted to enter
Y
to verify
Save and Exit
. Click
Y
and the system will now reboot with the new settings.
The running program will look something like this depending on the size and number of ram modules installed:
It's recommended to run 5-6
passes
. Each pass contains very same 8
tests
.
This will show the progress of the test. It can take a while. Be patient, or leave it running overnight.
The following image is the test results area:
The most important item here is the "errors" line. If you see ANY errors, even one, most likely, you have bad RAM.
---
#28
Posted 25 November 2010 - 01:47 PM
I'll speak with the guy who sold it, mentioning this to him. I did the memtest test the last time (it's in the other topic), and it showed no errors, thought i did it with all the ram sticks in, can't remove them because of the warranty. Should I do it again?

---
#29
Posted 25 November 2010 - 01:52 PM
Nah I forgot about the other topic. We can assume at this point it is not the HD or the memory causing the issue.
Just to satisfy my own curiosity please do the following.



Please follow the steps below to enter the Event Viewer program in Vista\Win7. This will give me more information into what is causing your issue. You can get to Event viewer two ways and I will post both for you.

Method One

• Go to
• Start
• In the Search box type in Event Viewer in the search box and press Enter
• From this point you can follow from step four from the below method as they will be the same.
Method Two

• Go to Start
• Right click on the Computer Icon and select Manage
• Navigate to the Event Viewer, You will be prompted to accept the action you are going to perform. Click continue
• On the left window pane click on Local and then expand the Windows entry. This will allow you to see every error for the past 24 hours as well as the last 7 days in the right window pane.
• Look for the ones that correspond to the times that your issue occurred.
• If any are found please double click and expand the error. This will open and give you more information on the error.
• Please include that in your next reply.


---
#30
Posted 25 November 2010 - 02:03 PM
and what should i post from event viewer? And by the way, i restarted the system (had event log service disabled and i enabled it) and my pc froze upon start-up just like that.

---
---
Similar Topics
0 user(s) are reading this topic
0 members, 0 guests, 0 anonymous users
As Featured On: