Call of duty
Started by
Kostas1994
,
Oct 14 2010 09:23 AM
#16
Posted 08 November 2010 - 02:48 PM
My old PSU was 350 watts until i changed my graphics card and started to have the problem....

---
#17
Posted 09 November 2010 - 02:24 PM
yea, I can see you having a problem with 350 watts.

---
#18
Posted 12 November 2010 - 06:06 AM
I
Edited by snooplove, 12 November 2010 - 06:06 AM.
---
#19
Posted 12 November 2010 - 06:06 AM
_
Edited by snooplove, 12 November 2010 - 07:48 AM.
---
#20
Posted 14 November 2010 - 02:41 AM
I formatted and changed to windows 7.Everything runs much faster but still has a little annoying lag.I think that every driver is updated.How can i check if graphics card or something else is not working properly??

---
#21
Posted 15 November 2010 - 10:16 AM
---
#22
Posted 15 November 2010 - 10:28 AM
Download
Speedfan
(The download link is to the right), and install it. Once it's installed, run the program and post here the information it shows.
The information I want you to post is the stuff that is circled in the example picture I have attached.
To make sure we are getting all the correct information it would help us if you were to attach a screenshot like the one below of your
Speedfan
results.
To do a screenshot please have click on your Print Screen on your keyboard.
It is normally the key above your number pad between the F12 key and the Scroll Lock key
Now go to Start and then to All Programs
Scroll to Accessories and then click on Paint
In the Empty White Area click and hold the CTRL key and then click the V
Go to the File option at the top and click on Save as
Save as file type JPEG and save it to your Desktop
Attach it to your next reply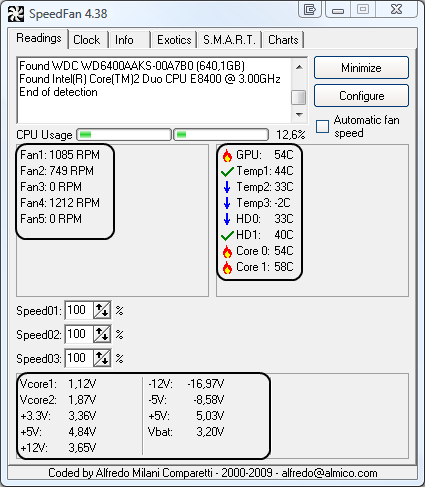 ---
#23
Posted 16 November 2010 - 07:57 AM
Can't find screenshot.But here are what you need:
SYS FARN 0 RPM
CPU0 FAN 2464 RPM
AUX0 FAN 0 RPM
CPU1 FAN 0 RPM
AUX1 FAN O RPM

GPU 68C
SYSTEM 45C
CPU 34C
AUX 122C
TEMP 68C
CORE0 34C
CORE1 34C

VCORE 1,12V
+12V 11,40V
AVCC 3,26V

---
#24
Posted 16 November 2010 - 08:39 AM
Download Autoruns from the link in my signature below:
1: Extract the Autoruns Zip file contents to a folder.
2: Double-click the "Autoruns.exe".
3: Click on the "Everything" tab
4: Remove any entries that mention
"File Not Found"
by right-clicking the entry and select Delete.
5: Go to
File
then to
Export As
or
Save
in some versions.
6: Save AutoRuns.txt file to known location like your
Desktop
.
7: Attach to your next reply.
Download and install
Free Everest Home Edition
Open it.
1: In left pane expand
Computer
folder.
2: Click once on
Summary
3: In upper menu, go
Report
4: And then to
Quick Report-Summary
5: Save it in text file, and paste it in your next post.
Click the
+
by computer, click on
Sensor
. Get a screenshot and post it so I can check your temps and voltages...
DO NOT INCLUDE ANYTHING UNDER THE LINE THAT SAYS "DEBUG- PCI"
---
#25
Posted 16 November 2010 - 09:06 AM
here is autoruns.Everest gives me an error that it is intended to be used by home computers etc......

---
#26
Posted 16 November 2010 - 09:11 AM
---
#27
Posted 16 November 2010 - 09:18 AM
---
#28
Posted 16 November 2010 - 10:08 AM
OK Everest looks good.
Autoruns I see a potential reason for your issue.
+ "uTorrent" "µTorrent" "BitTorrent, Inc." "d:\utorrent\utorrent.exe"

Speedfan those temps are way to high.
I would like you to do the following just to check things out before we proceed here.
I suspect that you have some malware on your computer causing issues that we are not able to solve through means we can use here in the Tech Forums. I suggest you read the
'Start Here'
topic found
here
. With these self-help tools you have a high chance of fixing the problems on your own. If you are still having problems after following Step 3 of the guide, continue with Step 4 and 5 and post in the
Malware Forum
. If you are unable to run any programs, Please create a topic stating what you have tried so far and that you are unable to run any programs. Also, Please do
NOT
post the logs in this thread.
If you are still having issues after the malware expert gives you a clean bill of health, Please return to
THIS
thread and we will pursue other options to help you solve your current problem(s).
Add a link to this topic so that malware tech can see what steps have been taken here
---
#29
Posted 16 November 2010 - 02:38 PM
utorrent i use it to download movies but they are downloaded straight to a usb and then it goes straigth to my dvd player.But anyway when i installed my first game had the same problem without utorrent.What is the reason for high temps.I will post in malware forum and let you know

---
#30
Posted 16 November 2010 - 03:21 PM
Dirt, smoking, pets are all causes of overheating.
When was the last time the system was cleaned out using a can of compressed air?
What wattage PSU are you using now?

---
---
Similar Topics
0 user(s) are reading this topic
0 members, 0 guests, 0 anonymous users
As Featured On: