okay. Here's the Speedfan screenshot. It's not terribly useful.
the SIW screenshot is a bit more useful, but I don't know what the acceptable ranges are for these numbers.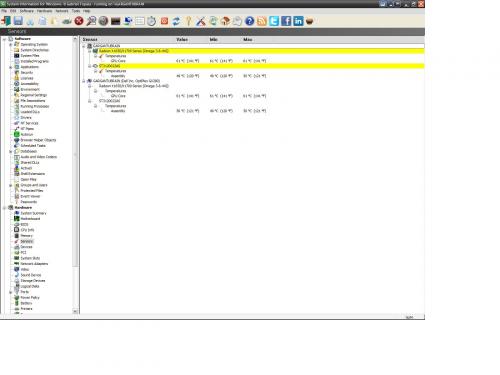 Here's the data from the PCI section of SIW:
sorry for the large-ness of the screenshots -- I couldn't figure out how to crop in Paint. I'm more used to Photoshop

I didn't find anything out of place in the Device manager.
I am now downloading the Catalyst drivers version 9.3. I checked the release notes for the 9.4 version and they don't even nention the X1650 card I have.
If this is indeed the problem, then I'm surprised I continued to have issues when I installed the Omega drivers -- I believe the latest Omega drivers are based on ATI drivers version 8.6 or so.
Anyway, if I'm missing anything then please let me know; I'm happy to get any data you need.
My computer has been fine, but I did have to reboot once or twice before getting to where I am now -- once with another win32k.sys BSOD. There was a pink box to the lower right of that screen ... wierd.
Edited by Anamacha, 17 October 2010 - 07:46 PM.