Computer specs:
OS: Windows 7 32 Bit
Processor: Intel® Pentium ® D CPU 3.00GHZ
Memory: 2.00GB of RAM
Sound: RealTek High Defintion Audio
Display: NVIDIA GeForce 7350 LE
I have TRIED EVERYTHING to fix this issue with my computer and I can't stands no more! I contacted RealTek and they gave me a diagnostic tool to figure out what my issue was. They claimed they couldn't find anything wrong with my driver so they believe that it is something else.
I have ran the DPC latency checker and have disable numerous drivers and the only thing I have concluded is this:
I notice two things that happen when I disable some of the things in device manager: When I disable my Intel® Pro/100 VE Network Connection (Under the Network Adapters), the audio becomes incredibly worse. When I disable the Microsoft 6to4 Adapter #281 (also under the Network adapters) the audio becomes better, but there are still crackles. Does anyone know if this means my modem is causing the problem? When the internet is turned off, the audio is 10x worse.
When internet is on: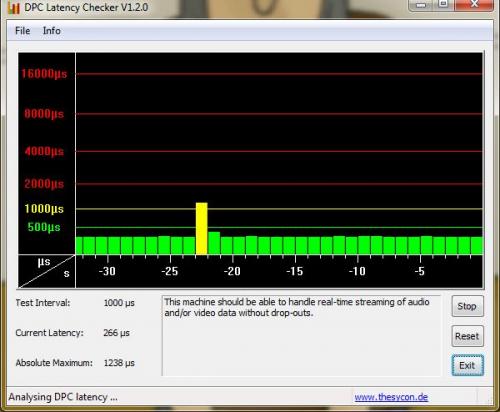 When Internet is off:
Edited by Niki116, 22 October 2010 - 06:32 PM.