Here's what happened: BitTorrent was acting all screwed up (giving me a "Access Denied" error), so i checked my downloads folder, and it seems as it was RO. Naturally, i unchecked it and applied. It didn't work, so i checked and it was still RO. After some lame-[bleep] advice from a windows site, i was adviced to uncheck the Systems permission to the folder. To make the story short, i now can't get into the folder or alter any settings in the folder, it gives me a "You currently do not have permission to blablabla". I am the administrator (only account).
Basicly, i'd like some help in regard of unlocking the folder. And, if possible, then help with how to make BitTorrent like me again.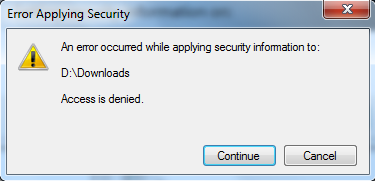 This is what i get when i try to change permissions.