Hello!
My monitor cable has VGA connector, but video card has only DVI. So I bought an adapter (I guess that's what it is called). It looks like this: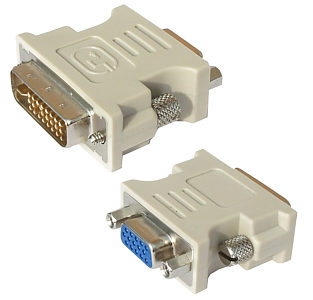 When I connect monitor and video card, I get "Check Signal Cable".
The cable of the monitor is fine, because it works when connected to internal graphics card. So I guess the adapter is making problems. It is a DVI-A to VGA adapter. The monitor is analog (Samsung SyncMaster 940nw). Is the adapter the right one, or maybe I need DVI-D to VGA or DVI-I to VGA?
And the video card is working all right, I connected it some time ago to another computer without problems (to a monitor which supports analog and also digital signal, and with a DVI cable).