Not sure if I should post here or software section but I think it's more a setup thing in the system.
If I click in the windows Orb (win7/SP1/32bit)I get a list of 22 programs with their icons in the left list of the box, I can click on any of these programs and they will start as normal. NOTE all programs discussed here I've had for some time and used without issue.
If at the bottom of that first program list I click on "All Programs" then I get the full expanded list of all the other programs I have installed on the system.
However these programs do not have their own icons, rather they only have folder icons next to them and if I click on any of those programs to open them I get this message box. Name will change to whatever program it is I've clicked on to open.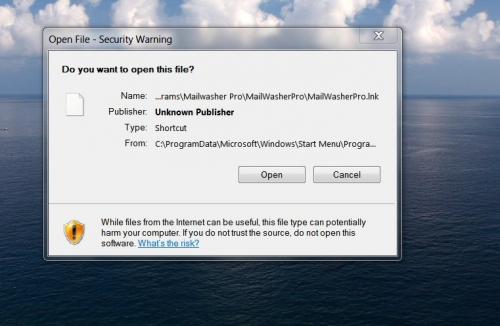 If I click on open then the program will run as per normal, I never had this issue before.
If I right click on one of those programs and select 'pin to taskbar' then they will have their correct icon in the taskbar and will open with one click and without that warning box.
I am thinking it must be something weird that happened with folders/links as before this problem I had another issue where suddenly all my programs showed up in my FireFox browser bookmarks along with my 'real' bookmarks and in my Orb > program list I was getting the programs as well as all my browser bookmarks.
I sorted that out but think I must have messed up file links somehow. Browser bookmarks are fine and normal and work correct. Only issue now is these programs when I try to start them.
Edited by Mychael, 17 March 2011 - 04:53 PM.