Hi I wonder if anyone can supply some advice please. I upgraded my ISP's broadband to 50Meg hoping to sort out the issue of buffering..
However I STILL get this issue and it happens approx every 10minutes.. Ive tried everything and nothing seems to have worked,,
Attached is my speed test results and my profile shows the PC system Spec..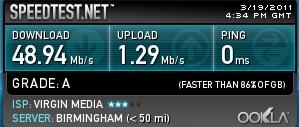 Any advice given will be greatly appreciated..
Thanks
Edited by giffordr82, 19 March 2011 - 11:50 AM.