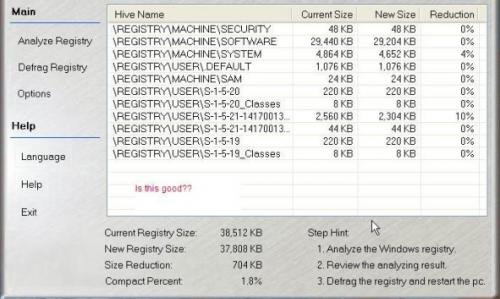 Is this good?? I run XP3 and I;m trying to learn things about my PC. Does this look about right?
I guess I should have posted this also! My OS is 9.28 GB. Windows is 6.49 GB Programs is 1.08GB Documents 999 MB. Not good with these big numbers, but I think I have 1.? GB of other
OS Name Microsoft Windows XP Home Edition
Version 5.1.2600 Service Pack 3 Build 2600
OS Manufacturer Microsoft Corporation
System Name DONETTA-C46FD94
System Manufacturer Dell Computer Corporation
System Model Dimension 3000
System Type X86-based PC
Processor x86 Family 15 Model 4 Stepping 1 GenuineIntel ~2394 Mhz
BIOS Version/Date Dell Computer Corporation A02, 11/8/2004
SMBIOS Version 2.3
Windows Directory C:\WINDOWS
System Directory C:\WINDOWS\system32
Boot Device \Device\HarddiskVolume1
Locale United States
Hardware Abstraction Layer Version = "5.1.2600.5512 (xpsp.080413-2111)"
User Name DONETTA-C46FD94\Owner
Time Zone Central Daylight Time
Total Physical Memory 1,024.00 MB
Available Physical Memory 456.46 MB
Total Virtual Memory 2.00 GB
Available Virtual Memory 1.96 GB
Page File Space 2.40 GB
Page File C:\pagefile.sys
Hello! Is this a taboo Subject? I'm not cleaning the registry, just observing and trying to learn some thing new.If this a forbidden topic, please advise. I know GTG doesn't support cleaners. I'm not cleaning. I'm defraging and observing changes. I'm not promoting cleaners. I'm researching the registry and trying to learn about it. I have read several articles about this. Every thing I have read says it won't help any thing but won't hurt any thing. GTG says it it a place to learn as well as help. I'm trying to learn.
Thank you!!