Hi.
Hard-Drive Maintenance/Repair:

Note:
for the CHKDSK portion you may refer to this tutorial of mine
here
and follow the instructions for Graphical Mode if you so wish.
Click on
Start
>>
Run
and type
cleanmgr
in the box and press
OK
.
Ensure the boxes for Temporary Files, Temporary Internet Files and Recycle Bin are checked.
You can choose to check other boxes if you wish but they are not required.
Click on OK then Yes.
Next:-
Click Start >> Run... then type in CMD and click on OK.
At the Command Prompt C:\ > type the following:
CD C:\ and hit the Enter/Return key.
Now type in DEFRAG C: -F
A Analysis report will be displayed and then Windows will start the Defragmention run automatically.
This may take some time, when completed the Command Prompt C:\ > will appear.
Now type in CHKDSK C: /R and hit the Enter/Return key.
When prompted with:
CHKDSK cannot run because the volume is in use by another process
Would you like to schedule this volume to be checked next time the system
restarts (Y/N)
Hit the Y key then at the Command Prompt C:\ >
Type in EXIT and and hit the Enter/Return key.
Now Reboot(Restart) your computer.
Note:
Upon Reboot(Restart) the CHKDSK(check-disk) will start and carry out the repairs required.
You should see a screen like this just after the Post(power on self test) screen: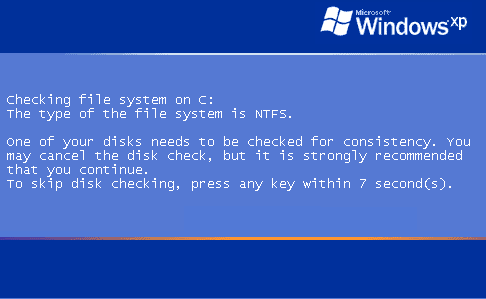 Note:
Do not touch either the keyboard or Mouse, otherwise the Check-Disk will be cancelled and you computer will continue to boot-up as normal.
Next:
Let myself know when completed the above and we will go from there, thank you.