SMSS.exe Virus Problem
Started by
Dom Fontana
,
Apr 30 2011 06:26 AM
#91
Posted 07 May 2011 - 07:21 AM
Ah no sorry - they will revert to the correct type on my system


---
#92
Posted 07 May 2011 - 07:23 AM
Okay. Hey, we hit lucky page 7. My favorite number.

---
#93
Posted 07 May 2011 - 07:25 AM
Okay, here are the 3 files.
---
#94
Posted 07 May 2011 - 07:26 AM
Hey, another milestone. The last one was my 100th post. Bwhahahaha.

---
#95
Posted 07 May 2011 - 07:28 AM
Thank you - got 'em and they open just fine

Everything still tickety boo ?
---
#96
Posted 07 May 2011 - 07:44 AM
Yes, so far, so good. Plus, there have been no more redirections with the links and no more pop-ups. Let me try it out until tonight and then I'll let you know if there are any problems. I want to be thorough. Thanks.

---
#97
Posted 07 May 2011 - 07:45 AM
Sounds cool - if all is OK tomorrow I will remove my tools and tidy you up

---
#98
Posted 07 May 2011 - 07:47 AM
Now, for the million dollar question. I know you're British. With the British and the Australians, who says Bloke and who says Mate? haha. I always get that confused.

You bloody bloke. G'day, mate. I think bloke is British and mate is Australian.

---
#99
Posted 07 May 2011 - 07:53 AM
They are interchangeable and used by both nationalities

dependant on the region you come from of course me 'andsome
---
#100
Posted 07 May 2011 - 08:04 AM
Oh, okay. That makes sense. I always liked a British accent. I have a NY accent. haha. I always use the British word arse because it doesn't sound as vulgar as #ss. (That's funny. It originally bleeped it out. So even the auot-censor thinks that arse is okay, but the other word isn't.)
You say lift and we say elevator.
You say flat and we say apartment.
You say holiday and we say vacation.
The list goes on and on, but I find it interesting.
Also, Henry Cooper just died. He was the British heavyweight champ for 12 years. I remember he gave Ali a hard time when they fought years ago.
Edited by Dom Fontana, 08 May 2011 - 08:08 AM.

---
#101
Posted 08 May 2011 - 05:28 AM
Language is very rich - especially the English version

So how is the computer behaving now ? Is all working OK ?

---
#102
Posted 08 May 2011 - 08:12 AM
G'day, Essex, my mate. How is this bloody bloke doing today? Bwhahahaha.

Okay, I put the computer through its paces and all seems fine and dandy. Thank you so much. Whenever you are ready, you mentioned we would do the finishing touches. Remember, I also have the ghosted desktop.ini icons on my desktop and uninstalled AVG, but have MalwareBytes installed.
---
#103
Posted 08 May 2011 - 08:33 AM
OK here we go - either reinstall AVG as we are done with any interference that may cause or pick another AV
Subject to no further problems

I will remove my tools now and give some recommendations, but, I would like you to run for 24 hours or so and come back if you have any problems
Now the best part of the day ----- Your log now appears clean

A good workman always cleans up after himself so..The following will implement some cleanup procedures as well as reset System Restore points: Delete aswMBR from your desktop along with AVP
Run OTL
Under the Custom Scans/Fixes box at the bottom, paste in the following



:Commands
[resethosts]
[purity]
[emptytemp]
[EMPTYFLASH]
[Reboot]
Then click the Run Fix button at the top
Let the program run unhindered, reboot the PC when it is done
Click Start > Run and copy/paste the following bolded text into the Run box and click OK:
N.b. If used
ComboFix /Uninstall
Run OTL and hit the cleanup button. It will remove all the programmes we have used plus itself.
We will now confirm that your hidden files are set to that, as some of the tools I use will change that
Click Start.
Open My Computer.
Select the Tools menu and click Folder Options.
Select the View Tab.
Under the Hidden files and folders heading select Do not show hidden files and folders.
Click Yes to confirm.
Click OK.
Your
Java
is out of date. Older versions have vulnerabilities that malware can use to infect your system. Please follow these steps to remove older version of
Java
components and upgrade the application.
Upgrading Java
:
Go to

this site

and click Do I have Java
It will check your current version and then offer to update to the latest version
SPRING CLEANTo manually create a new Restore Point
Go to Control Panel and select System
Select System
On the left select System Protection and accept the warning if you get one
Select System Protection Tab
Select Create at the bottom
Type in a name i.e. Clean
Select Create
Now we can purge the infected ones
Go Start > All programs > Accessories >
Right click Disc cleanup an select run as administrator
Select Your main drive and accept the warning if you get one
For a few moments the system will make some calculations
Select the More Options tab
In the System Restore and Shadow Backups select Clean up
Select Delete on the pop up
Select OK
Select Delete
Final stretch
Download and run
Puran Disc Defragmenter
For the first run I would recommend a boot defrag and disk check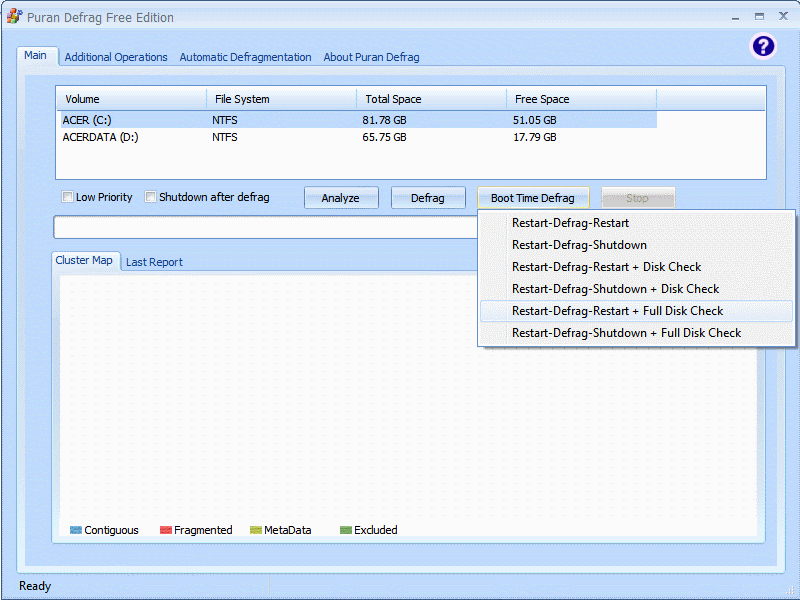 Now that you are clean, to help protect your computer in the future I recommend that you get the following free programmes:
Malwarebytes
. Update and run weekly to keep your system clean
Download and install
FileHippo update checker
and run it monthly it will show you which programmes on your system need updating and give a download link
It is critical to have both a firewall and anti virus to protect your system and to keep them
updated.
To keep your operating system up to date visit
To learn more about how to protect yourself while on the internet read our little guide
How did I get infected in the first place

?
Keep safe

---
#104
Posted 08 May 2011 - 08:58 AM
Wow, this is very cool. Just two points before I begin. I purposely don't like to hide my hidden files. I always opt to show them. That shouldn't cause a problem, should it?

Also, it sounds like you don't like AVG. Is that true? Do you recommend something else?

---
#105
Posted 08 May 2011 - 09:05 AM
The hidden file option is your choice - I usually hide them again so that the less knowledgeable do not delete them

I must admit I find AVG a bit of a resource hog, however, that is my personal opinion only and may be at variance with other peoples perception

I use Avast IS which is a suite of firewall and AV - however, the licence for this was given to me by Avast for assistance in their beta programme so I could be a tad biased
---
---
Similar Topics
0 user(s) are reading this topic
0 members, 0 guests, 0 anonymous users
As Featured On: