Really extreme temperatures?
Started by
GeekForgotten
,
Jul 04 2011 07:43 PM
#16
Posted 06 July 2011 - 11:29 AM
Other then the temps how is your system running?

---
#17
Posted 06 July 2011 - 11:31 AM
System is running good, but i've noticed the fans get really loud (I guess they start to spin much faster, higher RPM) when I watch a movie or if I do something that requires a heavy load on the computer
Don't know if that is normal?

---
#18
Posted 06 July 2011 - 11:43 AM
Yes it would be normal since heavier loads would create more heat which would require the fans to run faster in order to cool the system down.
Let me ask are there pets or smokers in the home with the system?
Is the system sitting where sunlight stays on it for a extended period of time or is the room cooled as this does effect the temps inside the system also.

---
#19
Posted 06 July 2011 - 11:47 AM
No there is no smokers and I have a few birds in the other room
It is sitting in my room in a computer desk, It never gets exposed to sunlight, I took a picture to give you a better idea
---
#20
Posted 06 July 2011 - 01:01 PM
Just a ideal but if you have a box fan you could sit it in front of the computer blowing at it or even better take the side off the system and let the fan blow directly in there.
Also the air temp in the room will play a factor in how hot or cool the system runs.

---
#21
Posted 06 July 2011 - 05:59 PM
Is there anything else I can do besides using a box fan?
the air temperature in the room is about 22 degrees most of the time

---
#22
Posted 06 July 2011 - 06:42 PM
Ok that is not bad and like I said other then the 1st core on your cpu everything else looks good now.

---
#23
Posted 06 July 2011 - 07:14 PM
Oh okay, thank you very much for the help
I guess we are done here

---
#24
Posted 06 July 2011 - 09:11 PM
Well I would prefer if you wouldn't mind to monitor the temps for a couple of days just in case and let me know how everything is doing like Friday.

---
#25
Posted 06 July 2011 - 09:14 PM
Let me ask are there pets or smokers in the home with the system?
Is the system sitting where sunlight stays on it for a extended period of time
If I may add to rshaffer61's list of possibilities, air vents near the tower, either on the floor or in the wall, can also add to possible dust build up.


---
#26
Posted 07 July 2011 - 12:11 AM
Yeah no problem, I will give you temperature readings almost daily, here is one now. Keep checking back I usually respond very quickly
The computer was on for almost 12 hours as usual and it seems temperatures have increased

@DonnaB
you have a good point, dust is a major problem for where my tower is sitting but unforunately it is the only place where I can put it
I think I will clean out the dust every month or so just to keep things steady
---
#27
Posted 07 July 2011 - 08:03 AM
Hi GeekForgotten,
Looking at your setup here I have a few more suggestions if I may:
Yes, the temps are a bit high. I see that there is a door on the compartment in the desk where you keep the tower. Do you keep the door closed? Not much air circulation if you do. You may want to take the door off. Is the back of the desk enclosed as well? Looks like it, seems a little dark in there. If you can remove the back of the compartment I'd do that as well. Looks solid though and you may not be able to achieve that without cutting a hole in the back of the desk.
Looks as if you have the space to lift it up and place it on a cubical type crate or get some "L" brackets and create another shelf within the compartment so that it sits higher up.
Another suggestion is to go to the fabric store and buy some light weight breathable netting type material, similar to mosquito netting, and drape it over the tower, which helps immensely to keep dust out, and there's also those personal fans that clamp onto the side of your desk which will direct air flow for better circulation.
If you can, try some of those ideas and post back with your temps. The environment in which your tower is sitting could make a difference.
Hope those ideas help.

Edited by DonnaB, 07 July 2011 - 08:04 AM.
---
#28
Posted 07 July 2011 - 10:17 AM
Hi DonnaB
the door is only closed at night, when the computer is off
and at the back there is a huge hole, about half the size of the door for some air circulation and wiring to go through
and as for those personal fans, i dont have any more power outlet ports anymore so that would be a bit of a problem
maybe I can buy those case fans and install one in there?
or change the current case fan in there?
Edited by GeekForgotten, 07 July 2011 - 10:18 AM.
---
#29
Posted 07 July 2011 - 06:40 PM
You may be able to add more fans inside the case.
Can you get a picture of the inside of your case along with any power connectors from your PSU that are not being used.
If you can't get a picture then what we need to find out is how many connectors that look like the picture below do you have that are not being used?
The connection on the right is what we need to know if there are any not being used,

[attachment=51197:Molex-Power-Y-Splitter.jpg]

---
#30
Posted 08 July 2011 - 11:22 AM
I could only find two available plugs and sadly they are not the ones you showed in the picture
but i took some pictures either way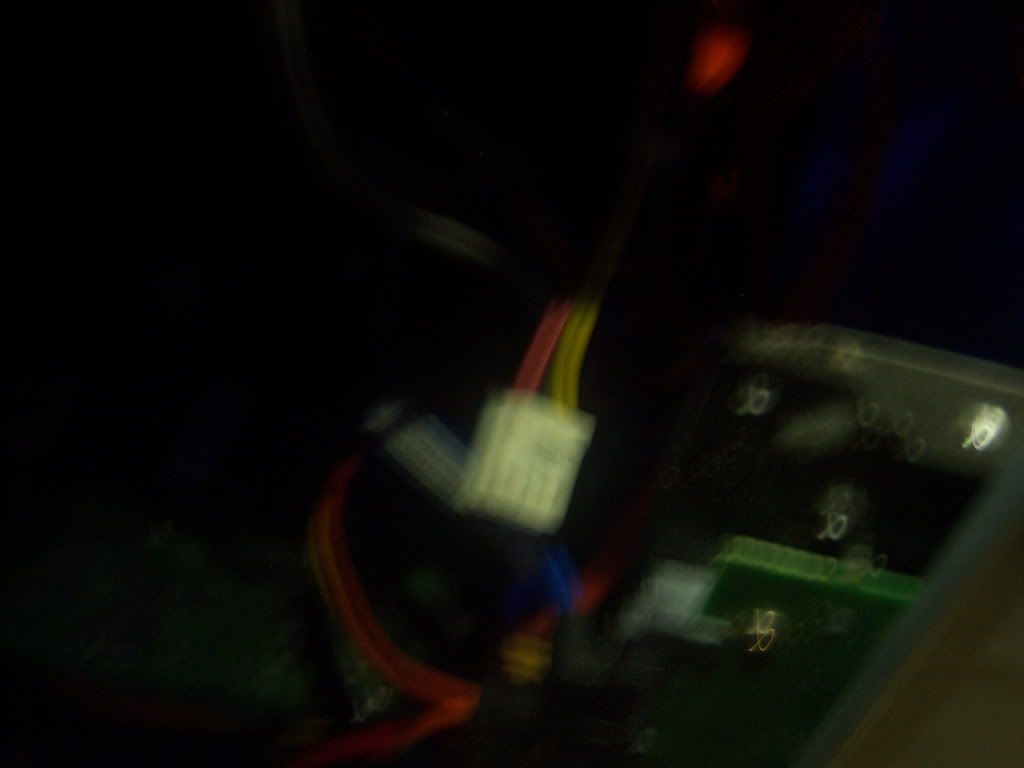 ---
---
Similar Topics
0 user(s) are reading this topic
0 members, 0 guests, 0 anonymous users
As Featured On: