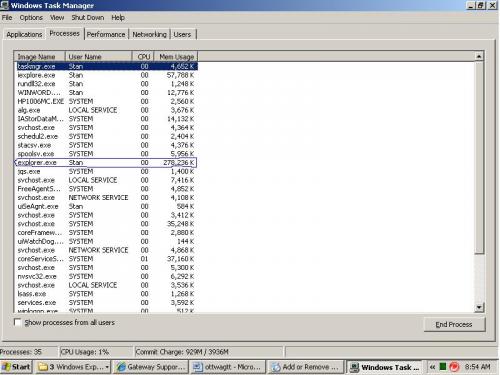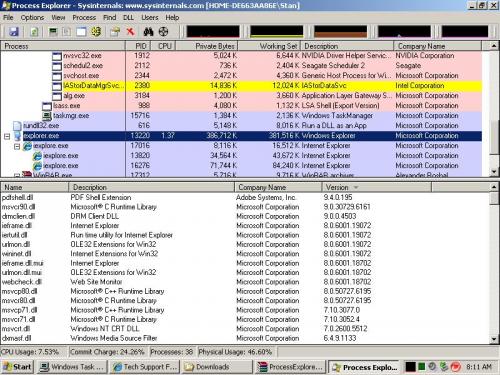 Hello everyone,
I've been having an issue with windows explorer for the past 3-4 weeks. I don't have any issues during the DAY TIME when I'm on my PC, but the problem begins at NIGHT (any time after 1:00 AM). Particularly explorer.exe in my task manager would eat over 250 MB! Even though this may not seem that catastrophic in terms of severity, 250 MBs is still a lot of memory a task should use. During the morning that explorer is over 250 MB, I try to open up .doc files, .xls files, ie 7 browser windows just to see if the RAM would be freed up. However explorer is consistently using over 250 MB. The only way to solve this (very inefficient way) is by typing ctrl-alt-del, ending explorer.exe, and then 'restarting' explorer by going to 'New task' under task manager and typing explorer.exe. This works in that explorer.exe loads up again with fresh memory and stays around 20-35 MBs all day (until after 1:00 AM again!).
I've tried troubleshooting in terms of viruses, malware, trojans, and rootkits, by contacting my AV tech support. I'm using Trend Micro Titanium + and the tech support agent told me to do these tests:
1) Run Malwarebytes and do a full scan (The scan came out clean)
2) Run Trend Micro Housecall (The scan came out clean)
3) Run Trend Micro HiJackthis and send in logs for analysis (The tech agent analyzed the logs and responded within 2 days and pointed out that there's nothing 'dangerous' to worry about)
4) Run SIC tool (System Information Collector) and see if there are any 'suspicious' processes causing explorer to spike
So now I'm here and want to find a way to get around this! Again the main issue is that every night (after 1:00 AM) explorer.exe in task manager uses over 250 MB of memory. This occurs daily when I leave the pc overnight and I find out that explorer.exe uses over 250 MB in the morning.
A buddy of mine told me to use Process Explorer to get down to the bottom of this. However I'm not that tech savvy and I have several screenshots of process explorer along with explorer at times going over 700 MB. I hope I can get around this issue as it's using a lot of memory!