Win 32 Olmarik TDL4 trojan Removal
Started by
mh1018
,
Oct 18 2011 12:32 PM
#31
Posted 19 October 2011 - 03:38 PM
No. It says it was unable to fix but no more info.

---
#32
Posted 19 October 2011 - 03:45 PM
I can get to the boot options F12 - if that helps

---
#33
Posted 19 October 2011 - 04:04 PM
It is allowing me to restore to a point before we started...hoping this work!

---
#34
Posted 20 October 2011 - 11:36 AM
Let me know and we will then reassess the situation

---
#35
Posted 20 October 2011 - 01:08 PM
It did not work. It gives me a message saying system restored successfully, but when I try to restart it does not start Windows.

---
#36
Posted 20 October 2011 - 01:13 PM
OK lets go in sideways
OK next we will work outside of windows then Please print these instruction out so that you know what you are doing
Download OTLPENet.exe to your desktop
Download the attached scan.txt to a USB [attachment=53074:scan.txt]
Ensure that you have a blank CD in the drive
Double click OTLPENet.exe and this will then open imgburn to burn the file to CD
Reboot your system using the boot CD you just created.Note : If you do not know how to set your computer to boot from CD follow the steps

here

As the CD needs to detect your hardware and load the operating system, I would recommend a nice cup of tea whilst it loads
Your system should now display a Reatogo desktop.Note : as you are running from CD it is not exactly speedy
Double-click on the OTLPE icon.
Select the Windows folder of the infected drive if it asks for a location
When asked "Do you wish to load the remote registry", select Yes
When asked "Do you wish to load remote user profile(s) for scanning", select Yes
Ensure the box "Automatically Load All Remaining Users" is checked and press OK
OTL should now start
Drag and drop this attached scan.txt into the

Custom scans and fixes

box, or double click the scan box
Press Run Scan to start the scan.
When finished, the file will be saved in drive C:\OTL.txt
Copy this file to your USB drive if you do not have internet connection on this system
Right click the file and select send to : select the USB drive.
Confirm that it has copied to the USB drive by selecting it
You can backup any files that you wish from this OS
Please post the contents of the C:\OTL.txt file in your reply.
---
#37
Posted 20 October 2011 - 03:39 PM
It won't boot to the disk. I set it up to boot to disk first- even set it up to only boot to the disk. It told me there was
No bootable devices.

---
#38
Posted 21 October 2011 - 11:13 AM
OK re-run the recovery disc and select the command prompt, we will now rebuild the boot sector

Type in

Bootrec.exe /FixBoot

If that should fail we will reset the boot system

Again from the command prompt

bcdedit /export C:\BCD_Backup
c:
cd boot
attrib bcd -s -h -r
ren c:\boot\bcd bcd.old
bootrec /RebuildBcd

---
#39
Posted 21 October 2011 - 11:17 AM
IOS this from my desktop that works or laptop

---
#40
Posted 21 October 2011 - 11:20 AM

---
#41
Posted 21 October 2011 - 11:24 AM
Ok. Not sure how to get to command prompt

---
#42
Posted 21 October 2011 - 11:26 AM
Start the computer with the recovery CD
When you reboot you will see this although yours will say windows 7.
Click repair my computer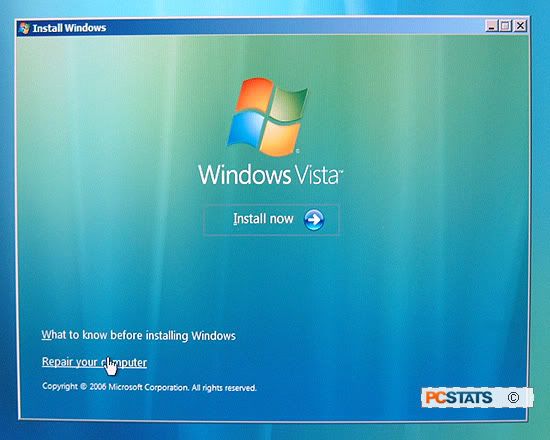 Select your operating system
Select Command prompt
---
#43
Posted 21 October 2011 - 11:39 AM
Ok. I typed c:
Then cd boot- it looks like this
C:\>cd boot
The system cannot find the path specified.

---
#44
Posted 21 October 2011 - 11:49 AM
Run this command first

Bootrec.exe /FixBoot

Then try a reboot - although this is beginning to look like a coincidental drive failure

---
#45
Posted 21 October 2011 - 11:49 AM
If it matters - it does take it from the
X:\Windows\System32> command line

---
---
Similar Topics
0 user(s) are reading this topic
0 members, 0 guests, 0 anonymous users
As Featured On: