Hi there everyone,
I have had this problem for some time, but have just not bothered trying to resolve it until now.
When I am in the program Ventrilo on my desktop and I am talking to other people, they tell me that they can hear static along with my voice. (I can also hear this when I "Test" my microphone and listen to the playback of
my voice.)
Now I know for a fact that it is not the Ventrilo codec that is being used, or my microphone... Because on my laptop, when I go into the Ventrilo setting's and "Test" my microphone, and listen to the playback of my voice
I hear nothing. And when I am on my laptop, I have never heard complaints from my friends.
Now I am not sure if this problem only happens with custom built PC's.. But 2 of my other friends have custom PC's that they built as well, and all 3 of us have this issue with the static. It's not like it overtakes our
voices when we talk in Vent, but, it is annoying to hear the background noise constantly.
Anyway, here is a screen shot of my device manager with the "Sound, video and game controllers" category expanded: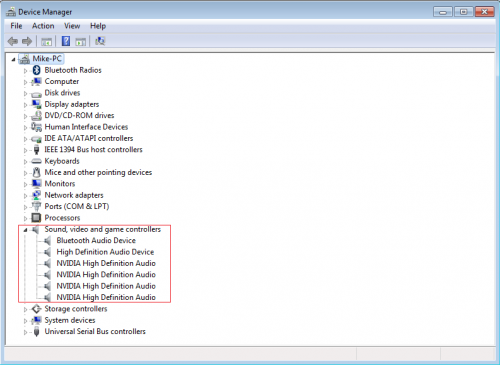 With that, I am not exactly sure how to tell which one of those is my
primary
audio driver... But that is the list. And on top of that, I am confused on why there are so many
Nvidia High Definition Audio's.
Also, here is a screen shot of my Ventrilo settings for reference:
Anyway,
If anyone has any feedback regarding how to possibly resolve the issue of having static accompany my voice when I talk on Ventrilo it would be greatly appreciated!
- Bas
** As a side note, I do not have a sound card. I use whatever was built in with the motherboard. **
Edited by Basmastersix, 12 November 2011 - 04:12 PM.