Malware, malicious program rootkit, dns redirect, host file mod. worm?
Started by
SweetHeart161
,
May 01 2012 06:03 PM
#46
Posted 04 May 2012 - 02:22 PM
If you reformat are you going to factory reset or are you using an image restore like from acronis?

---
#47
Posted 04 May 2012 - 02:37 PM
---
#48
Posted 04 May 2012 - 02:38 PM
Factory reset is typically clean

---
#49
Posted 04 May 2012 - 02:46 PM
Do you have any ideas to why when I flash my bios it restarts without me giving permissions to do so..and it restarts to a black screen than restarts again? as if it's not flashing completely? Do you know a good cmos cleaning tool?

---
#50
Posted 04 May 2012 - 03:09 PM
Download and Install Combofix
Download
ComboFix
from one of the following locations:
Link 1
Link 2
VERY IMPORTANT !!!
Save ComboFix.exe to your
Desktop
*
IMPORTANT
-
Disable your AntiVirus and AntiSpyware applications
, usually via a right click on the System Tray icon. They may otherwise interfere with our tools. If you have difficulty properly disabling your protective programs, refer to this link
here
Double click on C
omboFix.exe
& follow the prompts.
Accept the disclaimer and allow to update if it asks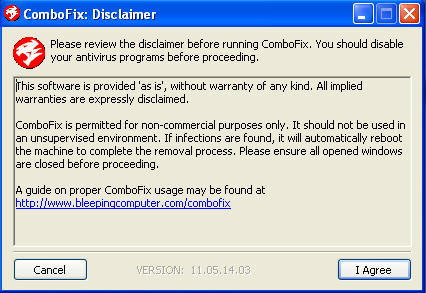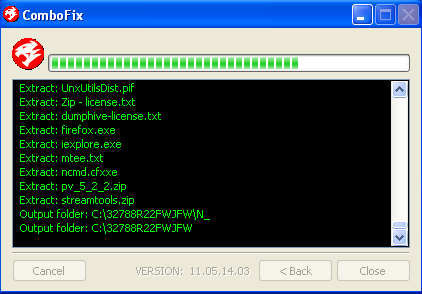 When finished, it produces a log for you.
P
lease include the C:\ComboFix.txt in your next reply.
Notes:
1. Do not mouse-click Combofix's window while it is running. That may cause it to stall.
2. Do not "re-run" Combofix. If you have a problem, reply back for further instructions
Please make sure you include the combo fix log in your next reply as well as describe how your computer is running now
After the run you may have internet problems or access to somethng problems. Simply reboot the computer.
---
#51
Posted 04 May 2012 - 06:51 PM
I have a unknown mbr code on my secondary drive..any advice? I am using mbrcheck.exe I tried to repair it but it din't work

Disregard I fixed it with norton utilities. Also my boot/ system partition says it is unknown by windows..
Edited by SweetHeart161, 04 May 2012 - 06:58 PM.
---
#52
Posted 04 May 2012 - 06:52 PM
What is the configuration of the drives on your machine?

---
#53
Posted 04 May 2012 - 07:17 PM
Well after reformatting performance seems sluggish for a 2.5ghz 8gb ddr3 ssd hdd machine. Bay1 Operating system drive and Bay2 500gb games drive It's a Qosmio x505 I love this laptop and I just wish it would run at peak performance..

Edited by SweetHeart161, 04 May 2012 - 07:21 PM.
---
#54
Posted 04 May 2012 - 07:25 PM
Partition checking
Do the following:
Start ->
Run
.
Type
diskmgmt.msc
.
Click "
OK
".
Disk Management will open.
Click and hold the right side of the Disk Management Window and drag it to the right until you can see all the columns.
Take a screen shot
of the Disk Management Window and
attach the screen shot to your reply.
To do this follow these steps:
Press Alt and Print Screen button on your keyboard
Open Paint program
From the menu choose Edit then Paste
Now save the picture as a .jpg file and attach it here for me.
Win XP
Go to
start
>
run
and type:
compmgmt.msc
From the left panel click Disk management and maximize the window. Take a snapshot of it and post it here
To print screen please download
ClickShoot.exe
on your desktop
Run the program and when you are ready press
[Print Screen]
button on your keyboard
Post
ClickShoot_HHMMSS.jpg
it creates here for me.
---
#55
Posted 04 May 2012 - 07:31 PM
Disk management says all is healthy but NU says system partition is unknown
Disk0 1.46gb system recovery partition C:\ 46.81gb and 11.35gb recovery partition
Disk1 465.76gb
Edited by SweetHeart161, 04 May 2012 - 07:38 PM.

---
#56
Posted 04 May 2012 - 07:33 PM
Yo mentioned sluggishness, is that your main issue? If not what is the main performance issue you have with this computer?

---
#57
Posted 04 May 2012 - 07:45 PM
Sluggishness and security are my top priority.. It just bugs the bejesus out of me... when something doesn't run as it should... 4 instance right now I just installed sp1 and it just did it's first reboot and it is stuck at shutting down.. it just sits there until I shut it down manually..

---
#58
Posted 04 May 2012 - 07:48 PM
Let's check the temperatures inside the computer.
Download
Speedfan
and install it.
Once it's installed, run the program and post here the information it shows.
The information I want you to post is the stuff that is circled in the example picture I have attached.
If you are running on a vista or windows 7 machine, please go to where you installed the program and run the program as administrator.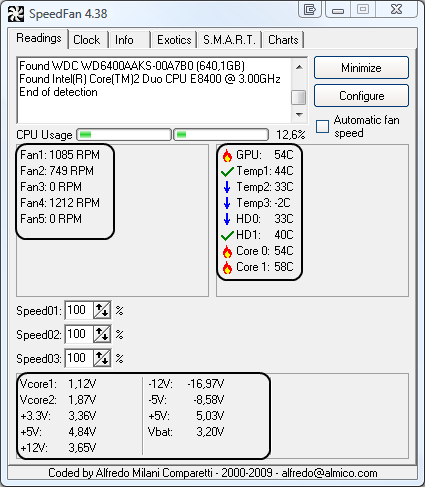 ---
#59
Posted 04 May 2012 - 08:06 PM
GPU: 45C
HD0: 50C
HD1: 42C
HD3: 46C
TEMP1: PEAK 76C
CORE0: 76C PEAK
CORE1: 79C PEAK
I am running a virus scan at the moment...
no voltage read out or fan speed
Edited by SweetHeart161, 04 May 2012 - 08:06 PM.
---
---
---
Similar Topics
0 user(s) are reading this topic
0 members, 0 guests, 0 anonymous users
As Featured On: