Win32:PUP (I think) "Laptop went berserk" is an understatement
Started by
Sophia L
,
May 01 2012 09:50 PM
#76
Posted 08 May 2012 - 04:05 PM
How is the computer performing now?
What issues remain?
CompCav

---
#77
Posted 08 May 2012 - 04:46 PM
Thanks for your help, CompCav. Could it be that you're helping too many people?


I already described my problems last night and this morning, in post 53, I think. Nothing has changed since. Please read it again when you have a chance. Also, I never heard any feedback on the initial logs I posted.
I have very little control over the laptop. I can't even click on anything unless I go through Task Manager first. Windows pop up by themselves, the computer rings on startup, never boots to Windows, only goes to HP screen, can't find its bluetooth driver, ENTER doesn't work.... it's all there... Nothing changed since we started, except for the fact that we ran a whole lot of tests.

---
#78
Posted 08 May 2012 - 04:48 PM
I just looked at post #1 - nothing has changed, except for long loud ringing... So to answer your question more directly - ALL issues remain.

---
#79
Posted 08 May 2012 - 04:49 PM
Delete your current copy of ComboFix (if you still have it)
I asked to see if any of the steps had helped. If they do not that is information I need also, sorry.
Download and Install Combofix
Download
ComboFix
from one of the following locations:
Link 1
Link 2
VERY IMPORTANT !!!
Save ComboFix.exe to your
Desktop
*
IMPORTANT
-
Disable your AntiVirus and AntiSpyware applications
, usually via a right click on the System Tray icon. They may otherwise interfere with our tools. If you have difficulty properly disabling your protective programs, refer to this link
here
Double click on C
omboFix.exe
& follow the prompts.
Accept the disclaimer and allow to update if it asks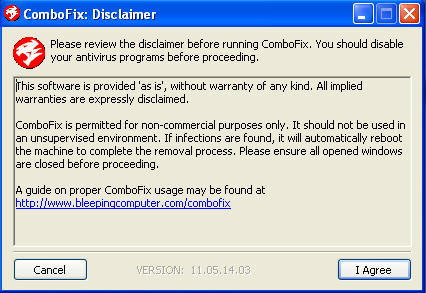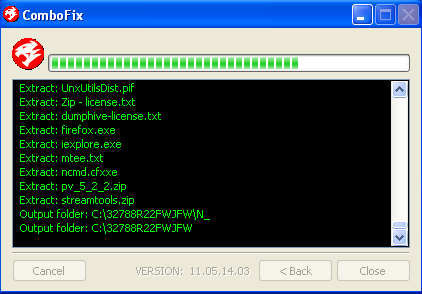 When finished, it produces a log for you.
P
lease include the C:\ComboFix.txt in your next reply.
Notes:
1. Do not mouse-click Combofix's window while it is running. That may cause it to stall.
2. Do not "re-run" Combofix. If you have a problem, reply back for further instructions
Please make sure you include the combo fix log in your next reply as well as describe how your computer is running now
After the run you may have internet problems or access to somethng problems. Simply reboot the computer.
---
#80
Posted 08 May 2012 - 04:52 PM
I ran it before. Should I run it again?

---
#81
Posted 08 May 2012 - 04:53 PM
OK, just re-read what you wrote. I'll delete it and run it again.

---
#82
Posted 08 May 2012 - 06:00 PM
CompCav, do I need to disable Windows defender and such and if so, how do I do it? Kaspersky, I can see in my system tray, so that one is easy.Thanks!

---
---
#84
Posted 08 May 2012 - 06:06 PM
I know you are tired of repeating the symptoms so just note changes if any.
I had hoped there would be some change especially after check disk because your logs showed:
Error - 5/6/2012 8:39:03 PM | Computer Name = Sophia-PC | Source = Ntfs | ID = 262199
Description = The file system structure on the disk is corrupt and unusable. Please
run the chkdsk utility on the volume C:.

The sfc scan was due to the ComboFix log you had:
.
------- Sigcheck -------
Note: Unsigned files aren't necessarily malware.
.
Which sfc is designed to address.
We had some trouble getting these to run and check disk was particularly troublesome. So the things I have asked for and ComboFix again are not willy-nilly.
Regards,
CompCav
---
#85
Posted 08 May 2012 - 06:12 PM
I never thought anything was willy-nilly! (LOVE that expression!

) I seriously thought that you were overwhelmed by helping too many people and had too much on one plate to handle.
I little glitch! I Started combofix before I heard back from you, but just when I disabled Kaspersky - it disconnected me from the Internet, so ComboFix didn't ask to update anything. At first it said that permission was denied because I had no priviledges, but then the scan started without my doing anything.
Should I stop it and start the internet before I turn it on? (And disable Windows Defender)
It just completed Stage 5.
Edited by Sophia L, 08 May 2012 - 06:12 PM.

---
#86
Posted 08 May 2012 - 06:14 PM
No it often will run without a problem when defender is on, in fact it was on when you last run it on May 3rd.

Please let it run and follow the directions to not move the mouse or do other things on the infected computer.

---
#87
Posted 08 May 2012 - 06:17 PM
...and also, I think I don't like being the blind following the sighted.

I'd like to be just a little bit sighted, following the very sighted. So, even though I am not a geek by any means, I would appreciate if you could clue me in on even the very rudimentary basics of what you're thinking, so I can feel a little more involved, even if it's of no use at all. Hope it makes some sense to you.

---
#88
Posted 08 May 2012 - 06:26 PM
I think I mentioned it, but just in case I didn't - when we successfully ran "repair computer", there was still that shaking, blinking window that wouldn't freeze and stop moving. It only stopped when I was able to close it.

---
#89
Posted 08 May 2012 - 06:27 PM
OK, I'm back to HP screen. Should I click on ESC. to go to Windows?

---
#90
Posted 08 May 2012 - 06:38 PM
Well, I assumed it was done, since HP screen came on. I clicked on ESC. Regular screen came on. It still has the ComboFix open and it says:
Preparing Log Report.
Do not run any programs until ComboFix has finished.
I'm not running anything, but Kaspersky is back on and that (Windows)window on the left popped up and stayed up,as usual. (as usual, after the problems started).
Edit: Also, Windows Defender (I think) just popped up in the system tray with a message "There are multiple problems with your security. Click here to learn more" or something to that effect, so I clicked on it to close it. Hope that doesn't interfere with preparing Log Report...

Edited by Sophia L, 08 May 2012 - 06:42 PM.
---
---
Similar Topics
0 user(s) are reading this topic
0 members, 0 guests, 0 anonymous users
As Featured On: