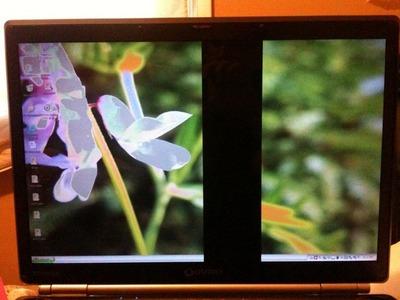 The basics:
-Toshiba Qosmio laptop.
-Not connected to the internet at all.
-Problem happened while I was working/typing (I saw it happen).
-No physical damage to the laptop has ever occurred, I am the original owner. (No falls/drops, spills, etc.)
The problem:
-Black bar appeared vertically across the screen, and all colors instantly became distorted (As if I'd used a filter on a picture). It looks similar to a negative image/reversal of colors.
I've tried:
-I ran a full virus scan (took hours), I restarted it, I put it into hibernation and 'woke' it. Still have the same problem.
-It's not the screen resolution as my cursor can access both sides of the black bar. I can drag windows through the bar to either side of the screen.
How would I fix this, please?
Thank you for your help.