Possible hard drive failure
Started by
chief74
,
Jul 16 2012 04:31 PM
#106
Posted 24 August 2012 - 04:26 PM

---
#107
Posted 24 August 2012 - 04:42 PM
Found the info now on the topic, - couple of years ago.

A HDD can fail of course in two years, but I am a little concerned that the original IDE drive, according to the last repair was deemed to have defects, as he told you it may fail at anytime and NOW we have a relatively modern SATA drive that also appears defective.

You posted very early in the topic that the details on the front of the case included just 512Mb ram, but unless I have missed it and I apologise if I have, both to you and my colleague, do we know, that it has not been upgraded. There are two ram slots on that computer. It can take a max of 2Gb ram, although it was orignally, according to the spec, provided with ONE stick of 512 MB and one slot was free - meaning there was no ram it that slot.

I know you mentioned at one time in the topic, considering upgrading ram and asking was it worthwhile to consider a new hard drive etc on a system that is some 8 years old I think -

Do you know NOW what ram you have.

I personally think it may be worthwhile, reconnecting the SATA drive, and seeing if temporarily, we can have a look at a couple of aspects to see what you have and indeed what if anything we can ascertain from a look at some details

IF I HAVE missed anything MAY I offer you and my colleague my apologies.

---
#108
Posted 24 August 2012 - 05:26 PM
Hi. No I never upgraded anything on the computer, it's still as it came from the factory, in that regard.
If you will, let me know if/when I need to buy that adapter so I can connect the hard drive and go from there.
I appreciate everyone's help

---
#109
Posted 24 August 2012 - 06:17 PM
Well it must of course be your decision.

Personally, I would tend to lean towards not buying that adaptor - at least not yet

You are going to use that adaptor, to connect the IDE interface of the adaptor to the drive, you will then connect the adaptor to the sata port on the motherboard.

However you only have one SATA port, so you cannot then connect the other HDD, that was in the computer when this topic started and exlore the possibility however slight of a clone from one hard drive to the other.

Therefore all your programs, for which you do not have the installation media will be lost.

You can having copied your personal files, with Puppy replace those back onto the new drive.

Depending on what else you have saved in Puppy, and what you use for emails, some of the connected data may also be lost

Your emails in Yahoo or whatever will be still there on your mail account, but bookmarks, favorites etc in IE or Firefox will be lost

IT IS DOUBTFUL that the clone will work, but the best chance is straight from one drive to another.

Then, as I mentioned earlier, you have to consider why the HDD has apparently failed.

Heat is one possible cause and can itself be caused by the case not being cleaned inside, the fans and especially the coolng fins of the CPU.

If the HDD runs too hot, its life is shortened considerably.

Although I would have expected other symptoms besides the HDD failing, the power supply, can also cause problems.

Additionally to all that, as my colleague said, right at the start, if you only have 512MB ram, you are using HDD space as ram and the system is never going to run well.

1GB is really the minimum and if you do have one 512, then you may buy one more stick of 512. I presume from your last that you definitely know this was not upgraded when the previous HDD was replaced.

Personally I would see if moving the HDD into another bay, will allow the existing IDE cable to be used.

If it is the original, it must have been used for the FIRST HDD.

The choice is yours, as I said, but I have some concerns.

---
#110
Posted 24 August 2012 - 07:07 PM
I am at a loss of what to do now. They also sent me the operating system cd for windows. I also read some comments on people who had bought the adapter the other tech mentioned and a lot of them were negative, of course I don't know what they were trying to do.
The inside of the case was very dusty as we're the blades on the various fans. I cleaned then fairly well so don't know if things were overheating or not.
Don't know. My brother can repair computers so may ask his advice.
Thanks for everything. I really appreciate it

---
#111
Posted 24 August 2012 - 07:35 PM
Trying to make something work like it is not intended is never a good ideal.
Adapters fail easily like this one and I was only looking for one to show you and not really not that particular one to purchase.

---
#112
Posted 24 August 2012 - 09:02 PM
Hi. Sorry I didn't mean to say that the one you showed me wasn't good. I appreciate your help, you helped me save my pictures and videos and that is priceless. I guess I am just discouraged.
Do you mean this adapter isn't really designed for what I need to accomplish but could possible work? I just assumed it was made for a situation like mine. Wish I knew how to upload a picture of what is inside my tower. I have several wires with connections that aren't attached to anything and don't know if the computer repairman did that to modify or not. The flat ribbon cable in there is connected to something at both ends. I don't know if there were originally two ribbon cables in there and one was connected to the hard drive or if he took it out?? Just kind of bummed out right now, especially not hearing back from emachines.
So please know I am grateful to you for all your help.

---
#113
Posted 24 August 2012 - 09:48 PM
No it is made for what you are describing. To allow a IDE drive to connect using a SATA interface.
I understand your frustration and believe me it is acceptable when your system is not working correctly.
What I meant to say is that you need something like what I linked to but you didn't have to buy that particular one. There are several manufacturers of them and if you find one that has better reviews then by all means purchase it.
If you are unsure simply post a link to it and I will take a look at it for you and verify it is what you need.

---
#114
Posted 24 August 2012 - 10:24 PM
Thank you for understanding. My words were not directed at you personally.
I will try to look and see what is out there but with school starting Monday spare time is scarce. I'll let you know what/if I find something or if I order the one you highlighted.
Thanks

---
#115
Posted 25 August 2012 - 05:25 AM
I hope you get it sorted it out.
It is of course, on the evidence available, not an error on the part of EMachines, as they simply supplied a HDD for YOUR computer model and that was of course the original HDD which was IDE (PATA) interface.
My brother can repair computers so may ask his advice
It maybe that this, whilst as my colleague
rshaffer61
has said, we are more than ready to help, is the way forward for you.
There is nothing to beat, in a situation like this, actually having possession of the computer.
That adaptor, whilst it may work perfectly, you will always find reports of hardware not working on occasions, is primarily for use when you wish to connect, a SATA drive to a computer that does not have a SATA port, or an IDE drive to a computer that does not have an IDE connection on the motherboard. That does not mean that it cannot be used in these circumstances.
I feel reasonably certain that the way forward is as I mentioned
Personally I would see if moving the HDD into another bay, will allow the existing IDE cable to be used.

If it is the original, it must have been used for the FIRST HDD.


There is one other consideration you need to check I have looked at the user guide for your computer.
It is not the most complete guide I have seen and YOU need to check more carefully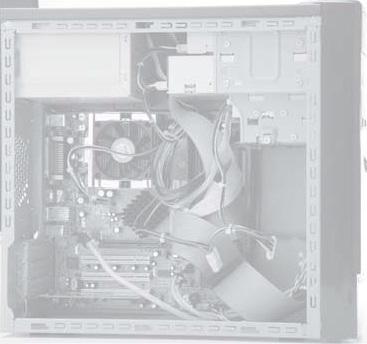 This as you will realise is the inside of your computer. I am reasonably certain your HDD does fit into a bay, so that drive is
horizontally inclined across that image from the right. - IF SO the adaptor MAY fit, but check carefully the room available
IF however the drive position is determined by some form of clip arrangement, as is common on some Dells, then you may find that there is most certainly not room for the adaptor.

---
#116
Posted 25 August 2012 - 11:28 AM
I have several questions to ask so I can get a better understanding of my computer.
Inside my orginal computer (I guess the picture you posted of the inside of a computer like mine is similar to mine)would there have been 1 or 2 IDE ribbon cables? I have one and it is connected at both ends to other things. Is the cable supposed to be connected to other things? In the middle of that cable is what looks like a connecton for another ribbon cable, but it is stationary and does not slide up and down the ribbon. How would the orginal IDE ribbon cable have been attached to my hard drive? Just trying to picture what it may have looked like so I can see what is now different. The picture you posted of the inside of a computer like mine is kind of hard to see and cannot see the details clearly. It looks like something it attached to the middle part of that ribbon cable. In one of the pictures earlier, you showed an ATA connector with a jump connection in the middle of it and the right end a power convertor. You posted, "to try and save you some work is this it". Was this just what the end of my hard drive should look like, the one I have installed now? Also, would the "jump" have to be connected to something? I guess an IDE ribbon connector would go into the left side and what would plug into the power connector/converter (sorry can't make out if the word is connector or converter).
Thank you.

---
#117
Posted 25 August 2012 - 11:49 AM
That image is from the user manual for YOUR computer, clearly it will not be exact, as some of those computers were supplied with two optical drives and some with one.
If it looks NOTHING like the inside of your computer then either the Emachines site has provided the wrong image on the user manual or yours has been drastically altered.
CLICK on it then enlarge it
With the greatest of respect, as I admire your perseverance, we are just slightly going round in circles
1. If the IDE ribbon cable is the SAME cable as was originally in the computer, then as there is ONLY one IDE connection on the motherboard, then that cable must have connected the HDD and the CD/DVD drive.
2. If when the SATA drive was installed, the original IDE ribbon cable was replaced, perhaps in the opinion that it was faulty, then it may not indeed be the correct cable.
3. On the more modern cables blue connects to the motherboard and black to the drive
4. The device at the end of the cable is master and the device in the middle is slave.
That is if the cable is cable select and the drives are jumpered cable select
That is where jumper is on the image.
All that is there is a small connection - bridge normally but not always black in colour that connects two pins of the jumpers in the mode - orientation described on the case of the drive.
5. Even when using a cable - cable slect, you can still jumper the drives master and slave, but the normal way is to jumper cable select
6. SATA drives to not usually have jumpers
7. The 1000$ questions are and you have apparently not addressed them
1. Will the adapter apparently fit, that is the one my colleague posted that is used to connect ide drive to a sata port.
2. Will the IDE cable connect if you move the drive to another bay
3. Is the drive able to be moved or is it in some form of pre allocated space by a clip arrangement.
If you inserted screws in the drive to secure it in the bay, thenh it is not usually in a pre determined spave, is there another BAY
Personally and as I said, we will help as much as we can, indeed you will know that by the amount of work my colleague
rshaffer61
has done with you, I would do as I said
when you posted
My brother can repair computers so may ask his advice
I would - if he can visit and see it, if of course he is too far away, then he has no apparent advantage to us
---
#118
Posted 25 August 2012 - 01:32 PM
Hi
I thank you for your help but I am getting more confused the further we go. I used 4 screws to secure the new hard drive in place. There is another open slot
next to it but if I moved it, the connection in the middle of the ribbon cable will still not connect. It's not long enough ( if this is what your are talking about ). I do not know if the device mr Shaffer suggested will fit into the hard drive and enable me to connect the cables and still install the cabinet. There is probably only an inch of room right now between the hard drive and the top where cabinet is.
I am going to give up on this and see if I can get someone in person to help or just repair it.
Thanks so much to you and mr Shaffer for all your help. At least I was able to save my pictures and videos which was the most important thing to me.
Thanks again and have a great day

---
#119
Posted 25 August 2012 - 01:42 PM
Please let us know what you find out with a on site visual inspection from a tech.

---
#120
Posted 25 August 2012 - 01:48 PM
I thought your brother was computer repair - knowledgeable

the last point on my last post - but although it was you that raised it, with respect you do not actually say if he can, or is too far away etc, to do other than we are doing.

A longer ide ribbon cable although the modern ones are no longer ribbon style is a cheaper answer.

---
---
Similar Topics
0 user(s) are reading this topic
0 members, 0 guests, 0 anonymous users
As Featured On: