Artifacts and BSOD
Started by
DeZiekeNon
,
Jul 29 2012 11:53 AM
#16
Posted 29 July 2012 - 04:57 PM
That is how I was planning on doing it


---
#17
Posted 29 July 2012 - 04:59 PM
Sorry mate, I didn't mean to be rude or anything, it is just some people are not very familiar with computers.

---
#18
Posted 31 July 2012 - 01:51 PM
I would be cautious in presuming that because 7 Million plus errors were reported, that REPORT is reliable
Indeed the clue to this is on this link from the page of the program
http://mikelab.kiev....PROGRAMS/vmt_en
If you received this warning that the program may not be compatible with your GPU - and it appears that it is less satisfactory on AMD chips than it is on Nvidia, then I would think twice before consigning the Sapphire card to the rubbish.
It seems to me that if the memory on the card had that many errors, it is extremely unlikely it would have performed OK in the other computer.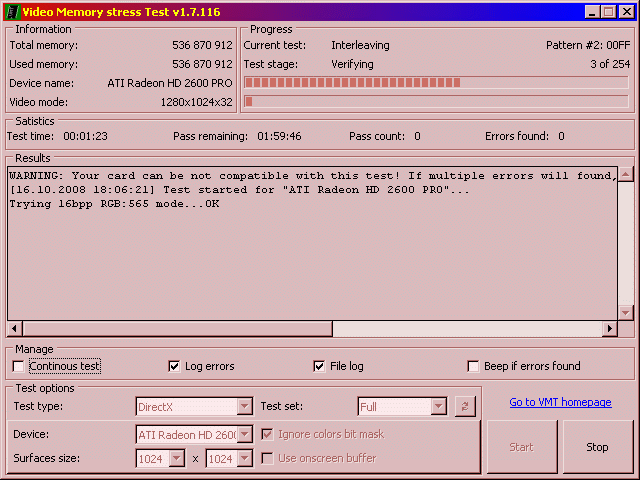 On the above screen the question has to be - Did you receive that warning. - which MAY be read more accurately I suspect as
Your card may NOT be compatible with this test - and POSSIBLY a warning that if it is not mutilple errors will be reported.
---
#19
Posted 01 August 2012 - 12:13 PM
I too found it very odd the card performed without problems on my friends PC. However, I now replaced the Sapphire HD 4980 with a HD 6950 and my problems are gone. So I guess it must have been the Sapphire card.

Thanks to everyone who helped me.

---
#20
Posted 01 August 2012 - 12:24 PM
OK thanks for posting, that Sapphire card as you know is supplied overclocked and there were reports of it failing even although it has its own fan, if case cooling was not ideal.

As you will know I am sure, the fan on a graphics card or indeed the CPU fan can only work efficientlly if the case fans are working correctly, by that I mean the airflow through the case is correct and if the case has filters they are clean.

I know you have stressed that you are not without knowledge, so I will not present you with basics.

I would measure your case temps and if necessary re=access the case fan setup





---
#21
Posted 01 August 2012 - 01:52 PM
I did know the grahpics card is overclocked by default, the name strongly implies it. I did not know that about the issues with it. I bought my PC second had from someone who assembled it himself and called himself an airflow freak, so I think the airflow was ok, but its been two yeaes. Since I have replaced the CPU fan with a better one. Because the weather is a lot warmer then normally my PC has more trouble cooling I guess. I will check the temperatures and improve the cooling if needed. Thanks for your reply.

---
#22
Posted 13 August 2012 - 12:50 PM
DeZiekeNon

How did you progress with this please.

---
#23
Posted 13 August 2012 - 01:09 PM
I monitored all the case temperatures while playing Battlefield 3 on Ultra settings for a pretty long time. The CPU reached a maximum temperature of 50 degrees C and the GPU reached a maximum of 80 degrees C. Which I think is very good. Also all the 9 fans are blowing in the right direction for an optimal airflow. I checked the manual of my Coolermaster CM690. I do however find that my PC is kind of noisy and I think all the fan bearings start to wear after 2.5 years. So I plan to replace the main ones with Sharkoon Silent Eagles and I bought a can of compressed air to clean the dust out of the case and filters.
Edited by DeZiekeNon, 13 August 2012 - 01:51 PM.
---
#24
Posted 13 August 2012 - 01:46 PM
Thanks so much for the update

Good luck with it.



---
#25
Posted 13 August 2012 - 01:51 PM

---
---
Similar Topics
0 user(s) are reading this topic
0 members, 0 guests, 0 anonymous users
As Featured On: