Hey folks.... so I use Chrome as my default browser, and I use extensions to manage my mail and stop ads and whatnot. Well this one extension that I use, Disconnect, suddenly stopped working on all google and facbeook pages (the extension is designed to prevent trackers from following my online activity). So I tried uninstalling Chrome and re-installing it-same problem.
So then I got the brilliantly bad idea.... let me delete as many google files on my computer as possible, maybe that will force a total reset of Chrome on my computer, and then I'll just re-install Chrome and it should work.
And now when I try to install Chrome, I get this message-"System.ComponentModel.Win32Exception: The system cannot find the file specificed at System.Diagnostics.Process.StartWithShellExecuteEx(ProcessStartInfostartInfo) at System.Diagnostics.Process.Start() at System.Diagnostics.Process.Start(ProcessStartInfo startInfo) at ClickOnceBootstrap.ClickOnceEntry.Main()" I've also attached a picture of it.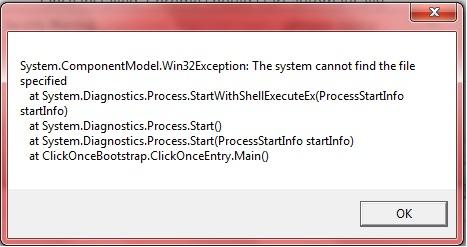 Yeah.... I'm really not the brightest at times. Please help me save my silly self? I had to switch over from Firefox to Chrome originally because Firefox stopped letting me download things, and now I'm stuck with Internet Explorer.....