Hi.

System repair disc could not be created

The write failed because the drive returned error information that could not be recovered from
0xC0AA0301
That is a pity(not a major cause for concern I will further add) though unfortunately that is something I will be unable to assist with as primarily I only provide Anti-Malware support....because this is most likely either a hardware and or driver issue for example and not malware related per-say...
So my best suggestion would be when I give the all clear create a new topic in this part of the forum:-
Hardware, Components and Peripherals
And the IT Techs here in GTG will be able to sort that problem for you. By all means when doing so provide a link back to this topic and mention I advised you seek further assistance if you so wish.
This is the topic url you can copy when doing so:-
http://www.geekstogo.com/forum/topic/323664-this-program-cannot-display-this-page/
Note:
To reiterate do not create the new topic until I give the all clear in this one as having more than one person assisting on with the same machine simultaneously is counter productive.
Next:
OK we will merely take a different approach to what I had planed as follows...
Alternate Startup Repair:
Restart your computer.
As soon as the BIOS is loaded begin tapping the F8 key until Advanced Boot Options appears.
Use the arrow keys to select the Repair your computer menu item.
Select US as the keyboard language settings, and then click Next.
Now select the operating system you want to repair, and then click Next.
Click on/select your user account and click on Next.
Select the option

R

epair your computer
At the the System Recovery Options screen click Windows 7 to highlight then Next>
You should now see the Searching for Problems...
Note: If given the option to Perform a System Restore, do not select and cancel the option. If advised Send information about this problem (recommended), select Don't send.
If problems found let Startup Repair complete and follow the prompts. Restart your computer if not prompted to do so once the procedure is complete.
Hard-Drive Maintenance/Repair:
Please download TFC to your desktop,
Right-click TFC.exe and select Run as Administrator to run the program.
Click the Start button in the bottom left of the TFC graphical user interface.
If prompted, click "Yes" to reboot.
Note:
Save your work.
TFC will automatically close any open programs, let it run uninterrupted. It shouldn't take longer take a couple of minutes , and may only take a few seconds. Only if needed will you be prompted to reboot.

Next:-
Click on Start(Window 7 Orb).
Click on All Programs >> Accessories
Right click on Command Prompt and select Run as Administrator.
Click on Continue at the UAC prompt.
At the Command Prompt C:\Windows\System32> type in the following exactly:
CD C:\
Then depress the Enter/Return key, then type in the following exactly:
Now type in DEFRAG C: -F
A Analysis report will be displayed and then Windows will start the Defragmentation run automatically.
This may take some time, when completed the Command Prompt C:\ > will appear.
Now type in CHKDSK C: /R and hit the Enter/Return key.
When prompted with:
CHKDSK cannot run because the volume is in use by another process
Would you like to schedule this volume to be checked next time the system
restarts (Y/N)
Hit the Y key then at the Command Prompt C:\ >
Type in EXIT and and hit the Enter/Return key.
Now Reboot(Restart) your computer.
Note:
Upon Reboot(Restart) the CHKDSK(check-disk) will start and carry out the repairs required.
You should see a screen like this just after the Post(power on self test) screen: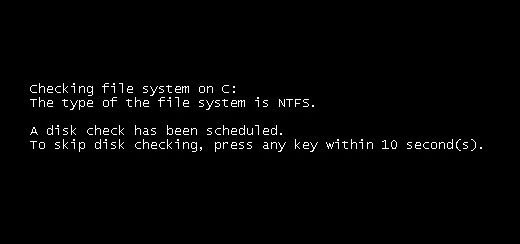 Note:
Do not touch either the keyboard or Mouse, otherwise the Check-Disk will be canceled and you computer will continue to boot-up as normal.
Next:
Let myself know when completed the above and if any problems encountered.