Upgrading to windows 7 Advice
Started by
Annoyance
,
Apr 15 2013 12:32 AM
#16
Posted 15 April 2013 - 08:53 AM
Thanks again


---
#17
Posted 15 April 2013 - 08:57 AM
You're welcome Paul.

---
#18
Posted 24 April 2013 - 09:14 AM
Ok mate have a look at this and see what you think.

It's not the dogs bollocks but neither is your system.

http://www.amazon.co...66035233&sr=1-8

Hi
See above quote I got this videocard and put it in my system ( still as Xp ) putting windows 7 in later or so was the plan I now have a memory issue not sure caused by this or not I am sure I could smell burning coming from the slots ( no smoke just smell at best an overheating smell ) the memory was very hot to touch almost to hot to touch now my system will not come on tryed insterting re-inserting no luck I am gonna leave it a while to see but I have a felling the memory is toast just have no idea what is causing; caused it if it could be this videocard or not.
any help would be great
Regards
Paul
---
#19
Posted 26 April 2013 - 03:15 AM
Hi
Just an update the memory still does not work but I was expecting this as further thought has revealed that I have indeed fryed memory by the memory not being seated properly one side in one side not I was not having a good and i did this twice and done in my 2 1GB Memory now my only concern and quite frankly is that have I done in the motherboard I have attached a pic which will show the slots and the make of motherboard.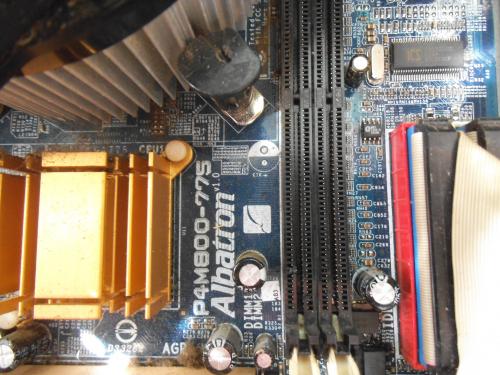 If it done there might be a small chance to replace it here just not sure it is actually the same:
http://compare.ebay....ff13=80&ff14=63
Other than that I have no idea and how to go about re-fitting it if it can be done or if that motherboard on ebay will work but if there is a chance it will it is cheaper than i new computer if i need to buy it. or if the is some other motherboard that would work just think there will not be many that will not that I know anything but that my thoughts on it.
I could kick myself now but it is done now just have to deal with whatever comes i guess
I could get some memory to test it but unfortunately that needs to wait for now but if that is the only advice is to test it first or by looking at the pic you can tell it's gone (which is what i expect)then like I said before I have to deal with it
Computer turns on no burning or smoke just does not click on the monitor but looks the same just as if the monitor is not on like it running without memory which would be right for what is going on.
also another point how relevent it is i do not know is that the fan sound like it is struggling then it comes good there is lots of dust on it so that could be the reason.
any thoughts would be gratefully recieved
Regards
Paul
---
#20
Posted 27 April 2013 - 01:30 AM
Sorry for the late reply Paul but I've been very busy doing paid work.

Are both sticks toast or only one as XP will run ok on just 1GB stick.

Have you had an opportunity to try known working memory?

---
#21
Posted 27 April 2013 - 03:26 AM
hi wolfeymole

That is ok .. not to worry about the late reply

Both are toast .. tested each 1 in each slot plus the have burn marks on them and no I have managed to get more memory I would need to purchase somemore as I have none laying around.

If you think it is worth it I will look into getting some testing just waiting to see would be best just if it need another motherboard I think I would need to act soon I feel

Regards
Paul

---
#22
Posted 27 April 2013 - 03:31 AM
Well I wouldn't waste time trying to find and resolder 2 mem slots onto the board.

That other board looks ok from what I can see of it.

---
#23
Posted 27 April 2013 - 03:40 AM
hi

no i didn't mean resolder i just meant actually buying some more ram to test to see if the slots work if not then I need another board which is what I really am trying to find out but if that motherboard look ok i know there is no guarantee's with that stuff but I will look into it just really wanted to know if I could.

if i need to get and fit the other motherboard then I will most likely be back because have no clue and have never fitted one before.

so what is most likely will do is:

Look into buying 1gb memory ram ( test to see if it works)
just get another motherboard cuz if it real it might come in handy as the longer i leave it the harder it is to get


Thanks again
Paul

---
#24
Posted 27 April 2013 - 06:40 AM
Ok

Check to see if there is any carbonization on the mem slots or any slightly melted aspects because if there is then the board is down the pipe for sure.

Buying a new stick to try would be ok as memory is never lost as it could be used again should the slots be ok.

---
#25
Posted 27 April 2013 - 07:12 AM
Hi
there is some slight damage to it you can see the pic above i do have a pic from another angle just not all the way as wires and stopping it but it is the same as that end nothing different
the other angle:
But i know testing is the ONLY way to really be sure unless u see something in those pics that says different
Regards
Paul

---
#26
Posted 27 April 2013 - 07:19 AM
The top slot looks especially crusty in the middle I have to admit and the locking levers appear sooty.

---
#27
Posted 27 April 2013 - 07:25 AM
ok thanks for the info

I will get to work on things

if i need to replace the board

what other things will i need to swap it over

Regards
Paul

---
#28
Posted 27 April 2013 - 07:36 AM
Well I personally don't buy anything from EBay and the seller states the board is used but he has a 99.9% positive rating.

All the things you have now should fit but you will need to reinstall the operating system as your hard drive won't recognise the new hardware.

If when you come to activate MS gives you problems then just ring them and tell them the old board was faulty.

This is allowed under the XP EULA.

---
#29
Posted 27 April 2013 - 07:44 AM
thanks

I do not either but i cannot see the motherboard anywhere else so i will chance it for the price it is anyway thanks for the info I will be back when things arrive and ready to begin or if the memory work which giving what I had read and your comments I am not to hopeful but there is still hope :-)


anyway
thanks again :-)

regards
paul

---
#30
Posted 27 April 2013 - 07:49 AM
At the end of the day Paul you have two choices.

Try a new stick in the crusty slots to find it will work or it won't or get a new board in which, in theory, the new mem will.

---
---
Similar Topics
0 user(s) are reading this topic
0 members, 0 guests, 0 anonymous users
As Featured On: