Hi There, Its been a while since i paid you guys a visit, which is a good thing..right?..Means all is well.
Here is my issue;
My computer has decided to have a lot of crashes/freezes. Especially when i play games.
It says that a plugin is not responsive OR i just get this "!".
I have uninstalled and reinstalled flash many times but still having the same issue.
Via the games it looked to me like the problem seemed to be coming from an overload of graphics.
So i went on the hunt for what the culprit might be and i discovered that a driver is missing.
Went into Device Manager and found a missing Driver OR its an extension of one?
This was not missing the last time i went into DM. How this disappeared is beyond me.
Anyway, i tried to identify it and came up with ACPI/NC1100.
I then went on the hunt for that.
The file i found was this TPM_R52.
Downloaded it but it does nothing.
The wizard opens says to wait that its doing its thing....nothing happens..the wizard gets to finish, still no sign of change.
This morning out of desperation i figure just delete the missing Driver and reboot. The system may reload it on reboot...
NO..it reloaded exactly how it was before which is what your seeing in the pic.
I havent a clue if this all is whats causing my problem but it cant be good that a Driver is missing.
Also out of desperation i d/loaded DriverUpdate, ran that, it said that i had 8 ancient drivers.
SO, i let it do its thing in d/loading newer versions plus installing.
That all went well but it never picked up that there was 1 Driver still gone?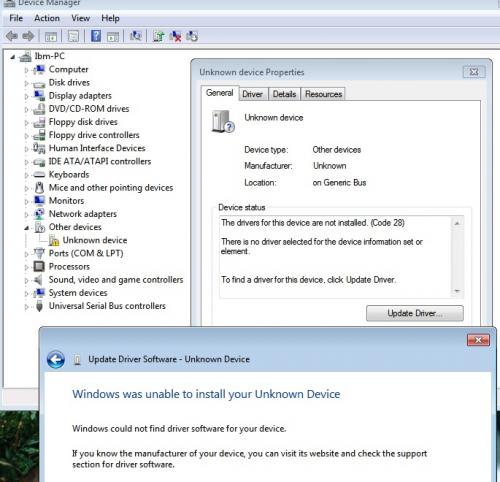 Then i went to;
http://support.lenov...?DocID=PD022623
here didnt have a clue what to d/load.
And
http://support.lenov...?DocID=DS029250
here i d/loaded the first 2 files thinking this my fix the driver...
Noooooooooooo.
Comp Stat;
Lenovo/IBM/Thinkcentre
Windows 7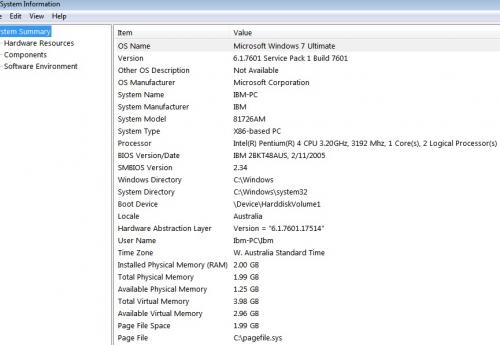 Hope i havent missed any info, if i have im sure you'll let me know....

PS; While in system files i found "problem drivers" Turns out the full Driver that is missing is;
ACPI\NC1100\5&332E2FD3&0
ON THE HUNT I GO AGAIN...SIGH