I apologize if this is the wrong place for this topic.
Did a member of G2G help you build or upgrade your computer? Feel they need credit? Show off your work and give credit to those who helped you! Please, if you would, include a parts list and pictures for all to learn and see what the outcome and the glory is when you build it yourself!
Credit goes to Phillpower2. I rerouted a lot of the case wires and dusted the insides today. All pictures were taken today (7/27/2013) Here they are!
Side panel before redoing the wires.
All the wiring, redone. I now see the dust I completely missed on the rear fan!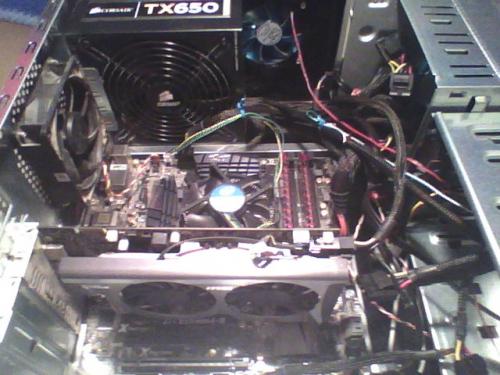 Zip tied and neatly as possible placed wires stored the expansion bays.
Better view of the hardware.
See the fan at the top, that is the one I had to mount on the outside because the PSU was too long
.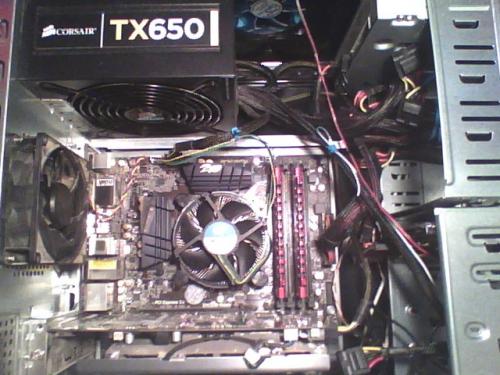 And finally, my setup, after all the work above. The faint glow on the bottom right is my mouse on the charging dock, lit up. Keyboard on the left of course. PC on the far right and of course, my monitor/desktop.
The PC case, tv, keyboard, mouse, hard drive, and optics drive were all parts I already had before building my computer.
The motherboard, RAM, operating system, graphics card, CPU and PSU were all suggested by Phillpower2.
Case: Apevia X-Infinity black steel ATX mid tower with blue LED.
http://www.newegg.co...N82E16811144076
Graphics: MSI Hawk Radeon HD 5770 1gb
http://www.newegg.co...N82E16814127490
CPU: Intel Core i5-3570K Ivy Bridge quad core
http://www.newegg.co...N82E16819116504
RAM Sticks: 8GB G. Skill Ripjaw Series 240-PIN SDRAM DDR3 1600
http://www.newegg.co...N82E16820231314
Motherboard: ASROCK Z77 Extreme 4M
http://www.newegg.co...N82E16813157294
Power Supply: Corsair TX650 Enthusiast Series
http://www.newegg.co...N82E16817139020
Mouse: Razer Naga Epic 17 button gaming mouse
http://www.newegg.co...N82E16826153065
Keyboard: Steelseries Merc Stealth
http://www.newegg.co...0merc%20stealth
Monitor: LG 42inch LCD 1080P 60Hz connected to PC via HDMI
Operating System: Windows 7 Home Premium SP1
HDD and optic drive (CD-ROM/DVD-ROM drive) are the factory items when I originally bought my first PC. I used them in this build since there is nothing wrong with them. Not only is there nothing wrong with them but they are also not worth mentioning. Enjoy

The graphics card I will be getting in a couple weeks.
http://www.newegg.co...=02G-P4-2765-KR
Edited by heartgrave, 28 July 2013 - 06:21 AM.