cannot restore Windows XP home
Started by
RogerMortimer
,
Jul 29 2013 04:15 AM
#1
Posted 29 July 2013 - 04:15 AM
I cannot restore to any date (even yesterday) although the calander shows data available

---
#2
Posted 29 July 2013 - 05:18 AM
Two questions:

How are you trying to restore?
Why are you trying to restore?

---
#3
Posted 29 July 2013 - 06:47 AM
Trying to restore with Windows, accessories, system tools, system restore.
I use Caps Lock often. Some time ago the Caps Lock indicator stopped working on startup. Calling up Keyboard and closing activates the indicator.
I want to try restoring to find the time when the indicator worked.

---
#4
Posted 29 July 2013 - 06:50 AM
It may be a possibility one of your restore points is corrupted which will cause a problem with all restore points.
Instead of doing a restore try a SFC to see if any system files may be corrupted or missing.
SFC /Scannow Fix Windows
Go
Start
and then to
Run
("Start Search" in Vista),
Type in:
sfc /scannow
Click
OK
(Enter in Vista).
Have Windows CD/DVD handy.
If
System File Checker (sfc)
finds any errors, it may ask you for the CD/DVD.
If
sfc
does not find any errors in
Windows XP,
it will simply quit, without any message.
In
Vista
you will receive the following message:
"Windows resource protection did not find any integrity violations".
For Vista users ONLY: Navigate to
C:\Windows\Logs\CBS
folder. You'll see CBS.log file.
Usually, it's pretty big file, so upload it to
Flyupload
, and post download link.
If you don't have Windows CD....
This applies mostly to
Windows XP
, since
Vista
rarely requires use of its DVD while running
"sfc"
Note This method will not necessarily work as well, as when using Windows CD, because not always ALL system files are backed up on your hard drive. Also, backed up files may be corrupted as well.
Go
Start
and then
Run
type in
regedit
and click
OK
Navigate to the following key:
HKEY_LOCAL_MACHINE\SOFTWARE\Microsoft\Windows\CurrentVersion\Setup
You will see various entries
Values
on the right hand side.
The one we want is called:
SourcePath
It probably has an entry pointing to your
CD-ROM
drive,
usually D
and that is why it is asking for the
XP CD
.
All we need to do is change it to:
C:
Now, double click the
SourcePatch
setting and a new box will pop up.
Change the drive letter from your
CD drive
to your root drive, usually
C:
Close
Registry Editor.
Now restart your computer and try
sfc /scannow
again!
Thanks to Broni for the instructions
---
#5
Posted 30 July 2013 - 02:10 AM
When I run sfc/scannow I get the message Windows cannot find sfc/scannow.
Neither altering the registry or inserting the Windows disc help

---
#6
Posted 30 July 2013 - 05:01 AM
Is your windows disk a upgrade or recovery disk?

---
#7
Posted 30 July 2013 - 05:37 AM
When I run sfc/scannow I get the message Windows cannot find sfc/scannow.

You need a space between sfc and /.
---
#8
Posted 30 July 2013 - 06:03 AM
Correct you can't type it in like this
sfc/scannow


It has to be like this
sfc /scannow

---
#9
Posted 30 July 2013 - 09:01 AM
sfc /scannow works now I have put the space in, it called for the Windows disc about 8 times and completed the scan with no report.
The computer still restarts by itself after shutdown.

---
#10
Posted 30 July 2013 - 09:03 AM
OK lets look at the most obvious and see what your power supply is doing or not doing.
Download
Speedfan
(The download link is to the right), and install it. Once it's installed, run the program and post here the information it shows.
The information I want you to post is the stuff that is circled in the example picture I have attached.
To make sure we are getting all the correct information it would help us if you were to attach a screenshot like the one below of your
Speedfan
results.
To do a screenshot please have click on your Print Screen on your keyboard.
It is normally the key above your number pad between the F12 key and the Scroll Lock key
Now go to Start and then to All Programs
Scroll to Accessories and then click on Paint
In the Empty White Area click and hold the CTRL key and then click the V
Go to the File option at the top and click on Save as
Save as file type JPEG and save it to your Desktop
Attach it to your next reply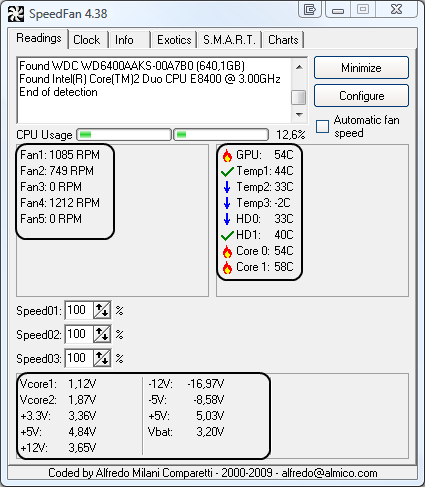 Please download and run
Hardware Monitor
Installation (setup version only)
HWMonitor is a hardware monitoring program that reads PC systems main health sensors : voltages, temperatures, fans speed.
The program handles the most common sensor chips, like ITE® IT87 series, most Winbond® ICs, and others. In addition, it can read modern CPUs on-die core thermal sensors, as well has hard drives temperature via S.M.A.R.T, and video card GPU temperature. Please get a screenshot of the sensors window and post it in your next reply.

---
#11
Posted 31 July 2013 - 03:04 AM
---
#12
Posted 31 July 2013 - 03:44 AM
OK PSU looks to be running just fine with temps and voltages right where you would expect them to be. In some cases the temps are even better.

Now lets check the HD to make sure we don't have a issue with bad sectors.
Go to
Start
and then to
Run
Type in
Chkdsk /r
Note the space between k and /
Click
Enter
...It will probably ask if you want to do this on the next reboot...click
Y
If the window doesn't shutdown on its own then reboot the system manually. On reboot the system will start the chkdsk operation
This one will take longer then chkdsk /f
Note...
there are 5 stages
...
It may appear to hang at a certain percent for a hour or more or even back up and go over the same area...this is normal...
DO NOT SHUT YOUR COMPUTER DOWN WHILE CHKDSK IS RUNNING OR YOU CAN HAVE SEVERE PROBLEMS
This can take several hours to complete.
When completed it will boot the system back into windows.
Reboot after your done running chkdsk /r...
then Go to
Start
...
Run
and type:
eventvwr.msc
press
Enter
When Event Viewer opens, click on
Applications
... then scroll down to
Winlogon
and double-click on it. This is the log created after running Checkdisk...copy and paste the log back here
We will advise after studying the log.
Run hard drive diagnostics:
http://www.tacktech....ay.cfm?ttid=287
Make sure, you select tool, which is appropriate for the brand of your hard drive.
Depending on the program, it'll create bootable floppy, or bootable CD.
If downloaded file is of
.iso
type, use
ImgBurn
:
http://www.imgburn.com/
to burn
.iso
file to a CD (chose "Write image file to disc" option), and make the CD bootable.
NOTE. If your hard drive is made by Toshiba, try the
Hitachi DFT
CD Image version of the software
Thanks to Broni for the instructions
---
#13
Posted 31 July 2013 - 09:17 AM
---
#14
Posted 31 July 2013 - 09:41 AM
OK the HD integrity is good and it corrected a couple of issues. Now on to the actual HD diagnostic testing.
If HD and memory check out ok then we have to suspect that the restore points or at least one has been corrupted making them all unusable. If that is true then you would need to clean out all restore points and create a new one to come back to.

---
#15
Posted 01 August 2013 - 03:11 AM
I cannot select a diagnostics programme as i do not know the hard disk manufacturer. All I can find is "(Standard disk drives) ST 3250620A

---
---
Similar Topics
0 user(s) are reading this topic
0 members, 0 guests, 0 anonymous users
As Featured On: