This is troubling. I had been getting a pop up from the lower right Task Bar saying that I had an old version of Adobe Air and needed to update it. ( Click Here). I checked and the pop up was correct. Well I made the mistake of clicking on it. I did get the new Adobe Air but I got a lot more. I think that I managed to get rid it all. But how did I get that pop up in the first place???
Let's get a fresh look with OTL and see what that update had with it. At any time, software manufacturers may change what comes bundled with the installer and their auto-updates. That may be where the popup came from. Let's take a look.

Close any open windows and then double click (Vista, Windows 7, 8, right click and then click Run as Administrator) the icon to start OTL.

Please make sure the following boxes are checked.

Scan All Users
Use Company-Name WhiteList
Skip Microsoft Files
Use No-Company-Name Whitelist
LOP Check
Purity Check

Please check Use Safelist is checked under Extra Registry.

Copy the contents of the quote box below Do not copy the word quote! and paste them into the Custom Scans/Fixes box at the bottom of OTL's control panel.



%SYSTEMDRIVE%\*.exe
/md5start
services.*
explorer.exe
winlogon.exe
Userinit.exe
svchost.exe
/md5stop
dir "%systemdrive%\*" /S /A:L /C


Click the Run Scan button.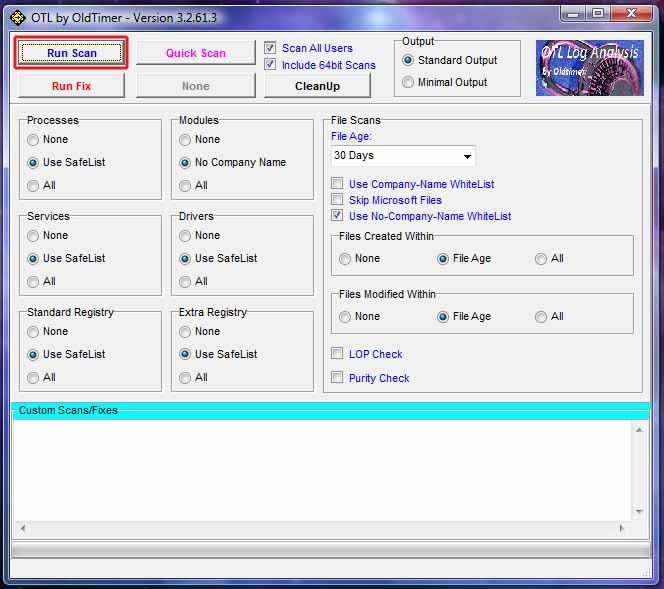 Please do not interrupt the scanning process. It may take a while to complete the scan, so please be patient.

When the scan is finished, it will generate 2 logs, OTL.txt and Extras.txt, each in a Notepad window. Both of these logs are saved in the same location as OTL. In this case, on your desktop.

Please post each log in your next reply.
Things I need to see in your next post:
New OTL Scan Log

New Extras Log