OK. Looks like we are down to editing the registry key to remove the Avast data. Since we are editing the registry we will need to back it up first.
Step-1.
A.
Download the attached newkboard.reg file and save it to the desktop.
DON'T do anything with it yet
B.
Please download the installer for Registry Backup from one of the links below and
save it to the desktop
:
Link 1
Click the
Download Now
button.
Link 2
Click one of the
Download
buttons under
Installer (3.67M7)
DON't run it yet
Once the files are downloaded close all open browsers and any open windows.
Step-2.
Run Tweking.com Registry Backup and Backup the Registry:
Modifying the Registry can create unforeseen problems, so it's always wise to create a backup before doing so.
Right click the tweaking.com_registry_backup_setup.exe file and select Run as Administrator and OK any UAC prompts to install the program.
Follow the prompts for a default installation
Ensure the option Open "Tweaking.com - Registry Backup" When Install Completes is selected. Click

N

ext > then

F

inish
The GUI(graphical user interface) should open with the Backup Registry tab selected and all options checked (see the image below)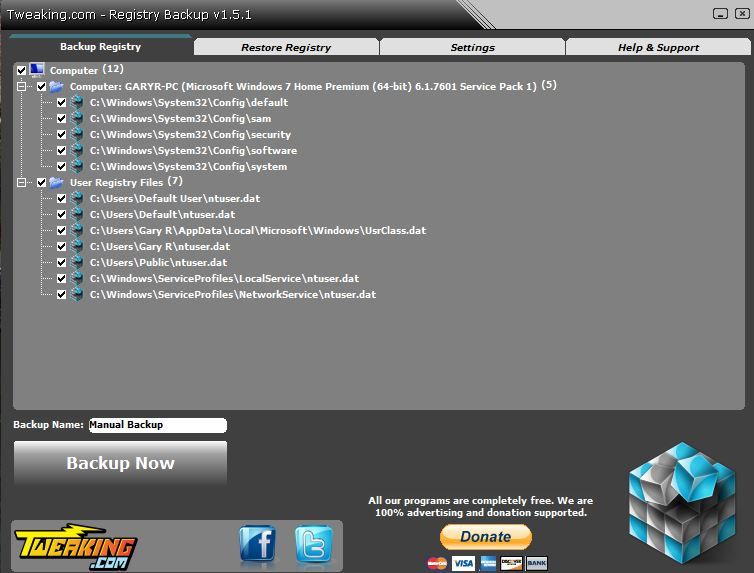 Click on Backup Now to create a backup of the Registry.
While the backup is being created you will see a screen similar to the one below ...



When completed you should see a message saying something like ... Successful 12/12 Registry Files Backed Up ...

(the number of files may vary)






This means you have successfully backed up your Registry

, and you can now exit out of the program.
Close Tweaking.com - Registry Backup
Note:
There will now be a folder at the root of the Hard-Drive named C:\
RegBackup
, do not delete this as it is the actual backup just created.
A tutorial for Registry Backup explaining the various features can be viewed
here
Step-3.
Merge the newkboard.reg file into the Registry
Right click the
newkboard.reg
file on the desktop and click
Merge
. OK any UAC prompts you might receive.
After the file has been successfully merged into the registry REBOOT the computer.
Let me know if you have keyboard function now