Hi, i'm having the seemingly common problem of random restarts / shutdowns on my computer.
This is my computer:
Motherboard Gigabyte GA-970A-UD3.
CPU AMD FX-6100 3.3GHz.
2 X 4GB DDR3 Corsair Vengance at 1666 MHz.
HDD WD Blue 1T SATA3.
Video card Biostar AMD Radeon HD 5450.
PSU 600W
It worked fine for about six months, then this problem began.
Here's what i tried:
- CHKDSK - OK.
- memtest - OK.
- Clean windows 7 installation - Problem persists.
- Swap Videocards with a friend's - Seemed to solve the problem, but since the restarts / shutdowns are completely random, i don't want to buy a new videocard unless i'm completely sure.
- Update video drivers - Problem persists.
I also run AMD OverDrive (not to overclock, just to check voltages and temp), GPU-Z and HWMonitor. This are the results:
AMD OverDrive:
20140128_20_21_48_ThermalZone.txt
47.95KB
129 downloads
20140128_20_21_48_Voltage.txt
31.97KB
91 downloads
GPU-Z:
GPU-Z Sensor Log.txt
15.2KB
84 downloads
HWMonitor:
HWMonitor.txt
42.27KB
121 downloads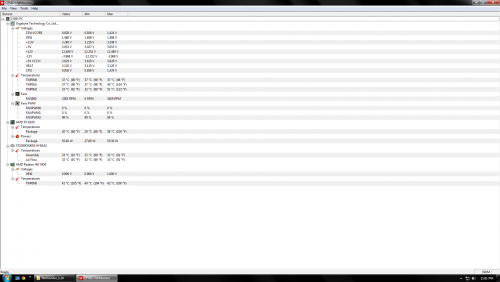 Some voltages seems odd to me, but i'm no expert. Could that be the problem?
Thanks in advance.