Hi.

Did you actually check that Windows Defender is disabled and run the prior custom batch file ? If so did you right click on the batch file and select Run as Administrator ?
Reason asking ComboFix is denoting it is active and Norton Internet Security is still not showing in the actual Security Centre at all. Plus is the subscription still active for Norton Internet Security or not ?
Also is the proxy problem still present or not ?
Custom ComboFix Script:
Please download the attached CFScript.txt(see below) to your desktop.
Ensure all security software is disabled again(if able to do so) for the duration for the custom ComboFix script.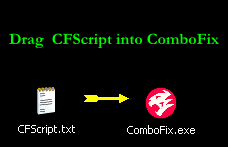 Referring to the screenshot above, drag CFScript.txt into ComboFix.exe. >> ComboFix will now begin to process the custom script.
When completed there will be a log created named DeQuarantine_log.txt, please post the contents in your next reply.
Submit a File for Analysis:
Please go to my file submission channel
here
.
Next to the box:-
Link to topic where this file was requested:
Add in the below:-
http://www.geekstogo.com/forum/topic/337300-proxy-setting-auto-enable/
Next to the box:
Browse to the file you want to submit:
click on the
Browse...
tab and navigate to the below:-
C:\Windows\SysWow64\
frapsvid.dll
Then click on the
Send File
tab. I will be notified when the file has been uploaded and checked.
Scan with FSS:
Please download
Farbar Service Scanner
and save to your desktop.
Right-click FSS.exe and select Run as Administrator to start the program.
Select all available options.
Then click on the Scan tab.
When the scan is complete, it will produce a log named FSS.txt.
Post the contents in your next reply.
Next:
When completed the above, please post back the following in the order asked for:
Answers to my various questions.
DeQuarantine Log.
Farbar Service Scanner Log.