Hi all, names Cal.
Brand new to this site, so please bear with me.
I have a silicon power 1tb portable HD and it decided to go cactus on me. I have a lot of important data on there that I am scared to loose so any help would be greatly appreciated.
My problem occurred when I 'Safely' removed the hard drive from my windows XP laptop and then continued to connect the hard drive to my windows 7 PC. To my horror my PC couldn't recognise the hard drive anymore. I tried it again in my laptop and still the same problem.
I asked a few different tech heads that I know and one suggested that I try and connect it to a mac. I did so, and then the drive was able to be recognised but with only half of its capacity to be viewed, without any of my data. I'm not too big on this sort of thing, but I feel one of the sectors aren't working properly or can't be recognised. I have tried many different kinds of backup software but no luck as of yet.
So a bit of info to help anyone source the problem, if at all possible:
Operating System: Windows 7 Ultimate Edition 64bit
And a few screen shots:
This is a screen shot displaying that the PC recognises the hard drive to be 1TB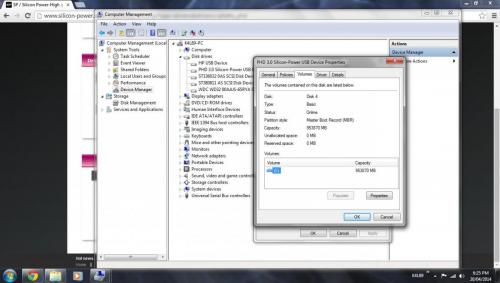 This is a screen shot displaying that the hard drive properties only display half of its capacity
Once again, any help would be greatly appreciated.
Thanks in advance,
K4L