My computer won't dowload anything.
Started by
Johnrey0
,
May 10 2014 11:44 AM
#1
Posted 10 May 2014 - 11:44 AM
My windows 8 won't allow me to download any files, including from my emails. I have kaspersky.

---
#2
Posted 10 May 2014 - 06:52 PM
Hi


Can you tell me what exactly happens when you try to download something? Any error? Maybe you can take a screenshot or describe it in more details?
---
#3
Posted 11 May 2014 - 06:01 AM
Anything we try to dowload, whether it's a program or file, will start to download and stops around 80%. The permission screen when it's a program doesn't recognize the name of the program. I believe it says unknown author.

---
#4
Posted 11 May 2014 - 06:11 AM
Hi

Couple more questions for you:
- did you try different browsers?
- did you try switching your antivirus software off?
- are there any download managers installed?
Please download
MiniToolBox
by Farbar and save it to your desktop.
Close any open browsers!
Run MiniToolBox by double-clicking the
icon
(Users of
Windows Vista and above
please right-click and choose
Run as Administrator
).
You will be presented with this window: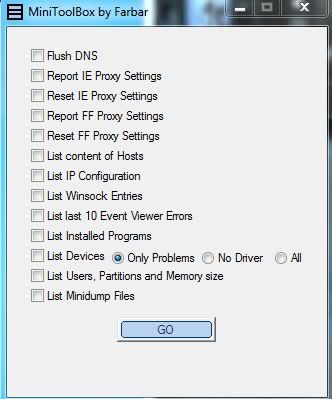 Checkmark the following checkboxes:
Flush DNS
Report IE Proxy Settings
Reset IE Proxy Settings
Report FF Proxy Settings
Reset FF Proxy Settings
List content of Hosts
List IP configuration
List Winsock Entries
List last 10 Event Viewer log
List Installed Programs
List Devices
List Users, Partitions and Memory size.
List Minidump Files
Click
Go
and post the result (Result.txt). A copy of Result.txt will be saved in the same directory the tool is run.
---
#5
Posted 12 May 2014 - 02:02 PM
Hi sorry. Been busy. We tried all the suggestions. Nothing. We are unable to dowload minitoobox as we can't dowload anything. The error message we are getting is: SSL connection error. Unable to make a secure connection to the server. May be a problem with the server or it may be requiring a client authentication certifcate that you don't have. Error code: ERR_SSL_PROTOCOL_ERROR

---
#6
Posted 12 May 2014 - 02:38 PM
Which browsers have you tried?
A quick research told me that this issue is mostly related to Google Chrome.
Are you able to download MiniToolBox on another computer and transfer it using USB to the corrupted machine? If so, please do that and post its report

---
#7
Posted 12 May 2014 - 02:53 PM
We have tried google and google chrome. I have an ipad so can't download anything to transfer. Should we try uninstalling google chrome? Could it be a problem with our local cable's server?

---
#8
Posted 12 May 2014 - 02:55 PM
Can you try downloading same files using Internet Explorer?

---
#9
Posted 12 May 2014 - 02:58 PM
Sorry. We have tried that as well.

---
#10
Posted 12 May 2014 - 03:11 PM
OK, let's try something another... Access the Safe Mode.
How to enter the Safe Mode?
Please reboot your computer and start tapping F8 repeatedly.
You should see the window like the one below (don't worry that it's described as Vista one, all Systems have it quite similar):

Using the arrow keys try to enter Safe Mode with Networking.
While in there, run your browser and try to download your aforementioned stuff. Write down the results.
Edited by Naathim, 12 May 2014 - 03:12 PM.

---
#11
Posted 12 May 2014 - 03:24 PM
That wont work nothing pops up we have windows 8.1 too

---
#12
Posted 12 May 2014 - 03:27 PM
To get to Safe Mode in Windows 8, do the following:
Windows key + C.
Settings
Power
Hold shift key and click RESTART.
Click on Advanced Options then Startup Settings.
Click Restart and you have almost the full advanced Boot Options menu like XP, Vista or Win 7.
Select Safe Mode with Networking from there.
---
#13
Posted 12 May 2014 - 04:00 PM
After starting in safe mode with networking, wecan dowload some files (email,pdf) but no programs. Windows security center service is turned off. Should we turn it on?

---
#14
Posted 12 May 2014 - 04:06 PM
Try, but it doesn't sound nice. These are two typical symptoms of a quite nasty infection and if so, then you should be redirected to another place here.
---
#15
Posted 12 May 2014 - 05:01 PM
Since there is no hearing from you, I'm gonna post this one.
 
Please go to Malware Removal Forum and read the instructions here. Someone from the Malware Staff will help you to solve your problem.
Provide the a link to this topic - they should be aware what we were trying to fix. If after checking there won't be any improvement - return here and we will proceed

Cheers,
Naat

---
---
Similar Topics
0 user(s) are reading this topic
0 members, 0 guests, 0 anonymous users
As Featured On: