Computer locking up [Solved]
Started by
mygrneyedangel
,
Sep 11 2014 09:44 AM
#61
Posted 20 September 2014 - 07:34 AM

---
#62
Posted 30 September 2014 - 07:31 AM
I got the discs. Sorry was gone for a few days.
---
#63
Posted 30 September 2014 - 12:17 PM
Hello mygrneyedangel, my name is Dan.
I originally started helping you here, and Essexboy took over for me.  He's out on vacation, so he asked me to resume helping you through the remaining steps here when you returned...
Please allow me a bit of time to gather some information and get my post approved before proceeding.  In the meantime, you could save some time by backing up all of your data (music, photos, documents, etc.) to an external drive.  Either a USB hard disk or a USB flash drive would be good choices here, depending on how much data you have to back up.
---
#64
Posted 30 September 2014 - 01:18 PM
Hello, can you please tell me the exact names/titles printed on each of the CDs/DVDs you received from Dell?
---
#65
Posted 30 September 2014 - 02:09 PM
One says drivers and utilities already installed on your computer. Other says operating system already installed on your computer.
---
#66
Posted 01 October 2014 - 10:26 AM
OK, it looks like you were waiting for Dell Restore CDs to attempt a repair install of Windows Vista on your laptop.
Please visit the following link and print out the full instructions so you will have a handy reference to go by:  How to manually reinstall Windows Vista
These instructions advise you to gather up the software discs you will need prior to starting this process:
Dell Operating System Reinstallation CD/DVD

Dell Resource CD/DVD (also available on the

 

Dell Drivers and Downloads

 

page).  The direct Drivers and Downloads page for your system is here.

Any software and/or documentation for your Internet service connection

Any program installation discs

Any installation discs for external devices (such as a printer) and internal devices added to your Dell computer after purchase
Follow the Dell instructions step-by-step, especially the data backup part.  After completion, your Windows Vista installation should be repaired and you should be able to successfully use your CD burner. 
If you get stuck, or have questions, please simply stop and ask. 
---
#67
Posted 01 October 2014 - 02:40 PM
THis is just a repair install correct? not having a cd burner problem it works fine. i was under the assumption that it was a hard drive driver problem that was causing windows update and windows defender updates to fail.
---
#68
Posted 01 October 2014 - 04:16 PM
Yes, a repair install is correct.   I believe the issues are mostly because of corrupted files on the hard disk from the cloning process.
---
#69
Posted 01 October 2014 - 04:33 PM
Ok. So do I still need to have all the other discs that you said I needed?
---
#70
Posted 01 October 2014 - 05:02 PM
It would recommend.that, yes.  In case things go awry as they sometimes do, it would be a good idea to have all of your re-installation sources available.

---
#71
Posted 02 October 2014 - 01:11 PM
Ok. It will be abit for me to get backup done.
---
#72
Posted 02 October 2014 - 02:25 PM
No problem, take your time.
---
#73
Posted 06 October 2014 - 10:55 AM
I'm installing discs. Got to the drivers in the system configuration but not seeing original system configuration tab.

---
#74
Posted 07 October 2014 - 05:03 AM
OK, no problem.  As an alternative, you can
go here instead
, and either click the button labeled "
System Analysis
, or
Service Tag
. The Service Tag can be found on a label on the bottom or back of your laptop.  (You can also choose your operating system from the list, but try one of the first two methods first.)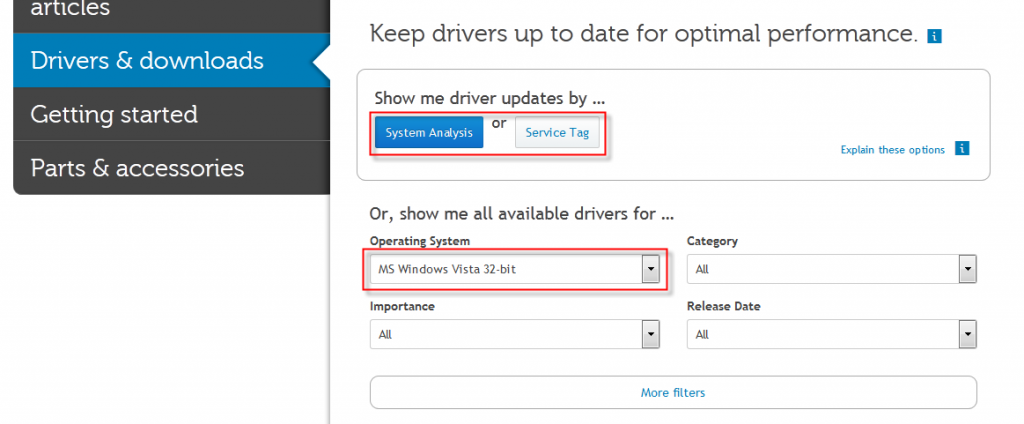 The Dell web site should list out packages to install, based on your system hardware.  I would note which ones are listed there, but you should already have a version of these located on the
Dell Resource CD/DVD that Dell just sent you.  From what you said earlier, this disc may also be called "Drivers and Utilities Already Installed on Your Computer".
So there is no confusion with newer/older versions, I would suggest running that CD/DVD at this point.  If AutoPlay does not start the installation automatically, open up your DVD drive in Computer and click on the Setup file.
After these things are all installed, and everything is working, you can always go back to the Dell site and download/install updates to these software packages based on automatic detection or Service Tag as described above. 

---
#75
Posted 07 October 2014 - 08:39 AM
---
---
Similar Topics
0 user(s) are reading this topic
0 members, 0 guests, 0 anonymous users
As Featured On: