Unknown Error?
Started by
Sir CrApSaLoT
,
Sep 22 2014 03:35 PM
#1
Posted 22 September 2014 - 03:35 PM
I got this error while installing DNS 12.0
Some kind of registry problem??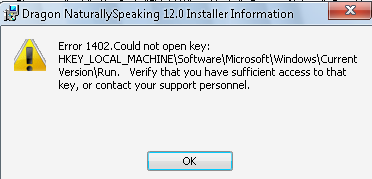 ---
#2
Posted 24 September 2014 - 08:35 AM
Found this, hope it helps
Windows XP: How to fix 'Error 1402. Could not open key...'
The following text is the general solution posted throughout the Internet.

 

The error indicates that you do not have sufficient permissions to update the system registry. Even if you are logged in as a system administrator, you may encounter this error if the system has been upgraded from a previous version of Windows.

 

The action below requires updating the system registry.

 

It is strongly recommended that you completely back-up your computer or at least the registry before taking this action.

Select "Start", "Run", and type "RegEdt32". Click OK.
Select HKEY_LOCAL_MACHINE
In the menu, select "Edit", "Permissions". A dialog will come up.
Check "Allow" for "Read" and for "Full Control", then click OK
Expand HKEY_LOCAL_MACHINE and repeat steps 3, 4 for the keys "Software" and "System"
Expand the "Software" key, and repeat steps 3, 4 for "Classes"
Expand the "Classes" key, and repeat steps 3, 4 for "Installer"
If you have made any changes in steps 1 through 7, skip to step 10. If you did not make any changes, continue with step 9.
Open the "Classes" key, and click on "Installer" . In the menu, click "Security", "Permissions." Click the button marked "Advanced." Check "Reset Permissions on all child objects.", then click OK
Close the registry editor
Reboot the computer
---
#3
Posted 17 October 2014 - 12:00 PM
Are you still having problems with your issue?
It has been 25 days since your last response and I was wondering if the issue has been resolved?
If so can you explain how it was resolved so others may be able to fix it if they have the same issue.
If not please let us know and we can continue with helping you to resolve the issue.

---
---
Similar Topics
0 user(s) are reading this topic
0 members, 0 guests, 0 anonymous users
As Featured On: