Great news, your logs are
CLEAN!


but we still have a few things we need to address namely:
I need to remove the tools we installed on your machine.
We also have some programs on your machine that need updating to help protect you in the future.
I also have some tips and information for you to help prevent future infections.
Also, my colleague suggested you try
Acronis Disk Monitor
as a replacement for Crystal. Sorry to see that Crystal has gone the way of foistware(installing software on your machine without your permission) to make money.
Here's the link:
http://www.acronis.c.../drive-monitor/
Step 1: Update AVG Anti-Virus 2014
Your anti-virus program is out of date. Keeping your protection up to date with the latest virus definitions is vital for protecting your machine. Please follow the link below to find instructions for manually updating your anti-virus.
http://www.avg.com/u...oad-update-2014
Step 2: Enable UAC in Window and Installation of FileHippo
Keeping UAC enabled in Windows will also help in protecting your machine as it will warn you when programs are attempting to change settings or install themselves on your machine.
Open User Account Control Settings by clicking the Start button and then clicking Control Panel
In the Search Box, type in uac and then click Change User Account Control settings.
To turn on UAC, move the slider to choose when you want to be notified, and then click OK.
If you're prompted for an administrator password or confirmation, type the password or provide confirmation.
Keeping your software updated
Another weapon against malicious programs and viruses is to keeping other programs updated. There are several programs out there that can check for out of date programs on your computer. One is
Filehippo
. You can run this on a weekly or monthly basis to check your programs for updates and then it will provide a link for you to download them.
Download Filehippo Updatechecker
Step 3: Tips, Information and Optional Installation of Unchecky
Watch what you open in your emails. If you get an email from an unknown source with any attached files, do not open it.
Be careful of the websites you visit.
When installing new programs, don't be "click happy" and click through the screens. Many programs come with adware in them and are set to install them by default. Several programs require that you uncheck or select no to prevent the installation. Take you time and read each screen as you go.

To help protect yourself while on the web, I recommend you read
How did I get infected in the first place?
Installation of Unchecky
This is a very good little program that will automatically uncheck any boxes during a software installation. This helps prevent the software from installing any malware that is by default checked while the program is being installed.
Click
here
to be taken to Unchecky.com
Click the very large
Download
button.
Click
Save
Once downloaded, double click the program (Vista, Win 7, and 8, right click and
Run as Administrator
)
Once open, click the
Install
button.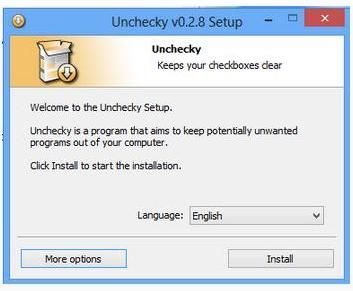 Then click
Finish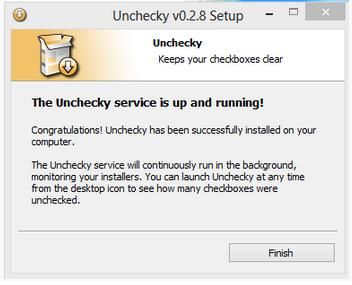 Unchecky is now installed and will help you keep unwanted check boxes unchecked.

Are there any other issues I can assist you with?