am not able to do anything [Solved]
Started by
leahcase
,
Nov 18 2014 04:03 AM
#91
Posted 07 February 2015 - 08:51 AM

---
#92
Posted 07 February 2015 - 09:10 AM
OK lets start, do you have a CD or USB handy to back up any needed data ?
Go to this HP page which has a step by step guide on doing a recovery with pictures

http://support.hp.co...ument/c01867418
Factory Reset: Factory Reset removes all partitions, reformats the entire hard drive, reinstalls the original operating system, and reinstalls all the original hardware drivers and software. This option also recreates the required Recovery partition (usually D:) and UEFI partition (usually E:) and reinstalls the required software.
Scroll down to this heading :
Recovery from the Windows 7 desktop screen
Follow all the steps in order and you will have a pristine copy of windows
Once you are back up and running (about 30 minutes usually)
I will look at the system and let you know the junk programmes to remove and also assist in uninstalling the bundled antivirus using FRST
Please download
Farbar Recovery Scan Tool
and save it to your Desktop.
Note: You need to run the version compatible with your system. If you are not sure which version applies to your system download both of them and try to run them. Only one of them will run on your system, that will be the right version.
Right click to run as administrator (XP users click run after receipt of Windows Security Warning - Open File). When the tool opens click Yes to disclaimer.
Select additions at the bottom
Press Scan button.

It will produce a log called FRST.txt in the same directory the tool is run from.
Please attach both logs generated.
I will then go through the best way to secure your system along with some "words of wisdom"

on how to stay clean
---
#93
Posted 07 February 2015 - 09:25 AM
yes I have a drive thast I can save anything on it ..
---
#94
Posted 07 February 2015 - 09:57 AM
i am on mt tablet..i have recove3r manager...i don't have any place to select5 redcover..the box is blank..

---
#95
Posted 07 February 2015 - 10:00 AM
it says that mt computer does not have a recovery partition..

---
#96
Posted 07 February 2015 - 10:09 AM
---
#97
Posted 07 February 2015 - 10:17 AM
OK on the side/bottom of the computer is there a Microsoft barcode with a series of numbers/letters on it ?
If not then download and run this small tool to get the registration key
https://www.magicalj...erInstaller.exe
Install and then run the programme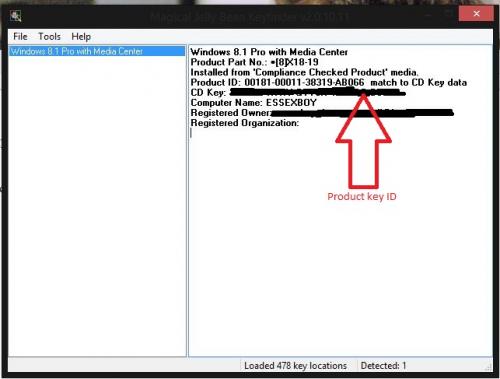 When it has finished it will show a CD key, make a note of that
Then go to this page
http://www.microsoft...ftware-recovery
Type in the key that you have written down
Select the language
Then click verify product key.
This will then enable you to download a full copy of windows 7 SP1 which you can then burn to a CD or USB drive using this tool
http://wudt.codeplex.com/
Once you have done that we will then proceed
---
#98
Posted 07 February 2015 - 10:57 AM
I ut in the3 key ,and it said that it was preinstall that for me to contact manufacture sofeware recovery options..

---
#99
Posted 07 February 2015 - 11:02 AM
---
#100
Posted 07 February 2015 - 11:11 AM
Do you have a windows 8 disc ?


---
#101
Posted 07 February 2015 - 11:16 AM
---
#102
Posted 07 February 2015 - 11:24 AM
OK looks like you will have to order a set of recovery discs from HP. It will cost about $2.95 in shipping
Full details are here
http://support.hp.co...cument/bph07143
Evidently it takes a couple of days to arrive
---
#103
Posted 07 February 2015 - 11:29 AM
do u know how mch it may cost
---
#104
Posted 07 February 2015 - 11:41 AM
Shipping costs only and the quote I can see is for $2.95

---
#105
Posted 07 February 2015 - 12:26 PM
i have the disk here i just have to find it.. every sionce ive move can't find anything..i am still trying to restore it..if i can't find it its going to have to wate until after the 13 th....i will get back with yoy when i find it or just haqve to wate..so ple3aqse don't close this..

---
---
Similar Topics
0 user(s) are reading this topic
0 members, 0 guests, 0 anonymous users
As Featured On: