Pystryker - system still running good without lag and all those rogue svchost.exe's !!
Excellent, just what I wanted to hear!
Wow, what a mess that ESET log is showing. It looks like remnants of a Ransomware program. Ok, let's get rid of these uninvited guests, as we believe in being as thorough as possible here.

We'll use OTL this time.
When you run this script, it may take a while for this one to go through, considering all that ESET has found.
Let's run an OTL fix:
Warning: This fix is to be used on this system and this system ONLY. Using this fix on any other machine other than yours can seriously damage it.
Be advised that when the fix commences, it will shut down all running processes and you may lose the desktop and icons, they will return on reboot.
Run OTL by double clicking it (Windows Vista, Windows 7, and 8, right click and select "Run as Administrator)
Copy the text in the quote box below (do not copy the word "quote") and paste in the in the box marked Custom Scans/Fixes as shown in the graphic below.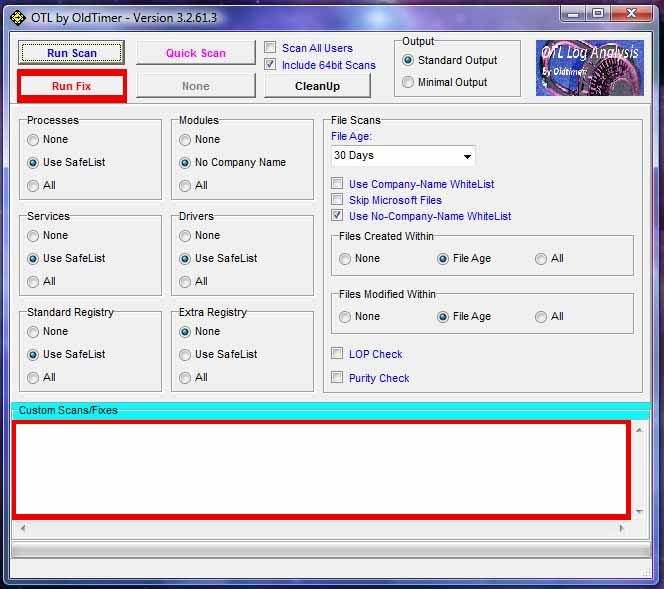 :Commands
[createrestorepoint]

:OTL

:Files
c:\*DECRYPT_INSTRUCTION.HTML* /s /d
c:\*DECRYPT_INSTRUCTION.TXT* /s /d

:Commands
[emptytemp]
[reboot]
Click the Run Fix button at the top of the OTL control panel.
Let the program run until it's finished and then reboot the computer.
Once your machine has rebooted, a log will open. Please post that log in your next reply.
If you have any problems, questions, or need further explanation, please post a message in this thread and I will get back to you asap.
Things I need to see in your next post:

OTL Fixlog