---
#32
Posted 24 January 2015 - 04:37 PM
 

it's considered a biological hazard.

---
#33
Posted 26 January 2015 - 02:41 PM
finally finished my build very nerve racking but very fun at the same time here is a link to some pictures of the build
http://pcpartpicker.com/b/FwFdnQ
Thanks again for all the advice and help
stock cooler doing ok it got to 85c during the 3d mark 11 benchmark tests
---
#34
Posted 27 January 2015 - 03:32 AM
85c is to hot in my opinion and so i'd definitely get the aftermarket cooler when funds allow. 70/75c is the most i'd want to see under full load.

---
#35
Posted 27 January 2015 - 07:58 AM
Could it be my fan set up. I have two intake fans front and bottom and 4 exhaust fans 3 on top and one in the back
Edited by jerodmichael, 27 January 2015 - 07:58 AM.
---
#36
Posted 27 January 2015 - 11:56 AM
A job well done and glad to hear that you are happy with how the build went 

The maximum safe operating temp of the CPU is 72.72°C and so the computer should have shut down once it reached this (your cooling fan arrangement is spot on and internal cable management also looks good).
Couple of things for you to do;
Download and run IntelBurnTest 2.54 which you can obtain from here
Download Speedfan and install it.  Once it's installed, run the program and post here the information it shows.  The information I want you to post is the stuff that is circled in the example picture I have attached.
If you are running on a vista machine, please go to where you installed the program and run the program as administrator.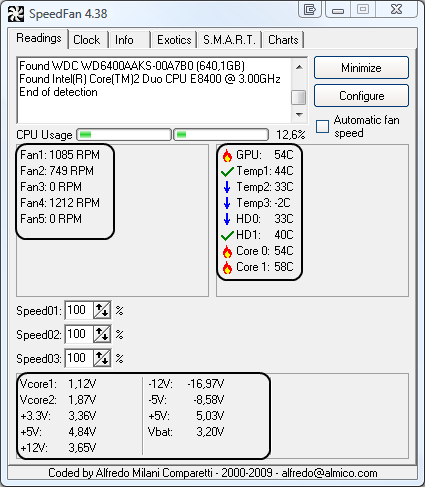 (this is a screenshot from a vista machine)
 Download then run HWMonitor and post a screenshot so that we have a comparison to the Speedfan results, details from here
To capture and post a screenshot;
Click on the ALT key + PRT SCR key..its on the top row..right hand side..now click on start...all programs...accessories...paint....left click in the white area ...press CTRL + V...click on file...click on save...save it to your desktop...name it something related to the screen your capturing... BE SURE TO SAVE IT AS A .JPG ...otherwise it may be to big to upload... then after typing in any response you have... click on browse...desktop...find the screenshot..select it and click on the upload button...then on the lower left...after it says upload successful...click on add reply like you normally would.
Screenshot instructions are provided to assist those that may read this topic but are not yet aware of the "how to".
---
#37
Posted 27 January 2015 - 01:21 PM
Yes the computer did restart a couple of time I bought artic 5 thermal paste reapplied it and computer has not shut off since.
I will run those tests and post results when I get home

---
#38
Posted 27 January 2015 - 01:32 PM
No problem, terry or I will be around when you post back 

Can I ask that when you next restart the computer you access the BIOS and make sure that the thermal shutdown setting is set below at least 70°C
---
#39
Posted 27 January 2015 - 04:48 PM
---
#40
Posted 27 January 2015 - 05:15 PM
Missing a lot of the HWMonitor information, can you provide individual expanded screenshots of HWMonitor + Speedfan and as detailed in my reply #36

---
#41
Posted 27 January 2015 - 07:42 PM
---
#42
Posted 27 January 2015 - 07:43 PM
---
#43
Posted 27 January 2015 - 08:30 PM
temps and everything is fine at normal load, so i'd say your case cooling and build itself is good, the only problem is the stock heatsink is not up to the job of managing the temps when the cpu is stress tested at 100% load,
people rarely, if ever, run their cpu's at 100% load,
even when gaming i'd be very surprised if it got anywhere near that 100% load and reached those sort of temps again.
only time i can think of when the cpu is run under that much load, is when you run a distributed computing program like folding at home or are actually running a stress test program like prime 95 or some benchmarks.
i think thermal shutdown is 100C for intel cpu's
the only cure to keep the temps lower when cpu is stressed is to fit an aftermarket cooler.
run it as you normally would, keeping an eye on the temps, and i think you'll find your temps will never reach anywhere near those highs again.
of course personally i'd get the after marker cooler bought and fitted as soon as i was able.

---
#44
Posted 28 January 2015 - 12:03 PM
Temps and voltages are fine and for your planned use you will only see an increase in these if you do decide to overclock the CPU.
FWIW the max TDP for CPUs differ and Intel state a maximum safe operating thermal temperature of 74.04°C for your CPU and CPU World peaked it at 72.72°C, see here and here
See how you go with the stock cooler under normal usage and if you do consider OCing the CPU check out the Intel OCers warranty.
---
#45
Posted 28 January 2015 - 02:43 PM
I went ahead and ordered the plan now time too push the limits a little thanks again for all the tips and advice Terry and Phill didn't read anywhere I couldn't use after market cooler on the advanced tuning plan

---
---
Similar Topics
Also tagged with one or more of these keywords: system build, new build, first time
Hardware

→

Hardware, Components and Peripherals

→


Started by jfzepster ,

23 Feb 2017

component

,

compatability

and 1 more...

Answered Hardware

→

System Building and Upgrading

→


Started by Georgia Peach ,

18 Jul 2016

new build

Hot

27 replies
1,867 views

Hardware

→

Hardware, Components and Peripherals

→


Started by iPinky ,

26 Jan 2016

new build

,

BSODs

,

freezes

Hot

14 replies
2,171 views

Answered Hardware

→

System Building and Upgrading

→


Started by anesthesiologist ,

16 Jun 2015

new pc

,

parts

,

computer

and 3 more...

Hardware

→

System Building and Upgrading

→


Started by The Aqua Pig ,

20 Feb 2015

confused

,

first time

,

pc

and 1 more...
0 user(s) are reading this topic
0 members, 0 guests, 0 anonymous users
As Featured On: