Good afternoon Gurus of the arcane sciences, A pc that I'm attempting to fix has been afflicted with a terrible curse and my abilities are not sufficient to cleanse the taint.
I don't know what the owner was doing, but they downloaded something that installed a bunch of random 'booster' and 'optimizer' programs on their computer (Ytdownloader, Search Module Plus, others I uninstalled and can't remember). I tried to remove them through the usual uninstall methods but they keep repopulating themselves. On top of that, when I try to uninstall them in safe mode, the windows uninstaller either fails outright, or gives me an error because there's "a conflicting program" or "no internet connection' and fails to uninstall. As if that isn't enough, these programs have hijacked things in the background and changed system settings. I honestly don't know how many or what they've changed, but I know for sure that firefox defaults back to this search page:
http://www-searching...a376d5926,&pi=3
And resets the connection settings to use some 'proxy server' that keeps failing for whatever reason. It also adds 'search module plus' to the search engines and replaces it when I delete it. I have to manually go in, change the homepage and the connection settings to 'use no proxy' or I can't use the browser (firefox/IE). Of course, when I close the browser the settings reset so I have no idea what to do with that. Also, it's added a lot of garbage to startup and services in msconfig, see images below: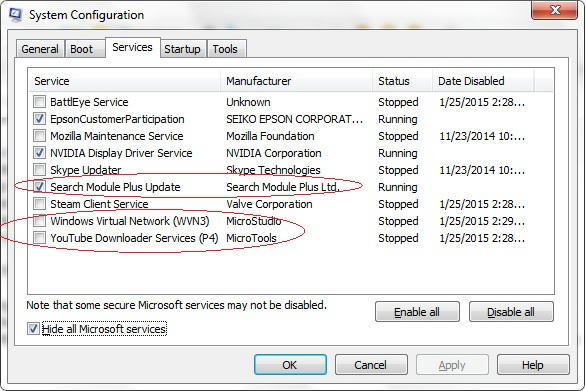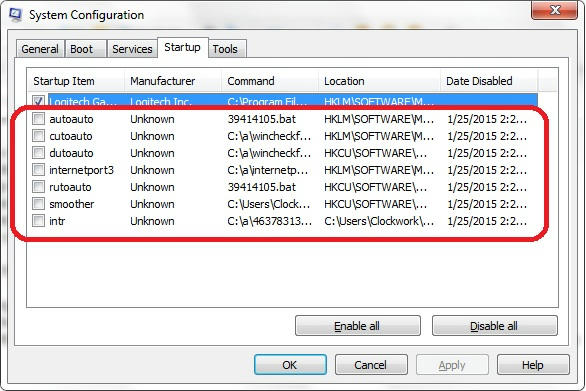 Any help you could provide would be greatly appreciated!
--------------------------------------------------------------------------------------------------------------------------------------------------------
Here is my OTL.txt
OTL logfile created on: 1/25/2015 2:44:39 PM - Run 1
OTL by OldTimer - Version 3.2.69.0     Folder = C:\Users\Clockwork\Downloads
64bit- Ultimate Edition  (Version = 6.1.7600) - Type = NTWorkstation
Internet Explorer (Version = 8.0.7600.16385)
Locale: 00000409 | Country: United States | Language: ENU | Date Format: M/d/yyyy
 
8.00 Gb Total Physical Memory | 6.70 Gb Available Physical Memory | 83.75% Memory free
16.00 Gb Paging File | 14.45 Gb Available in Paging File | 90.35% Paging File free
Paging file location(s): ?:\pagefile.sys [binary data]
 
%SystemDrive% = C: | %SystemRoot% = C:\Windows | %ProgramFiles% = C:\Program Files (x86)
Drive C: | 500.00 Gb Total Space | 327.17 Gb Free Space | 65.43% Space Free | Partition Type: NTFS
Drive G: | 431.41 Gb Total Space | 431.30 Gb Free Space | 99.97% Space Free | Partition Type: NTFS
 
Computer Name: CLOCKWORK-PC | User Name: Clockwork | Logged in as Administrator.
Boot Mode: Normal | Scan Mode: Current user | Include 64bit Scans
Company Name Whitelist: Off | Skip Microsoft Files: Off | No Company Name Whitelist: On | File Age = 30 Days
 
========== Processes (SafeList) ==========
 
PRC - [2015/01/25 14:44:24 | 000,602,112 | ---- | M] (OldTimer Tools) -- C:\Users\Clockwork\Downloads\OTL.exe
PRC - [2015/01/13 11:43:11 | 000,338,032 | ---- | M] (Mozilla Corporation) -- C:\Program Files (x86)\Mozilla Firefox\firefox.exe
PRC - [2009/07/13 17:14:19 | 000,264,704 | ---- | M] (Microsoft Corporation) -- C:\Windows\SysWOW64\dxdiag.exe
 
 
========== Modules (No Company Name) ==========
 
MOD - [2015/01/13 11:43:11 | 003,925,104 | ---- | M] () -- C:\Program Files (x86)\Mozilla Firefox\mozjs.dll
 
 
========== Services (SafeList) ==========
 
SRV:64bit: - [2015/01/25 13:59:08 | 002,719,592 | ---- | M] (Search Module Plus Ltd.) [Auto | Running] -- C:\Program Files\Common Files\Goobzo\GBUpdatePlus\smu.exe -- (SMUpdPlus)
SRV:64bit: - [2011/06/09 13:01:00 | 000,555,392 | ---- | M] (SEIKO EPSON CORPORATION) [Auto | Running] -- C:\Program Files\EPSON\EpsonCustomerParticipation\EPCP.exe -- (EpsonCustomerParticipation)
SRV:64bit: - [2009/07/13 17:41:27 | 001,011,712 | ---- | M] (Microsoft Corporation) [On_Demand | Stopped] -- C:\Program Files\Windows Defender\MpSvc.dll -- (WinDefend)
SRV:64bit: - [2009/07/13 17:40:01 | 000,193,536 | ---- | M] (Microsoft Corporation) [On_Demand | Stopped] -- C:\Windows\SysNative\appmgmts.dll -- (AppMgmt)
SRV - [2015/01/23 14:33:44 | 000,834,752 | ---- | M] (Valve Corporation) [Disabled | Stopped] -- C:\Program Files (x86)\Common Files\Steam\SteamService.exe -- (Steam Client Service)
SRV - [2015/01/21 12:30:28 | 000,802,688 | ---- | M] () [Disabled | Stopped] -- C:\Program Files (x86)\Common Files\BattlEye\BEService.exe -- (BEService)
SRV - [2015/01/13 11:43:11 | 000,114,800 | ---- | M] (Mozilla Foundation) [Disabled | Stopped] -- C:\Program Files (x86)\Mozilla Maintenance Service\maintenanceservice.exe -- (MozillaMaintenance)
SRV - [2015/01/01 17:16:11 | 000,174,112 | ---- | M] (EasyAntiCheat Ltd) [On_Demand | Stopped] -- C:\Windows\SysWOW64\EasyAntiCheat.exe -- (EasyAntiCheat)
SRV - [2014/12/13 14:55:02 | 002,968,696 | ---- | M] (MicroTools) [Disabled | Stopped] -- C:\Program Files (x86)\YouTube Downloader Services\P4\youtubeserv.exe -- (YouTubeDownload_P4)
SRV - [2014/10/20 23:51:28 | 002,973,600 | ---- | M] (MicroStudio) [Disabled | Stopped] -- C:\Program Files (x86)\Windows Network Accelerater\v3\winvxm.exe -- (WindowsVNT_R3)
SRV - [2014/04/03 19:21:48 | 000,315,008 | R--- | M] (Skype Technologies) [Disabled | Stopped] -- C:\Program Files (x86)\Skype\Updater\Updater.exe -- (SkypeUpdate)
SRV - [2010/03/18 13:16:28 | 000,130,384 | ---- | M] (Microsoft Corporation) [Auto | Stopped] -- C:\Windows\Microsoft.NET\Framework\v4.0.30319\mscorsvw.exe -- (clr_optimization_v4.0.30319_32)
SRV - [2009/06/10 13:23:09 | 000,066,384 | ---- | M] (Microsoft Corporation) [Disabled | Stopped] -- C:\Windows\Microsoft.NET\Framework\v2.0.50727\mscorsvw.exe -- (clr_optimization_v2.0.50727_32)
 
 
========== Driver Services (SafeList) ==========
 
DRV:64bit: - [2015/01/25 13:59:00 | 000,042,856 | ---- | M] () [Kernel | On_Demand | Running] -- C:\Program Files\Common Files\Goobzo\GBUpdatePlus\smw.sys -- (SMUpdd)
DRV:64bit: - [2015/01/25 13:11:51 | 000,386,680 | ---- | M] (Duplex Secure Ltd.) [Kernel | Boot | Running] -- C:\Windows\SysNative\drivers\sptd.sys -- (sptd)
DRV:64bit: - [2014/07/02 20:49:08 | 000,026,200 | ---- | M] (SplitmediaLabs Limited) [Kernel | On_Demand | Running] -- C:\Windows\SysNative\drivers\xspltspk.sys -- (XSplit_Dummy)
DRV:64bit: - [2013/05/30 08:16:40 | 000,064,280 | ---- | M] (Logitech Inc.) [Kernel | On_Demand | Running] -- C:\Windows\SysNative\drivers\LGSHidFilt.Sys -- (LGSHidFilt)
DRV:64bit: - [2013/04/15 10:51:58 | 000,102,808 | ---- | M] (Logitech) [Kernel | On_Demand | Running] -- C:\Windows\SysNative\drivers\ladfGSRamd64.sys -- (LADF_RenderOnly)
DRV:64bit: - [2013/04/15 10:51:52 | 000,410,008 | ---- | M] (Logitech) [Kernel | On_Demand | Running] -- C:\Windows\SysNative\drivers\ladfGSCamd64.sys -- (LADF_CaptureOnly)
DRV:64bit: - [2009/11/23 16:38:00 | 000,016,008 | ---- | M] (Logitech Inc.) [Kernel | On_Demand | Running] -- C:\Windows\SysNative\drivers\LGVirHid.sys -- (LGVirHid)
DRV:64bit: - [2009/11/23 16:37:50 | 000,022,408 | ---- | M] (Logitech Inc.) [Kernel | On_Demand | Running] -- C:\Windows\SysNative\drivers\LGBusEnum.sys -- (LGBusEnum)
DRV:64bit: - [2009/07/13 17:52:21 | 000,106,576 | ---- | M] (Advanced Micro Devices) [Kernel | On_Demand | Stopped] -- C:\Windows\SysNative\drivers\amdsata.sys -- (amdsata)
DRV:64bit: - [2009/07/13 17:52:21 | 000,028,752 | ---- | M] (Advanced Micro Devices) [Kernel | Boot | Running] -- C:\Windows\SysNative\drivers\amdxata.sys -- (amdxata)
DRV:64bit: - [2009/07/13 17:52:20 | 000,194,128 | ---- | M] (AMD Technologies Inc.) [Kernel | On_Demand | Stopped] -- C:\Windows\SysNative\drivers\amdsbs.sys -- (amdsbs)
DRV:64bit: - [2009/07/13 17:48:04 | 000,065,600 | ---- | M] (LSI Corporation) [Kernel | On_Demand | Stopped] -- C:\Windows\SysNative\drivers\lsi_sas2.sys -- (LSI_SAS2)
DRV:64bit: - [2009/07/13 17:47:48 | 000,077,888 | ---- | M] (Hewlett-Packard Company) [Kernel | On_Demand | Stopped] -- C:\Windows\SysNative\drivers\HpSAMD.sys -- (HpSAMD)
DRV:64bit: - [2009/07/13 17:47:48 | 000,023,104 | ---- | M] (Microsoft Corporation) [Recognizer | Boot | Unknown] -- C:\Windows\SysNative\drivers\fs_rec.sys -- (Fs_Rec)
DRV:64bit: - [2009/07/13 17:45:55 | 000,024,656 | ---- | M] (Promise Technology) [Kernel | On_Demand | Stopped] -- C:\Windows\SysNative\drivers\stexstor.sys -- (stexstor)
DRV:64bit: - [2009/06/10 12:35:35 | 000,408,960 | ---- | M] (NVIDIA Corporation) [Kernel | On_Demand | Running] -- C:\Windows\SysNative\drivers\nvm62x64.sys -- (NVENETFD)
DRV:64bit: - [2009/06/10 12:34:33 | 003,286,016 | ---- | M] (Broadcom Corporation) [Kernel | On_Demand | Stopped] -- C:\Windows\SysNative\drivers\evbda.sys -- (ebdrv)
DRV:64bit: - [2009/06/10 12:34:28 | 000,468,480 | ---- | M] (Broadcom Corporation) [Kernel | On_Demand | Stopped] -- C:\Windows\SysNative\drivers\bxvbda.sys -- (b06bdrv)
DRV:64bit: - [2009/06/10 12:34:23 | 000,270,848 | ---- | M] (Broadcom Corporation) [Kernel | On_Demand | Stopped] -- C:\Windows\SysNative\drivers\b57nd60a.sys -- (b57nd60a)
DRV:64bit: - [2009/06/10 12:31:59 | 000,031,232 | ---- | M] (Hauppauge Computer Works, Inc.) [Kernel | On_Demand | Stopped] -- C:\Windows\SysNative\drivers\hcw85cir.sys -- (hcw85cir)
DRV:64bit: - [2006/11/28 21:46:20 | 000,043,328 | ---- | M] (Printing Communications Assoc., Inc. (PCAUSA)) [Kernel | On_Demand | Stopped] -- C:\Windows\SysNative\drivers\PCAMp50a64.sys -- (PCAMp50a64)
DRV:64bit: - [2006/11/28 21:46:20 | 000,041,280 | ---- | M] (Printing Communications Assoc., Inc. (PCAUSA)) [Kernel | On_Demand | Stopped] -- C:\Windows\SysNative\drivers\PCASp50a64.sys -- (PCASp50a64)
DRV - [2015/01/24 02:56:08 | 000,058,728 | ---- | M] (YTDownloader) [Kernel | Auto | Running] -- C:\Program Files (x86)\YTDownloader\sbmntr.sys -- (sbmntr)
DRV - [2009/07/13 17:19:10 | 000,019,008 | ---- | M] (Microsoft Corporation) [File_System | On_Demand | Stopped] -- C:\Windows\SysWOW64\drivers\wimmount.sys -- (WIMMount)
 
 
========== Standard Registry (SafeList) ==========
 
 
========== Internet Explorer ==========
 
IE:64bit: - HKLM\..\SearchScopes,DefaultScope = {0633EE93-D776-472f-A0FF-E1416B8B2E3A}
IE:64bit: - HKLM\..\SearchScopes\{0633EE93-D776-472f-A0FF-E1416B8B2E3A}: "URL" = http://www.bing.com/...ms}&FORM=IE8SRC
IE:64bit: - HKLM\..\SearchScopes\{7F4EFF06-7032-458e-AE16-1C1D8255C28A}: "URL" = http://www-searching...q={searchTerms}
IE:64bit: - HKLM\Software\Microsoft\Windows\CurrentVersion\Internet Settings: "ProxyEnable" = 1
IE:64bit: - HKLM\Software\Microsoft\Windows\CurrentVersion\Internet Settings: "ProxyOverride" = <-loopback>
IE:64bit: - HKLM\Software\Microsoft\Windows\CurrentVersion\Internet Settings: "ProxyServer" = http=127.0.0.1:8877;https=127.0.0.1:8877
IE - HKLM\SOFTWARE\Microsoft\Internet Explorer\Main,Local Page = C:\Windows\SysWOW64\blank.htm
IE - HKLM\..\SearchScopes,DefaultScope = {0633EE93-D776-472f-A0FF-E1416B8B2E3A}
IE - HKLM\..\SearchScopes\{0633EE93-D776-472f-A0FF-E1416B8B2E3A}: "URL" = http://www.bing.com/...ms}&FORM=IE8SRC
IE - HKLM\Software\Microsoft\Windows\CurrentVersion\Internet Settings: "ProxyEnable" = 1
IE - HKLM\Software\Microsoft\Windows\CurrentVersion\Internet Settings: "ProxyOverride" = <-loopback>
IE - HKLM\Software\Microsoft\Windows\CurrentVersion\Internet Settings: "ProxyServer" = http=127.0.0.1:8877;https=127.0.0.1:8877
 
IE - HKCU\SOFTWARE\Microsoft\Internet Explorer\Main,Start Page = http://www.trovi.com...&UM=8&UP=&SSPV=
IE - HKCU\SOFTWARE\Microsoft\Internet Explorer\Main,Start Page Redirect Cache = http://www.msn.com/?ocid=iehp
IE - HKCU\SOFTWARE\Microsoft\Internet Explorer\Main,Start Page Redirect Cache AcceptLangs = en-us
IE - HKCU\SOFTWARE\Microsoft\Internet Explorer\Main,Start Page Redirect Cache_TIMESTAMP = 00 F5 7B ED F4 02 D0 01  [binary data]
IE - HKCU\..\SearchScopes,DefaultScope = {CF7CA083-9219-4904-8F3F-183BB6CDEEC5}
IE - HKCU\..\SearchScopes\{014DB5FA-EAFB-4592-A95B-F44D3EE87FA9}: "URL" = http://www-searching...q={searchTerms}
IE - HKCU\..\SearchScopes\{0633EE93-D776-472f-A0FF-E1416B8B2E3A}: "URL" = http://www-searching...q={searchTerms}
IE - HKCU\..\SearchScopes\{068D1032-D786-41AD-AB67-E90C796355B4}: "URL" = http://www.google.co...utputEncoding?}
IE - HKCU\..\SearchScopes\{28074A22-926F-43D0-8258-DA9A47782D73}: "URL" = http://www.bing.com/...Box&FORM=IE8SRC
IE - HKCU\..\SearchScopes\{7F4EFF06-7032-458e-AE16-1C1D8255C28A}: "URL" = http://www-searching...q={searchTerms}
IE - HKCU\..\SearchScopes\{CF7CA083-9219-4904-8F3F-183BB6CDEEC5}: "URL" = http://www.trovi.com...rchTerms}&SSPV=
IE - HKCU\Software\Microsoft\Windows\CurrentVersion\Internet Settings: "ProxyEnable" = 1
IE - HKCU\Software\Microsoft\Windows\CurrentVersion\Internet Settings: "ProxyOverride" = <-loopback>
IE - HKCU\Software\Microsoft\Windows\CurrentVersion\Internet Settings: "ProxyServer" = http=127.0.0.1:8877;https=127.0.0.1:8877
 
========== FireFox ==========
 
FF - prefs.js..browser.search.defaultenginename: "Startpage HTTPS"
FF - prefs.js..browser.search.highlightCount: 0
FF - prefs.js..browser.search.isUS: true
FF - prefs.js..browser.search.selectedEngine: "Trovi search"
FF - prefs.js..browser.search.useDBForOrder: true
FF - prefs.js..browser.startup.homepage: "http://www.trovi.com...UM=8&UP=&SSPV="
FF - prefs.js..extensions.enabledAddons: %7Bbee6eb20-01e0-ebd1-da83-080329fb9a3a%7D:1.65
FF - prefs.js..extensions.enabledAddons: %7B94284f0b-b82a-f31b-9e12-76e8dfd5a24d%7D:1.0
FF - prefs.js..extensions.enabledAddons: %7B972ce4c6-7e08-4474-a285-3208198ce6fd%7D:35.0
FF - prefs.js..keyword.URL: "http://www-searching...aa376d5926,&q="
FF - prefs.js..network.proxy.type: 0
 
FF - user.js..network.proxy.type: 5led", false);user_pref("extensions.autoDisableScopes", 0);
 
FF:64bit: - HKLM\Software\MozillaPlugins\@adobe.com/FlashPlayer: C:\Windows\system32\Macromed\Flash\NPSWF64_16_0_0_257.dll File not found
FF:64bit: - HKLM\Software\MozillaPlugins\@java.com/DTPlugin,version=11.31.2: C:\Program Files\Java\jre1.8.0_31\bin\dtplugin\npDeployJava1.dll (Oracle Corporation)
FF:64bit: - HKLM\Software\MozillaPlugins\@java.com/JavaPlugin,version=11.31.2: C:\Program Files\Java\jre1.8.0_31\bin\plugin2\npjp2.dll (Oracle Corporation)
FF - HKLM\Software\MozillaPlugins\@adobe.com/FlashPlayer: C:\Windows\SysWOW64\Macromed\Flash\NPSWF32_16_0_0_257.dll ()
FF - HKLM\Software\MozillaPlugins\@java.com/DTPlugin,version=11.31.2: C:\Program Files (x86)\Java\jre1.8.0_31\bin\dtplugin\npDeployJava1.dll (Oracle Corporation)
FF - HKLM\Software\MozillaPlugins\@java.com/JavaPlugin,version=11.31.2: C:\Program Files (x86)\Java\jre1.8.0_31\bin\plugin2\npjp2.dll (Oracle Corporation)
FF - HKLM\Software\MozillaPlugins\@Microsoft.com/NpCtrl,version=1.0: C:\Program Files (x86)\Microsoft Silverlight\4.0.60310.0\npctrl.dll ( Microsoft Corporation)
FF - HKLM\Software\MozillaPlugins\@staging.google.com/globalUpdate Update;version=10: C:\Program Files (x86)\globalUpdate\Update\1.3.25.0\npGoogleUpdate4.dll File not found
FF - HKLM\Software\MozillaPlugins\@staging.google.com/globalUpdate Update;version=4: C:\Program Files (x86)\globalUpdate\Update\1.3.25.0\npGoogleUpdate4.dll File not found
FF - HKLM\Software\MozillaPlugins\@videolan.org/vlc,version=2.1.3: C:\Program Files (x86)\VideoLAN\VLC\npvlc.dll (VideoLAN)
 
FF - HKEY_LOCAL_MACHINE\software\mozilla\Firefox\Extensions\\{d9a96531-b093-4d07-9e4c-9704a365c441}: C:\Program Files (x86)\Mozilla Firefox\extensions\{d9a96531-b093-4d07-9e4c-9704a365c441}
FF - HKEY_LOCAL_MACHINE\software\mozilla\Mozilla Firefox 35.0\extensions\\Components: C:\Program Files (x86)\Mozilla Firefox\components
FF - HKEY_LOCAL_MACHINE\software\mozilla\Mozilla Firefox 35.0\extensions\\Plugins: C:\Program Files (x86)\Mozilla Firefox\plugins
FF - HKEY_LOCAL_MACHINE\software\mozilla\Mozilla Thunderbird 31.4.0\extensions\\Components: C:\Program Files (x86)\Mozilla Thunderbird\components
FF - HKEY_LOCAL_MACHINE\software\mozilla\Mozilla Thunderbird 31.4.0\extensions\\Plugins: C:\Program Files (x86)\Mozilla Thunderbird\plugins
 
[2014/11/18 08:38:37 | 000,000,000 | ---D | M] (No name found) -- C:\Users\Clockwork\AppData\Roaming\Mozilla\Extensions
[2015/01/25 14:27:50 | 000,000,000 | ---D | M] (No name found) -- C:\Users\Clockwork\AppData\Roaming\Mozilla\Firefox\Profiles\u3jstsw3.default\extensions
[2015/01/25 14:22:54 | 000,000,000 | ---D | M] ("Zoom It") -- C:\Users\Clockwork\AppData\Roaming\Mozilla\Firefox\Profiles\u3jstsw3.default\extensions\{94284f0b-b82a-f31b-9e12-76e8dfd5a24d}
[2015/01/18 23:52:37 | 000,000,000 | ---D | M] (Flash and Video Download) -- C:\Users\Clockwork\AppData\Roaming\Mozilla\Firefox\Profiles\u3jstsw3.default\extensions\{bee6eb20-01e0-ebd1-da83-080329fb9a3a}
[2015/01/25 14:20:38 | 000,000,000 | ---D | M] (Booster Web) -- C:\Users\Clockwork\AppData\Roaming\Mozilla\Firefox\Profiles\u3jstsw3.default\extensions\[email protected]
[2014/12/13 16:46:07 | 000,026,009 | ---- | M] () (No name found) -- C:\Users\Clockwork\AppData\Roaming\Mozilla\Firefox\Profiles\u3jstsw3.default\extensions\[email protected]
[2015/01/15 10:43:38 | 000,985,112 | ---- | M] () (No name found) -- C:\Users\Clockwork\AppData\Roaming\Mozilla\Firefox\Profiles\u3jstsw3.default\extensions\{d10d0bf8-f5b5-c8b4-a8b2-2b9879e08c5d}.xpi
[2015/01/25 11:25:52 | 000,005,501 | ---- | M] () -- C:\Users\Clockwork\AppData\Roaming\Mozilla\Firefox\Profiles\u3jstsw3.default\searchplugins\startpage-https.xml
[2015/01/25 14:12:15 | 000,000,000 | ---D | M] (No name found) -- C:\Program Files (x86)\Mozilla Firefox\extensions
[2015/01/13 11:43:04 | 000,000,000 | ---D | M] (No name found) -- C:\Program Files (x86)\Mozilla Firefox\browser\extensions
[2015/01/13 11:43:12 | 000,000,000 | ---D | M] (Default) -- C:\Program Files (x86)\Mozilla Firefox\browser\extensions\{972ce4c6-7e08-4474-a285-3208198ce6fd}
 
O1 HOSTS File: ([2009/06/10 13:00:26 | 000,000,824 | ---- | M]) - C:\Windows\SysNative\drivers\etc\hosts
O2:64bit: - BHO: (Java™ Plug-In SSV Helper) - {761497BB-D6F0-462C-B6EB-D4DAF1D92D43} - C:\Program Files\Java\jre1.8.0_31\bin\ssv.dll (Oracle Corporation)
O2:64bit: - BHO: (Java™ Plug-In 2 SSV Helper) - {DBC80044-A445-435b-BC74-9C25C1C588A9} - C:\Program Files\Java\jre1.8.0_31\bin\jp2ssv.dll (Oracle Corporation)
O2 - BHO: (Java™ Plug-In SSV Helper) - {761497BB-D6F0-462C-B6EB-D4DAF1D92D43} - C:\Program Files (x86)\Java\jre1.8.0_31\bin\ssv.dll (Oracle Corporation)
O2 - BHO: (Java™ Plug-In 2 SSV Helper) - {DBC80044-A445-435b-BC74-9C25C1C588A9} - C:\Program Files (x86)\Java\jre1.8.0_31\bin\jp2ssv.dll (Oracle Corporation)
O4:64bit: - HKLM..\Run: [Launch LCore] C:\Program Files\Logitech Gaming Software\LCore.exe (Logitech Inc.)
O4 - HKLM..\Run: [gmsd_us_138]  File not found
O6 - HKLM\Software\Policies\Microsoft\Internet Explorer\Control Panel present
O6 - HKLM\SOFTWARE\Microsoft\Windows\CurrentVersion\policies\Explorer: NoActiveDesktop = 1
O6 - HKLM\SOFTWARE\Microsoft\Windows\CurrentVersion\policies\Explorer: NoActiveDesktopChanges = 1
O6 - HKLM\SOFTWARE\Microsoft\Windows\CurrentVersion\policies\System: ConsentPromptBehaviorAdmin = 5
O6 - HKLM\SOFTWARE\Microsoft\Windows\CurrentVersion\policies\System: ConsentPromptBehaviorUser = 3
O7 - HKCU\Software\Policies\Microsoft\Internet Explorer\Control Panel present
O7 - HKCU\Software\Policies\Microsoft\Internet Explorer\Main present
O7 - HKCU\SOFTWARE\Microsoft\Windows\CurrentVersion\policies\Explorer: NoDriveTypeAutoRun = 145
O7 - HKCU\SOFTWARE\Microsoft\Windows\CurrentVersion\policies\Explorer: HideSCAHealth = 1
O1364bit: - gopher Prefix: missing
O13 - gopher Prefix: missing
O16 - DPF: {D27CDB6E-AE6D-11CF-96B8-444553540000} https://fpdownload.m...ash/swflash.cab (Shockwave Flash Object)
O17 - HKLM\System\CCS\Services\Tcpip\Parameters: DhcpNameServer = 192.168.1.1
O17 - HKLM\System\CCS\Services\Tcpip\Parameters\Interfaces\{0857202D-2F31-4C23-BAB6-16122231A610}: DhcpNameServer = 192.168.1.1
O17 - HKLM\System\CCS\Services\Tcpip\Parameters\Interfaces\{13A298C0-0DB3-487E-B605-E22642D83CD1}: DhcpNameServer = 192.168.1.1 68.238.64.12
O20:64bit: - HKLM Winlogon: Shell - (explorer.exe) - C:\Windows\explorer.exe (Microsoft Corporation)
O20:64bit: - HKLM Winlogon: UserInit - (C:\Windows\system32\userinit.exe) - C:\Windows\SysNative\userinit.exe (Microsoft Corporation)
O20 - HKLM Winlogon: Shell - (explorer.exe) - C:\Windows\SysWow64\explorer.exe (Microsoft Corporation)
O20 - HKLM Winlogon: UserInit - (userinit.exe) - C:\Windows\SysWow64\userinit.exe (Microsoft Corporation)
O21:64bit: - SSODL: WebCheck - {E6FB5E20-DE35-11CF-9C87-00AA005127ED} - No CLSID value found.
O21 - SSODL: WebCheck - {E6FB5E20-DE35-11CF-9C87-00AA005127ED} - No CLSID value found.
O32 - HKLM CDRom: AutoRun - 1
O33 - MountPoints2\{ea149240-a4da-11e4-86b1-806e6f6e6963}\Shell - "" = AutoRun
O33 - MountPoints2\{ea149240-a4da-11e4-86b1-806e6f6e6963}\Shell\AutoRun\command - "" = E:\SETUP.EXE
O33 - MountPoints2\{ea149240-a4da-11e4-86b1-806e6f6e6963}\Shell\configure\command - "" = E:\SETUP.EXE
O33 - MountPoints2\{ea149240-a4da-11e4-86b1-806e6f6e6963}\Shell\install\command - "" = E:\SETUP.EXE
O34 - HKLM BootExecute: (autocheck autochk *)
O35:64bit: - HKLM\..comfile [open] -- "%1" %*
O35:64bit: - HKLM\..exefile [open] -- "%1" %*
O35 - HKLM\..comfile [open] -- "%1" %*
O35 - HKLM\..exefile [open] -- "%1" %*
O37:64bit: - HKLM\...com [@ = comfile] -- "%1" %*
O37:64bit: - HKLM\...exe [@ = exefile] -- "%1" %*
O37 - HKLM\...com [@ = comfile] -- "%1" %*
O37 - HKLM\...exe [@ = exefile] -- "%1" %*
O38 - SubSystems\\Windows: (ServerDll=winsrv:UserServerDllInitialization,3)
O38 - SubSystems\\Windows: (ServerDll=winsrv:ConServerDllInitialization,2)
O38 - SubSystems\\Windows: (ServerDll=sxssrv,4)
 
========== Files/Folders - Created Within 30 Days ==========
 
[2015/01/25 14:29:34 | 000,000,000 | ---D | C] -- C:\Windows\pss
[2015/01/25 14:22:45 | 000,000,000 | ---D | C] -- C:\Users\Clockwork\AppData\Local\yuntnani
[2015/01/25 14:22:35 | 000,000,000 | ---D | C] -- C:\Program Files (x86)\FastInternet
[2015/01/25 14:22:35 | 000,000,000 | ---D | C] -- C:\a
[2015/01/25 14:22:23 | 000,000,000 | ---D | C] -- C:\ProgramData\Microsoft\Windows\Start Menu\Programs\Microsoft Silverlight
[2015/01/25 14:22:05 | 000,000,000 | ---D | C] -- C:\Program Files (x86)\Microsoft Silverlight
[2015/01/25 14:22:04 | 000,000,000 | ---D | C] -- C:\Users\Clockwork\AppData\Roaming\Microsoft\Windows\Start Menu\Programs\YTDownloader
[2015/01/25 14:22:01 | 000,000,000 | ---D | C] -- C:\Program Files (x86)\YTDownloader
[2015/01/25 14:21:33 | 000,000,000 | ---D | C] -- C:\Program Files\Common Files\Goobzo
[2015/01/25 14:17:34 | 000,000,000 | ---D | C] -- C:\ProgramData\9c650b94000014ee
[2015/01/25 14:10:57 | 000,000,000 | ---D | C] -- C:\ProgramData\Windows VXM
[2015/01/25 14:10:56 | 000,000,000 | ---D | C] -- C:\Program Files (x86)\Windows Network Accelerater
[2015/01/25 14:09:59 | 000,000,000 | -HSD | C] -- C:\Users\Clockwork\AppData\Roaming\AnyProtectEx
[2015/01/25 14:09:55 | 000,000,000 | ---D | C] -- C:\ProgramData\Optimizer
[2015/01/25 14:09:54 | 000,000,000 | ---D | C] -- C:\Program Files (x86)\YouTube Downloader Services
[2015/01/25 14:09:54 | 000,000,000 | ---D | C] -- C:\Program Files (x86)\Software Update Services
[2015/01/25 14:01:35 | 000,000,000 | ---D | C] -- C:\Program Files (x86)\predm
[2015/01/25 13:56:01 | 000,000,000 | ---D | C] -- C:\ProgramData\Microsoft\Windows\Start Menu\Programs\VideoLAN
[2015/01/25 13:55:59 | 000,000,000 | ---D | C] -- C:\Program Files (x86)\VideoLAN
[2015/01/25 13:54:27 | 000,000,000 | ---D | C] -- C:\Users\Clockwork\AppData\Roaming\Booster-Web
[2015/01/25 13:53:39 | 000,000,000 | ---D | C] -- C:\Users\Clockwork\AppData\Local\globalUpdate
[2015/01/25 13:53:19 | 000,000,000 | ---D | C] -- C:\Users\Clockwork\AppData\Local\BoBrowser
[2015/01/25 13:53:02 | 000,000,000 | ---D | C] -- C:\ProgramData\Microsoft\Windows\Start Menu\Programs\turbodiagnosis
[2015/01/25 13:53:02 | 000,000,000 | ---D | C] -- C:\Program Files (x86)\turbodiagnosis
[2015/01/25 13:52:32 | 000,000,000 | ---D | C] -- C:\Program Files (x86)\download Manager
[2015/01/25 13:51:48 | 000,000,000 | ---D | C] -- C:\ProgramData\SearchModulePlus
[2015/01/25 13:51:38 | 000,000,000 | ---D | C] -- C:\Users\Clockwork\AppData\Local\CrashRpt
[2015/01/25 13:51:05 | 000,000,000 | ---D | C] -- C:\Users\Clockwork\AppData\Roaming\DAT
[2015/01/25 13:11:53 | 000,000,000 | ---D | C] -- C:\ProgramData\Microsoft\Windows\Start Menu\Programs\DAEMON Tools Lite
[2015/01/25 13:11:51 | 000,386,680 | ---- | C] (Duplex Secure Ltd.) -- C:\Windows\SysNative\drivers\sptd.sys
[2015/01/25 13:11:51 | 000,000,000 | ---D | C] -- C:\Users\Clockwork\AppData\Roaming\DAEMON Tools Lite
[2015/01/25 13:11:49 | 000,000,000 | ---D | C] -- C:\Program Files (x86)\DAEMON Tools Lite
[2015/01/25 13:10:43 | 000,000,000 | ---D | C] -- C:\ProgramData\DAEMON Tools Lite
[2015/01/21 09:26:16 | 000,000,000 | ---D | C] -- C:\Program Files (x86)\Common Files\Java
[2015/01/17 03:51:38 | 000,000,000 | ---D | C] -- C:\Users\Clockwork\AppData\Roaming\PhotoScape
[2015/01/13 21:50:27 | 000,000,000 | ---D | C] -- C:\Program Files (x86)\Mozilla Thunderbird
[2015/01/13 11:43:04 | 000,000,000 | ---D | C] -- C:\Program Files (x86)\Mozilla Firefox
[2015/01/13 01:47:00 | 000,000,000 | ---D | C] -- C:\Users\Clockwork\AppData\Roaming\Yahoo!
[2015/01/13 01:45:26 | 000,000,000 | ---D | C] -- C:\Program Files (x86)\Yahoo!
[2015/01/01 17:46:57 | 000,174,112 | ---- | C] (EasyAntiCheat Ltd) -- C:\Windows\SysWow64\EasyAntiCheat.exe
[2015/01/01 12:16:49 | 000,000,000 | ---D | C] -- C:\Users\Clockwork\AppData\Local\capcom
[2014/12/30 10:13:16 | 000,000,000 | ---D | C] -- C:\Windows\Minidump
[2014/12/29 21:09:23 | 000,000,000 | ---D | C] -- C:\Users\Clockwork\Documents\Larian Studios
[2014/12/29 21:09:17 | 000,518,488 | ---- | C] (Microsoft Corporation) -- C:\Windows\SysNative\XAudio2_7.dll
[2014/12/29 21:09:17 | 000,077,656 | ---- | C] (Microsoft Corporation) -- C:\Windows\SysNative\XAPOFX1_5.dll
[2014/12/29 21:09:16 | 002,526,056 | ---- | C] (Microsoft Corporation) -- C:\Windows\SysNative\D3DCompiler_43.dll
[2014/12/29 21:09:16 | 001,907,552 | ---- | C] (Microsoft Corporation) -- C:\Windows\SysNative\d3dcsx_43.dll
[2014/12/29 21:09:16 | 000,511,328 | ---- | C] (Microsoft Corporation) -- C:\Windows\SysNative\d3dx10_43.dll
[2014/12/29 21:09:16 | 000,470,880 | ---- | C] (Microsoft Corporation) -- C:\Windows\SysWow64\d3dx10_43.dll
[2014/12/29 21:09:16 | 000,276,832 | ---- | C] (Microsoft Corporation) -- C:\Windows\SysNative\d3dx11_43.dll
[2014/12/29 21:09:16 | 000,248,672 | ---- | C] (Microsoft Corporation) -- C:\Windows\SysWow64\d3dx11_43.dll
[2014/12/29 21:09:16 | 000,176,984 | ---- | C] (Microsoft Corporation) -- C:\Windows\SysNative\xactengine3_7.dll
[2014/12/29 21:09:15 | 002,401,112 | ---- | C] (Microsoft Corporation) -- C:\Windows\SysNative\D3DX9_43.dll
[1 C:\Users\Clockwork\AppData\Local\*.tmp files -> C:\Users\Clockwork\AppData\Local\*.tmp -> ]
 
========== Files - Modified Within 30 Days ==========
 
[2015/01/25 14:35:31 | 000,014,192 | -H-- | M] () -- C:\Windows\SysNative\7B296FB0-376B-497e-B012-9C450E1B7327-5P-1.C7483456-A289-439d-8115-601632D005A0
[2015/01/25 14:35:31 | 000,014,192 | -H-- | M] () -- C:\Windows\SysNative\7B296FB0-376B-497e-B012-9C450E1B7327-5P-0.C7483456-A289-439d-8115-601632D005A0
[2015/01/25 14:34:45 | 000,778,150 | ---- | M] () -- C:\Windows\SysNative\PerfStringBackup.INI
[2015/01/25 14:34:45 | 000,659,580 | ---- | M] () -- C:\Windows\SysNative\perfh009.dat
[2015/01/25 14:34:45 | 000,120,508 | ---- | M] () -- C:\Windows\SysNative\perfc009.dat
[2015/01/25 14:31:00 | 000,000,378 | ---- | M] () -- C:\Windows\tasks\APSnotifierPP1.job
[2015/01/25 14:30:23 | 000,000,960 | ---- | M] () -- C:\Windows\tasks\globalUpdateUpdateTaskMachineCore.job
[2015/01/25 14:30:15 | 000,000,376 | ---- | M] () -- C:\Windows\tasks\APSnotifierPP3.job
[2015/01/25 14:30:15 | 000,000,376 | ---- | M] () -- C:\Windows\tasks\APSnotifierPP2.job
[2015/01/25 14:30:13 | 000,067,584 | --S- | M] () -- C:\Windows\bootstat.dat
[2015/01/25 14:30:09 | 2146,344,959 | -HS- | M] () -- C:\hiberfil.sys
[2015/01/25 14:24:59 | 000,021,976 | ---- | M] () -- C:\Windows\SysNative\drivers\SPPD.sys
[2015/01/25 14:22:04 | 000,001,953 | ---- | M] () -- C:\Users\Clockwork\Desktop\YTDownloader.lnk
[2015/01/25 14:21:53 | 000,001,613 | ---- | M] () -- C:\Users\Clockwork\Application Data\Microsoft\Internet Explorer\Quick Launch\Launch Internet Explorer Browser.lnk
[2015/01/25 14:20:20 | 000,000,019 | ---- | M] () -- C:\Windows\SysWow64\39414105.bat
[2015/01/25 14:09:23 | 000,001,901 | ---- | M] () -- C:\Windows\patsearch.bin
[2015/01/25 14:09:22 | 000,000,000 | -H-- | M] () -- C:\Windows\SysNative\drivers\Msft_Kernel_webinstrNHKT_01009.Wdf
[2015/01/25 13:59:53 | 000,001,800 | ---- | M] () -- C:\ProgramData\tempimage.bmp
[2015/01/25 13:58:00 | 000,000,964 | ---- | M] () -- C:\Windows\tasks\globalUpdateUpdateTaskMachineUA.job
[2015/01/25 13:56:01 | 000,001,070 | ---- | M] () -- C:\Users\Public\Desktop\VLC media player.lnk
[2015/01/25 13:12:01 | 000,001,954 | ---- | M] () -- C:\Users\Public\Desktop\DAEMON Tools Lite.lnk
[2015/01/25 13:11:51 | 000,386,680 | ---- | M] (Duplex Secure Ltd.) -- C:\Windows\SysNative\drivers\sptd.sys
[2015/01/23 12:56:25 | 000,026,109 | ---- | M] () -- C:\Users\Clockwork\Desktop\Untitled attachment 00046.jpg
[2015/01/21 09:25:59 | 000,111,016 | ---- | M] (Oracle Corporation) -- C:\Windows\SysNative\WindowsAccessBridge-64.dll
[2015/01/21 09:25:38 | 000,098,216 | ---- | M] (Oracle Corporation) -- C:\Windows\SysWow64\WindowsAccessBridge-32.dll
[2015/01/18 01:46:53 | 000,002,114 | ---- | M] () -- C:\Users\Clockwork\Application Data\Microsoft\Internet Explorer\Quick Launch\Mozilla Thunderbird.lnk
[2015/01/17 21:07:32 | 000,701,616 | ---- | M] (Adobe Systems Incorporated) -- C:\Windows\SysWow64\FlashPlayerApp.exe
[2015/01/17 21:07:32 | 000,071,344 | ---- | M] (Adobe Systems Incorporated) -- C:\Windows\SysWow64\FlashPlayerCPLApp.cpl
[2015/01/17 17:39:59 | 488,662,232 | ---- | M] () -- C:\Windows\MEMORY.DMP
[2015/01/17 03:52:26 | 000,030,720 | -H-- | M] () -- C:\Users\Clockwork\Desktop\photothumb.db
[2015/01/01 17:16:11 | 000,174,112 | ---- | M] (EasyAntiCheat Ltd) -- C:\Windows\SysWow64\EasyAntiCheat.exe
[2014/12/29 11:48:26 | 000,000,222 | ---- | M] () -- C:\Users\Clockwork\Desktop\Divinity Original Sin.url
[2014/12/27 21:13:02 | 000,000,859 | ---- | M] () -- C:\Users\Clockwork\Desktop\µTorrent.lnk
[2014/12/27 21:13:02 | 000,000,839 | ---- | M] () -- C:\Users\Clockwork\Application Data\Microsoft\Internet Explorer\Quick Launch\µTorrent.lnk
[1 C:\Users\Clockwork\AppData\Local\*.tmp files -> C:\Users\Clockwork\AppData\Local\*.tmp -> ]
 
========== Files Created - No Company Name ==========
 
[2015/01/25 14:24:59 | 000,021,976 | ---- | C] () -- C:\Windows\SysNative\drivers\SPPD.sys
[2015/01/25 14:22:04 | 000,001,953 | ---- | C] () -- C:\Users\Clockwork\Desktop\YTDownloader.lnk
[2015/01/25 14:20:20 | 000,000,019 | ---- | C] () -- C:\Windows\SysWow64\39414105.bat
[2015/01/25 14:11:01 | 000,000,376 | ---- | C] () -- C:\Windows\tasks\APSnotifierPP3.job
[2015/01/25 14:11:00 | 000,000,376 | ---- | C] () -- C:\Windows\tasks\APSnotifierPP2.job
[2015/01/25 14:10:59 | 000,000,378 | ---- | C] () -- C:\Windows\tasks\APSnotifierPP1.job
[2015/01/25 14:09:23 | 000,001,901 | ---- | C] () -- C:\Windows\patsearch.bin
[2015/01/25 14:09:22 | 000,000,000 | -H-- | C] () -- C:\Windows\SysNative\drivers\Msft_Kernel_webinstrNHKT_01009.Wdf
[2015/01/25 13:59:53 | 000,001,800 | ---- | C] () -- C:\ProgramData\tempimage.bmp
[2015/01/25 13:56:01 | 000,001,070 | ---- | C] () -- C:\Users\Public\Desktop\VLC media player.lnk
[2015/01/25 13:53:46 | 000,000,964 | ---- | C] () -- C:\Windows\tasks\globalUpdateUpdateTaskMachineUA.job
[2015/01/25 13:53:45 | 000,000,960 | ---- | C] () -- C:\Windows\tasks\globalUpdateUpdateTaskMachineCore.job
[2015/01/25 13:12:01 | 000,001,954 | ---- | C] () -- C:\Users\Public\Desktop\DAEMON Tools Lite.lnk
[2015/01/23 12:56:24 | 000,026,109 | ---- | C] () -- C:\Users\Clockwork\Desktop\Untitled attachment 00046.jpg
[2015/01/17 03:52:03 | 000,030,720 | -H-- | C] () -- C:\Users\Clockwork\Desktop\photothumb.db
[2014/12/30 10:13:09 | 488,662,232 | ---- | C] () -- C:\Windows\MEMORY.DMP
[2014/12/29 11:48:26 | 000,000,222 | ---- | C] () -- C:\Users\Clockwork\Desktop\Divinity Original Sin.url
[2014/12/27 21:13:02 | 000,000,859 | ---- | C] () -- C:\Users\Clockwork\Desktop\µTorrent.lnk
[2014/12/27 21:13:02 | 000,000,839 | ---- | C] () -- C:\Users\Clockwork\Application Data\Microsoft\Internet Explorer\Quick Launch\µTorrent.lnk
[2014/11/26 08:30:56 | 000,000,079 | ---- | C] () -- C:\Windows\ENX230.ini
[2014/11/23 10:33:52 | 000,000,976 | RHS- | C] () -- C:\ProgramData\ntuser.pol
[2014/11/21 23:19:09 | 000,771,962 | ---- | C] () -- C:\Windows\SysWow64\PerfStringBackup.INI
[2014/11/18 11:51:46 | 000,000,430 | RHS- | C] () -- C:\Users\Clockwork\ntuser.pol
 
========== ZeroAccess Check ==========
 
[2009/07/13 20:55:00 | 000,000,227 | RHS- | M] () -- C:\Windows\assembly\Desktop.ini
 
[HKEY_CURRENT_USER\Software\Classes\clsid\{42aedc87-2188-41fd-b9a3-0c966feabec1}\InProcServer32] /64
 
[HKEY_CURRENT_USER\Software\Classes\Wow6432node\clsid\{42aedc87-2188-41fd-b9a3-0c966feabec1}\InProcServer32]
 
[HKEY_CURRENT_USER\Software\Classes\clsid\{fbeb8a05-beee-4442-804e-409d6c4515e9}\InProcServer32] /64
 
[HKEY_CURRENT_USER\Software\Classes\Wow6432node\clsid\{fbeb8a05-beee-4442-804e-409d6c4515e9}\InProcServer32]
 
[HKEY_LOCAL_MACHINE\Software\Classes\clsid\{42aedc87-2188-41fd-b9a3-0c966feabec1}\InProcServer32] /64
"" = C:\Windows\SysNative\shell32.dll -- [2009/07/13 17:41:54 | 014,161,920 | ---- | M] (Microsoft Corporation)
"ThreadingModel" = Apartment
 
[HKEY_LOCAL_MACHINE\Software\Wow6432Node\Classes\clsid\{42aedc87-2188-41fd-b9a3-0c966feabec1}\InProcServer32]
"" = %SystemRoot%\system32\shell32.dll -- [2009/07/13 17:16:14 | 012,866,560 | ---- | M] (Microsoft Corporation)
"ThreadingModel" = Apartment
 
[HKEY_LOCAL_MACHINE\Software\Classes\clsid\{5839FCA9-774D-42A1-ACDA-D6A79037F57F}\InProcServer32] /64
"" = C:\Windows\SysNative\wbem\fastprox.dll -- [2009/07/13 17:40:51 | 000,909,312 | ---- | M] (Microsoft Corporation)
"ThreadingModel" = Free
 
[HKEY_LOCAL_MACHINE\Software\Wow6432Node\Classes\clsid\{5839FCA9-774D-42A1-ACDA-D6A79037F57F}\InProcServer32]
"" = %systemroot%\system32\wbem\fastprox.dll -- [2009/07/13 17:15:20 | 000,605,696 | ---- | M] (Microsoft Corporation)
"ThreadingModel" = Free
 
[HKEY_LOCAL_MACHINE\Software\Classes\clsid\{F3130CDB-AA52-4C3A-AB32-85FFC23AF9C1}\InProcServer32] /64
"" = C:\Windows\SysNative\wbem\wbemess.dll -- [2009/07/13 17:41:56 | 000,505,856 | ---- | M] (Microsoft Corporation)
"ThreadingModel" = Both
 
[HKEY_LOCAL_MACHINE\Software\Wow6432Node\Classes\clsid\{F3130CDB-AA52-4C3A-AB32-85FFC23AF9C1}\InProcServer32]

< End of report >