#16
Posted 02 February 2015 - 07:56 AM

---
#17
Posted 02 February 2015 - 09:00 AM
There looks to be something new that was downloaded the day before yesterday. Ensure that both FRST.exe and the fixlist.txt are both on the desktop
CAUTION : This fix is only valid for this specific machine, using it on another may break your computer
Open
notepad
and copy/paste the text in the quotebox below into it: 
CreateRestorePoint:
HKU\S-1-5-21-893646719-2384664811-2616046975-1000\...\Command Processor: "C:\Users\ron\AppData\Roaming\Microsoft\Windows\IEUpdate\mountvol.exe" <===== ATTENTION!
Startup: C:\Users\ron\AppData\Roaming\Microsoft\Windows\Start Menu\Programs\Startup\mountvol.lnk
ShortcutTarget: mountvol.lnk -> C:\Users\ron\AppData\Roaming\Microsoft\Windows\IEUpdate\mountvol.exe (No File)
CHR Extension: (No Name) - C:\Users\ron\AppData\Local\Google\Chrome\User Data\Default\Extensions\opfedmikikmahmpaimpfelmikhaigobp [2013-11-11]
2015-01-30 09:03 - 2015-01-30 09:03 - 00000000 ____D () C:\ProgramData\boost_interprocess
2015-01-29 18:37 - 2015-01-29 18:37 - 00000794 _____ () C:\Windows\system32\.tmp
2015-01-29 17:34 - 2015-01-29 17:36 - 00000153 _____ () C:\Users\ron\AppData\Local\svcxdcl32.dat
2015-01-29 17:32 - 2015-01-30 09:03 - 00000000 ____D () C:\ProgramData\ZebkEnope
2015-01-28 18:28 - 2015-01-28 18:59 - 00000000 ___HD () C:\48895b54
2015-01-28 18:44 - 2012-10-15 16:43 - 00000000 ____D () C:\ProgramData\188F1432-103A-4ffb-80F1-36B633C5C9E1
Task: {11651B12-8847-4966-99D0-1D929B9151D9} - System32\Tasks\{D1BFA6FF-41A0-43C1-8066-59F23B8BCAC8} => pcalua.exe -a C:\Users\ron\AppData\Local\Temp\InstallFlashPlayer.exe -d C:\Users\ron\Desktop
Task: {2FD63CB2-E0A1-45FC-AC37-CCE8E845D0AF} - System32\Tasks\{7EE89D9E-2EC9-419D-9E9E-63942478420F} => Iexplore.exe http://ui.skype.com/...;toolbaroffered
Task: {4ADDFFC8-0509-4985-A7F9-96F65443DFD3} - System32\Tasks\{67CFC914-29A9-4A9A-80F9-B0A4C858A3F7} => Iexplore.exe http://ui.skype.com/...;toolbaroffered
Task: {4E7F1733-CC6A-4813-B25A-7AE5D5ECEBB3} - System32\Tasks\{450EFA0A-4048-4002-9B3C-B6CCEC831CE2} => Iexplore.exe http://ui.skype.com/...temlevelpresent
Task: {66DDE1DE-FB23-43BF-A0B1-0C08971B7A16} - System32\Tasks\GoogleUpdater => Rundll32.exe javascript:"\..\mshtml,RunHTMLApplication ";document.write((new%20ActiveXObject("WScript.Shell")).RegRead("HKCU\\software\\microsoft\\internet explorer\\zergling_rush"))
Task: {7AB943AB-95FA-46D0-AE5E-4C146C89B1BA} - System32\Tasks\{274A29E0-5B3C-4986-B01C-BA97FA88C6AA} => Iexplore.exe http://ui.skype.com/...;toolbaroffered
Task: {E7F1B31F-C9EB-4BFB-80F1-8D125868101D} - System32\Tasks\{2FF53E40-C08D-440D-83BA-3FA3BAB0540D} => pcalua.exe -a "C:\Users\ron\AppData\Local\Microsoft\Windows\Temporary Internet Files\Content.IE5\SPW7MLZA\download[1].exe" -d C:\Users\ron\Desktop
C:\Users\ron\AppData\Roaming\Microsoft\Windows\IEUpdate
EmptyTemp:
CMD: bitsadmin /reset /allusers
Save this as
fixlist.txt
, in the same location as FRST.exe
Run FRST and press Fix
On completion a log will be generated please post that
THEN
Please download
AdwCleaner
by Xplode onto your desktop.
Close all open programs and internet browsers.
Double click on AdwCleaner.exe to run the tool.
Click on Scan.
After the scan is complete click on "Clean"
Confirm each time with Ok.
Your computer will be rebooted automatically. A text file will open after the restart.
Please post the content of that logfile with your next answer.
You can find the logfile at C:\AdwCleaner[S1].txt as well.
---
#18
Posted 02 February 2015 - 12:08 PM
i ran an aswmbr scan
attached
---
#19
Posted 02 February 2015 - 12:16 PM
If you could now run the FRST fix and AdwCleaner letting me know how is the computer is behaving on completion

---
#20
Posted 05 February 2015 - 09:40 AM
Could you run a fresh FRST scan please

---
#21
Posted 05 February 2015 - 10:49 AM
ok sorry i didnt see page 2
---
#22
Posted 05 February 2015 - 01:42 PM
---
#23
Posted 05 February 2015 - 01:58 PM
Are the ads still appearing |? If so in which browser

---
#24
Posted 05 February 2015 - 02:32 PM
---
#25
Posted 05 February 2015 - 02:54 PM
Are you experiencing any other problems


---
#26
Posted 09 February 2015 - 01:33 PM
Due to lack of feedback, this topic has been closed.

If you need this topic reopened, please contact a staff member. This applies only to the original topic starter. Everyone else please begin a New Topic.

---
#27
Posted 10 February 2015 - 12:23 PM
Subject to no further problems

I will remove my tools now and give some recommendations, but, I would like you to run for 24 hours or so and come back if you have any problems
Now the best part of the day ----- Your log now appears clean
A good workman always cleans up after himself so..The following will implement some cleanup procedures as well as reset System Restore points:
Remove tools
Download and run
Delfix
: Keep Java Updated :
WARNING:
Java
is the #1 exploited program at this time. The
Department of Homeland Security
recommends that computer users disable
Java
See
this article
I would recommend that you completely uninstall
Java
unless you need it to run an important software.
In that instance I would recommend that you
disable
Java
in your browsers until you need it for that software and then enable it. (See
How to diasble Java in your web browser
and
How to unplug Java from the browser
)
If you do need to keep Java then download
JavaRa
Run the programme and select Remove Java Runtime. Uninstall all versions of Java present
Once done then run it again and select Update Java runtime > Download and install Latest version
Now that you are clean, to help protect your computer in the future I recommend that you get the following free programmes:
CryptoPrevent
install this programme to lock down and prevent crypto ransome ware
Malwarebytes
.
Update and run weekly to keep your system clean
Unchecky
Click on the link above to be taken to Unchecky.com
click the very large
Download
button.
click
Save
Click
Open folder
Right click on the Unchecky_setup and choose to
Run as Administrator
Once open click the
Install
button.
Then click on
Finish
Unchecky is now installed and will help you keep unwanted check boxes unchecked, this is a fire and forget programme

It is critical to have both a firewall and anti virus to protect your system and to keep them
updated.
To learn more about how to protect yourself while on the internet read this little guide
Best security practices
Keep safe

---
#28
Posted 02 April 2015 - 09:54 AM
---
#29
Posted 02 April 2015 - 11:59 AM
Download the following three programmes to your desktop :
1.
Rufus
2. Windows Vista RC
3.
Farbar Recovery Scan Tool
Insert the USB stick Then run Rufus
Select the ISO file on the desktop via the ISO icon.
Press Start Burn
Then copy FRST to the same USB
Insert the USB into the sick computer and start the computer. First ensuring that the system is set to boot from USB
Note: If you are not sure how to do that follow the instructions
Here
Windows 7 and Vista screenshots
When you reboot you will see this.
Click repair my computer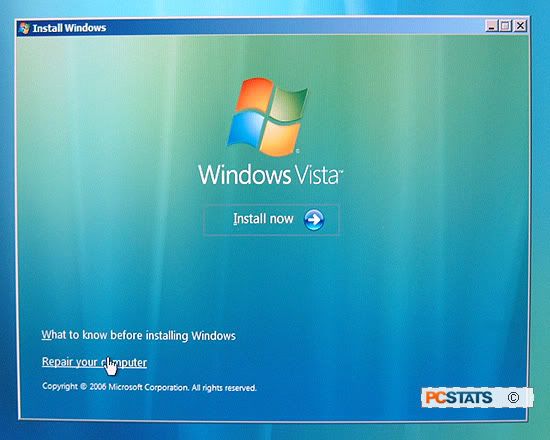 Select your operating system
Select Command prompt
At the command prompt type the following :
notepad
and press
Enter
.
The notepad opens. Under File menu select
Open
.
Select "Computer" and find your flash drive letter and close the notepad.
In the command window type
e

:\frst64.exe
or
e

:\frst.exe
dependant on system
and press
EnterNote:
Replace letter
e
with the drive letter of your flash drive.
The tool will start to run.
When the tool opens click Yes to disclaimer.
Press
Scan
button.
It will make a log (FRST.txt) on the flash drive. Please copy and paste it to your reply.
---
#30
Posted 02 April 2015 - 12:30 PM
I Couldn't get frst to save but I did get it to scan

---
---
Similar Topics
Also tagged with one or more of these keywords: malware, frst
Security

→

Virus, Spyware, Malware Removal

→


Started by mrsawyer ,

17 Feb 2021

malware

,

Windows 7

,

MultiBoot

Hot

17 replies
1,935 views

Operating Systems

→

Windows Vista and Windows 7

→


Started by Waste of Space ,

12 Nov 2020

firewall

,

vista

,

security

,

xp

and 4 more...

Security

→

Virus, Spyware, Malware Removal

→


Started by tanika ,

12 Nov 2020

Virus

,

Spyware

,

Malware

Security

→

Smartphone Virus / Mobile Malware

→


Started by Matica7 ,

19 Oct 2020

android

,

sms scam

and 3 more...

Security

→

Virus, Spyware, Malware Removal

→


Started by miahmelll ,

11 Oct 2020

spyware

,

malware

,

infected

and 2 more...
0 user(s) are reading this topic
0 members, 0 guests, 0 anonymous users
As Featured On: