This topic is locked
#31
Posted 08 February 2015 - 11:46 AM



  can i say i hate computers

Edited by dumbBlond28, 08 February 2015 - 08:50 PM.

---
#32
Posted 08 February 2015 - 12:03 PM
I'm back

OK next trick
1.Hold down Windows key + R to open the Run windows
2.In the input area, type in cmd to open Command Prompt
3.In command prompt, you will see lines like C:\Users\Ayleenlee
4.Type cd desktop
5.The ones you are looking for are saver~.lnk or something similar
6.Now we will start deleting the undeletable file. For example, to delete the shortcut file, type del saver~.LNK
7.Repeat for all the saveron files
I have attached a screen shot below of the steps as done on my system
Note I only have one link
Also see that I have typed the file name exactly as it appears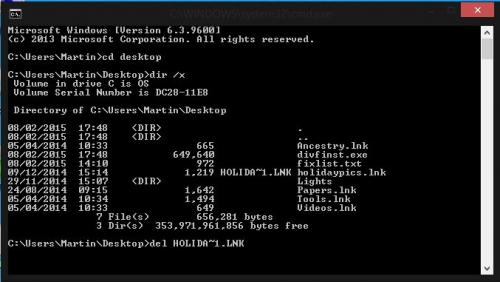 ---
#33
Posted 08 February 2015 - 12:06 PM
OMG ok will let u know what happend will do now
---
#34
Posted 08 February 2015 - 12:25 PM
SOOOOOOOOOO im happy they are gone wooohoooo THANK YOU is my computer now ok again? or do i need to do something else?
---
#35
Posted 08 February 2015 - 03:04 PM
Sorry about the delay wifey needed the computer for her family history stuff

All I need to know before I tidy up and remove my rubbish is... Are there any outstanding problems, or is all well
---
#36
Posted 08 February 2015 - 03:09 PM
seems to work just fine now and no problem thought u r gone for tea
---
#37
Posted 08 February 2015 - 03:18 PM
No she who must be obeyed wanted a go
Subject to no further problems

I will remove my tools now and give some recommendations, but, I would like you to run for 24 hours or so and come back if you have any problems
Now the best part of the day ----- Your log now appears clean
A good workman always cleans up after himself so..The following will implement some cleanup procedures as well as reset System Restore points:
Remove Combofix
Click Start then Run.
On Windows7 or Vista you may use Start Search field if Run is not available.
In the box copy/paste the following command:
ComboFix /Uninstall
Note that there is a space between " ComboFix " and " /Uninstall " .
Then click OK (or press Enter ).
Wait for the uninstall process to complete.
Remove tools
Download and run
Delfix
: Keep Java Updated :
WARNING:
Java
is the #1 exploited program at this time. The
Department of Homeland Security
recommends that computer users disable
Java
See
this article
I would recommend that you completely uninstall
Java
unless you need it to run an important software.
In that instance I would recommend that you
disable
Java
in your browsers until you need it for that software and then enable it. (See
How to diasble Java in your web browser
and
How to unplug Java from the browser
)
If you do need to keep Java then download
JavaRa
Run the programme and select Remove Java Runtime. Uninstall all versions of Java present
Once done then run it again and select Update Java runtime > Download and install Latest version
Now that you are clean, to help protect your computer in the future I recommend that you get the following free programmes:
CryptoPrevent
install this programme to lock down and prevent crypto ransome ware
Malwarebytes
.
Update and run weekly to keep your system clean
Unchecky
Click on the link above to be taken to Unchecky.com
click the very large
Download
button.
click
Save
Click
Open folder
Right click on the Unchecky_setup and choose to
Run as Administrator
Once open click the
Install
button.
Then click on
Finish
Unchecky is now installed and will help you keep unwanted check boxes unchecked, this is a fire and forget programme

It is critical to have both a firewall and anti virus to protect your system and to keep them
updated.
To learn more about how to protect yourself while on the internet read this little guide
Best security practices
Keep safe

---
#38
Posted 08 February 2015 - 03:45 PM
Ok thank you so much it seems to be working fine now, If it starts to act up again i will report back to you.
Edited by dumbBlond28, 08 February 2015 - 08:51 PM.
---
#39
Posted 08 February 2015 - 04:02 PM
My pleasure

---
#40
Posted 10 February 2015 - 12:25 PM
Since this issue appears to be resolved ... this Topic has been closed. Glad we could help.

If you're the topic starter, and need this topic reopened, please contact a staff member with the address of the thread.
Everyone else please begin a New Topic.

---
---
Similar Topics
Also tagged with one or more of these keywords: Windows 7, Saveron, Acer laptop


Security

→

Virus, Spyware, Malware Removal

→


Started by pdgold ,

09 Mar 2021

Infected with whitesmoke

and 5 more...

Security

→

Virus, Spyware, Malware Removal

→


Started by mrsawyer ,

17 Feb 2021

malware

,

Windows 7

,

MultiBoot

Hot

17 replies
1,934 views

Security

→

Virus, Spyware, Malware Removal

→


Started by Fyrewind ,

19 Dec 2020

windows 10

,

dll error



Operating Systems

→

Windows Vista and Windows 7

→


Started by joseph456 ,

11 Dec 2020

Windows 7 not booting

Security

→

Virus, Spyware, Malware Removal

→


Started by SharonMurray ,

29 Oct 2020

Windows 10

,

Windows Defender

and 2 more...

Hot

20 replies
3,380 views
0 user(s) are reading this topic
0 members, 0 guests, 0 anonymous users
As Featured On: