Hi.

I have an ASUS OEM for my other 64-bit machine, if that tells you anything.
Aye it does indeed, unfortunately the software for recovery shipped some venders which in this case includes Asus also hinders recdisc. I could attempt to work around this but a good chance it may render the recovery software inoperable so best not to chance that.
However we us a different methodology as follows...
Create a Windows 7 System Repair Disc:
Note:
you will require a blank rewritable CD/DVD to create the below.
Download this iso file to your desktop.
Now double click on recdisc.iso and the below should appear: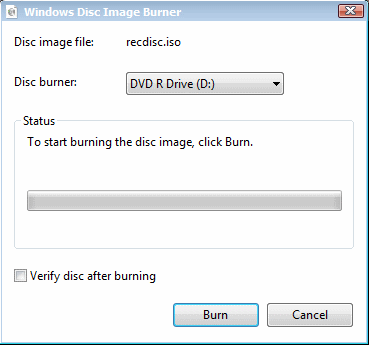 Select the option Verify disc after burning >> click on Burn
The process should now begin: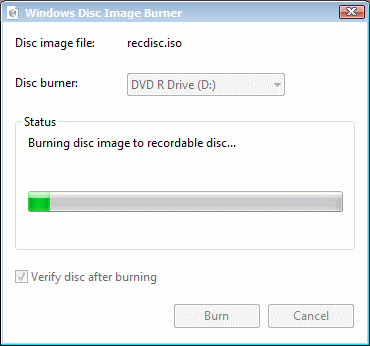 Once created/the burning process has completed, it will be verified: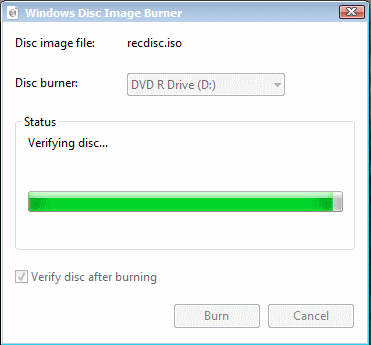 After that the optical drive of your machine will re-open and you can remove the disc: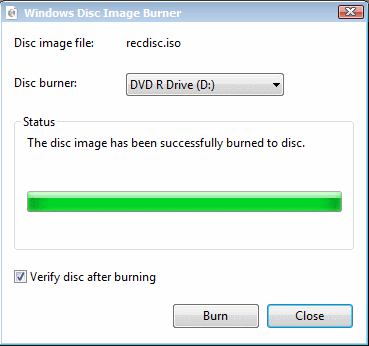 Click on Close, you now have a Windows 7 System Repair Disc.
Next:
Use this to boot up the machine we are working on and once the
System Recovery Options
has loaded, attach your usb/flash drive >> run the
custom frst script
etc.