I just bought a laptop Toshiba and after I installed McAfee Privacy Service the following windows pop up:

"Create Socket WSAENETDOWN : A socket operation encountered a dead network"
OK
"Lister Erro"
OK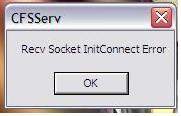 "Recv Socket InitConnect Error"
OK
I'm totally sure that is the McAfee Privacy Service that caused that because I uninstalled the Online service and the Privacy Service and Installed them individually.
I called the Toshiba technical support but the guy was a retardad that told me to format my computer, reinstall the application and don't install the McAfee Privacy Service that I pay $20 per year.
Does anybody know how to fix this?
Thank you!!!
Alex!!
Edited by pacheco2001usa, 13 June 2005 - 01:53 PM.