Hello!  Thank you for taking the time to try and help me.
First of all, let me give you a paragraph of backstory:
I got this Inspiron 8600 years ago from a friend of a friend and used it mostly for email while I was traveling for work (so my work laptop was only for work). I got permission to use my work laptop for personal stuff so let an ex girlfried use this from time to time. A BSOD error occurred (unmountable boot volume I think) and instead of fixing it, I just shelved it for a rainy day. Well, that was maybe 4 years ago and it's a rainy day...actually, I got laid off and had to return my work laptop so I bought a refurb E6400 (from Dicsount Computer Depot) and am trying to fix the old laptop.  I burned an XP_REC_CON disc and forced it to boot from the CD ROM and ran a chkdsk /r and to my delight it worked! I got all my files off of the laptop and was in the process of scanning/cleaning any infections using the tools that were already on the laptop. One of them was Malwarebytes.  I ran it once (without updating the database because it wouldn't connect for some reason) and it found 30 or so issues. I accepted the default action and turned the laptop off overnight and restarted in the morning with no problem.  It was a little laggy (it took 45 or 60 seconds to open the Task Manager after clicking on it) but it worked. I tested the internet connection (wireless) and it googled stuff just fine.  I updated the Malwarebytes database an rescanned it, this time only finding 1 issue (a Google Sketchup installer, I believe) and accepted the default 'ignore once' solution.  Whie scanning (it took a while so I was looking at all the system tray icons) I noticed a grey shield with a yellow exclamation mark in it. Hovering over this showed Windows needed 71 updates...which I felt was acceptable because the laptop hadn't been turned on in several years, so I let it install all the updates while I went to dinner.  When I came back, it said it needed to be restarted for the updates to take effect and that's when I got the BSOD again.  This time it had something to do with the crss or winlogon (I did my research, but I'm not that familiar with computer-speak...the BSOD details are:  stop c000021a...status of 0xc0000005.
I reran chkdsk /r a couple times, the last time it ran, it stopped about 50% and reported there might be unresovable errors.  I used the Diagnostic tool (F8 during startup?) and it reported an error found during start DST short test:
code:  1000-0146
msg:   DST log contains previous errors
I can't download Hirens Boot CD (I read good things about it), possibly due to antivirus (but I swear I turned off everything, even firewall) so I gave up on that.  I have an old REATOGO-X-pe disc I burned years ago and I can boot from that, but only get minimal programs.
Unless someone thinks they can fix this, I'm ready to reinstall, or restore Windows XP to the factory settings...I don't have any important data on this old laptop so formatting it is ok, as long as I can reuse the OS.  You may not be surprised that I never got Windows XP discs with this laptop, but I used MSKey Viewer Plus (on the REATOGO-X-pe desktop) to find product keys for Windows XP and Office Basic Edition 2003 (I know...2003?!? yup, it's that out of date.lol).  I searched the forums here a bit and found G2G wanted a screenshot of the Disk Manager to see if there is a recovery partition so I'm going to (try to) attach it...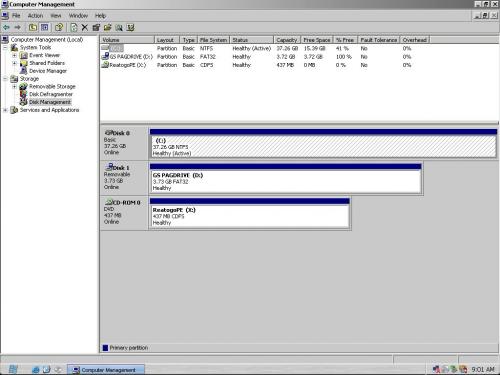 SO...can I somehow restore it to factory settings?  Can the BSOD be fixed so I don't have to restore it?  Or am I totally SOL with this old laptop.  The biggest reason I want this laptop to work is because it has a serial port that I can use to interface for my other hobby, a DCC system for a model railroad, if you must know

  I'd really rather not spend $120 on new Windows disks for an old laptop if I can somehow download some for free (I only say that because I understand the product key is what is important to have ligitimately).  I don't want to do anything illegal; it's just not worth it...for a 'spare' hobby computer.
The old laptop is just about useless now, everything I try (F12, F8, boot CDs, safe mode, etc) always results in the BSOD 'stop c000021a...status of 0xc0000005', so any suggestions to download something to the desktop and run it will be tough because I'll be working from another laptop.  Oh, and when I try to run the XP Setup (from the XP_REC_CON disc, I think) it says it can't find the EULA and has to quit, so that won't work (easily).
Anyone up to the challenge?...or...Anyone up to tell me the bad news (that it can't be fixed cheaply).lol  If all else fails, I will probably take the hard drive out and use it as an external drive, even though it's only 40GB; I currently have about 30 GB of pictures on my new laptop and would love to free up some space (that one only has a 60GB HDD...but what do you expect for a $150 refurb laptop?lol).
Thank You SO much for taking the time to read this!  I wanted to give as much info as possible about my situation, please let me know if you need any other specific info about my laptop. I will be more than happy to follow step-by-step instructions!