Hello everyone!
I am lost... For the entire day now, I have been trying to get GTA 5 to run on my computer, but to no avail. Let my first give my PC details:
CPU: AMD Phenom II X4 955
8 GB DDR3 RAM
GPU: AMD Radeon R9 270
Windows 7 SP 1 x64
My problem is with launching the game. It immidiately displays an error warning, saying the application could not be started correctly (0xc000007b).
When you google the code and GTA 5, you'll find plenty of suggestions what to do, and I've tried them all but nothing helped. Usually people seem to think the problem lies with DirectX, but that does not seem to be the problem in my case, which I found out after running "Dependency Walker", which gave me a result which I added as a screenshot.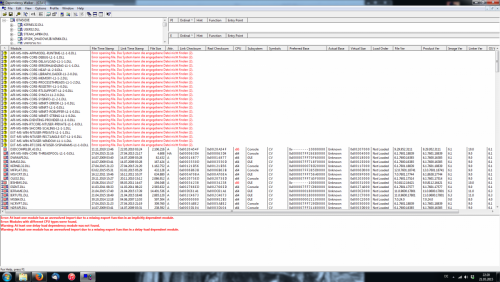 The faulty dll-files seem to be connected with Microsoft Visual C++. I noticed that I had a lot of different versions of it running, so I uninstalled all of them and re-installed the latest version of all versions 2005-2013. But nothing changed, not even in what Dependency Walker is displaying. I am truly lost, what more can I do? Needless to say my graphics driver and DirectX are up to date, as is Microsoft Net Framework.
Any help would be truly appreciated. Thank you in advance!