Regarding installation of the Speed Dial program -- Nothing has been installed by us during this cleaning process. The computer has been sitting, powered on, waiting for instructions from you. Wondering if this is just something that was missed earlier or if there is something else going on?

Yup - there is definately something else going on because I see the install date is 7/15/15. I received an error saying the program was already uninstalled. I sorted my installed programs by date of install and discovered that a Dell Update and Dell Support Assistant were also updated/installed yesterday.
I thought perhaps I had missed that program when I first analyzed the logs, but it didn't appear in the initial set of logs. However, the infection that affected Chrome reduces it's security. Some times it'll install things that ordinarily would have to ask you permission first. The Dell Updates are ok, as they are legitimate. 
Chrome has been uninstalled and reinstalled.
On another topic -- I am attempting to clean up my daughter's computer. It was infected with some crap. I'm not sure it is totally clean. Would you mind taking a look in this thread or should I just start a new one??
Let's finish up this one, and we'll start on your daughter's in this thread. Once this one is finished, I'll get some logs and we'll go from there.
Please disable your antivirus for the duration of my instructions. Don't forget to re-enable them after you have completed the steps.
Step 1: Scan with Malwarebytes
Please start Malwarebytes and select
Update
Once it has updated select
Settings
>
Detection and Protection
Tick
Scan for rootkits
Go back to the Dashboard and select
Scan Now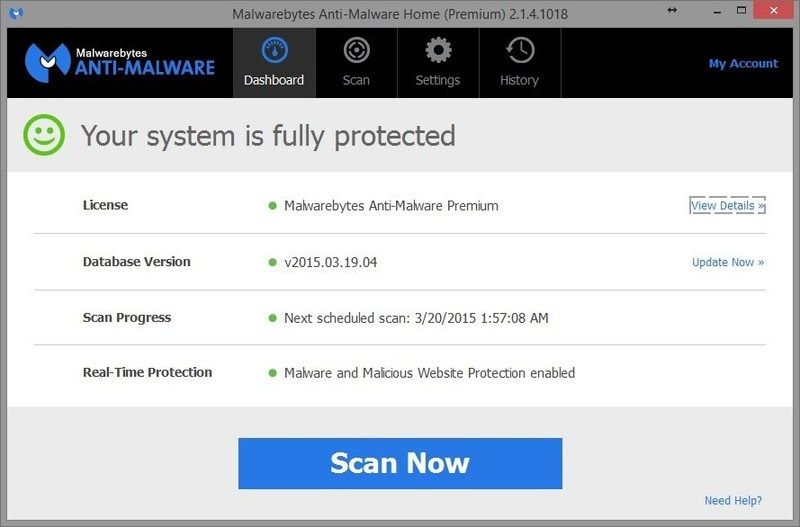 If threats are detected, click the Apply Actions button, MBAM will ask for a reboot.
On completion of the scan (or after the reboot), start MBAM,
Click
History
, then
Application Logs
, then check the
Select
box by the first
Scan Log
in the list and then click on the log to highlight it.
Click
Export,
select text file and save to the desktop as
MBAM.txt
and post in your next reply.
Step 2: Scan with ESET Online Scanner
Please note: You can use Internet Explorer or Firefox for this step. Either browser used will have to be ran in admin mode.
Right click on either the Internet Explorer icon or the Firefox icon in the Start Menu or Quick Launch Bar on the Task bar and select
Run as Administrator
from the menu.
If you use Firefox, you will be prompted to download esetsmartinstaller_enu.exe. Please do so, then double click it to install it.
Please click on this
link
and then click the ESET Online Scanner bar ---->

Select the option YES, I accept the Terms of Use then click on Start
When prompted allow the Add-On/Active X to install.
Make sure that the option Remove found threats is NOT checked.
Make sure that the option Scan archives is checked.
Now click on Advanced Settings and select the following:
Scan for potentially unwanted applications
Scan for potentially unsafe applications
Enable Anti-Stealth Technology
Now click on Start
The virus signature database will begin to download. Be patient this make take some time depending on the speed of your Internet Connection.
When completed the Online Scan will begin automatically. The scan may take several hours.
Do not touch either the Mouse or keyboard during the scan otherwise it may stall.
Now click on Finish
Use notepad to open the logfile located at C:\Program Files(x86)\ESET\EsetOnlineScanner\log.txt.
Copy and paste that log as a reply to this topic.
Step 3: SecurityCheck Scan
Download
Security Check
by screen317 from
here
or
here
.
Save it to your Desktop.
Double click SecurityCheck.exe and follow the onscreen instructions inside of the black box.
NOTE: If SecurityCheck aborts and you get the following message: UNSUPPORTED OPERATING SYSTEM! ABORTED! try rebooting the system and then run SecurityCheck again.
A Notepad document should open automatically called checkup.txt; please post the contents of that document.
Things I need to see in your next post:
ESET Scan Log
MBAM Log
SecurityCheck Log